Alcohol and the Brain


Alcohol may be the world's oldest known drug. Fermented grain, fruit juice and honey have been used to make alcohol (ethyl alcohol or ethanol) for thousands of years. The production of products containing alcohol has become big business in today's society and the consumption and abuse of alcohol has become a major public health problem. On this page, only the effects of alcohol on the brain and behavior will be discussed. For further information about other effects of alcohol, see the links at the bottom of this page.
Alcohol is a central nervous system depressant. Factors that influence how alcohol will affect a person include:
age
gender
physical condition
amount of food eaten
other drugs or medicines taken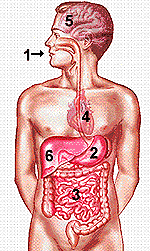 The Path of Alcohol in the body
Mouth: alcohol enters the body.
Stomach: some alcohol gets into the bloodstream in the stomach, but most goes on to the small intestine.
Small Intestine: alcohol enters the bloodstream through the walls of the small intestine.
Heart: pumps alcohol throughout the body.
Brain: alcohol reaches the brain.
Liver: alcohol is oxidized by the liver at a rate of about 0.5 oz per hour.
Alcohol is converted into water, carbon dioxide and energy.
Effects of Alcohol
In low doses, alcohol produces:
a relaxing effect
reduces tension
lowers inhibitions
impairs concentration
slows reflexes
impairs reaction time
reduces coordination

In medium doses, alcohol produces:
slur speech
cause drowsiness
alter emotions
In high doses, alcohol produces:
vomiting
breathing difficulties
unconsciousness
coma
Effects of Alcohol on the Nervous System
As mentioned above, alcohol is a central nervous system depressant. It acts at many sites, including the reticular formation, spinal cord, cerebellum and cerebral cortex, and on many neurotransmitter systems. Alcohol is a very small molecule and is soluble in "lipid" and water solutions. Because of these properties, alcohol gets into the bloodstream very easily and also crosses the blood brain barrier. Some of the neurochemical effects of alcohol are:
Increased turnover of norepinephrine and dopamine
Decreased transmission in acetylcholine systems
Increased transmission in GABA systems
Increased production of beta-endorphin in the hypothalamus
Chronic drinking can lead to dependence and addiction to alcohol and to additional neurological problems. Typical symptoms of withholding alcohol from someone who is addicted to it are shaking (tremors), sleep problems and nausea. More severe withdrawal symptoms include hallucinations and even seizures.
Chronic alcohol use can:
Damage the frontal lobes of the brain
Cause an overall reduction in brain size and increase in the size of the ventricles
Lead to alcoholism (addiction to alcohol) and result in tolerance to the effects of alcohol and variety of health problems
Cause a vitamin deficiency. Because the digestion system of alcoholics is unable to absorb vitamin B-1 (thiamine), a syndrome known as "Wernicke's Encephalopathy" may develop. This syndrome is characterized by impaired memory, confusion and lack of coordination. Further deficiencies of thiamine can lead to "Korsakoff's Syndrome." This disorder is characterized by amnesia, apathy and disorientation. Widespread disease of the brain is a feature of both Wernicke's and Korsakoff's Syndromes.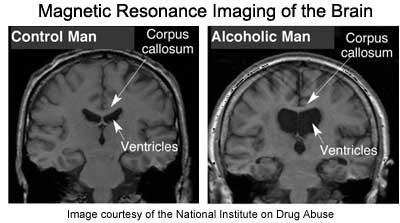 Drinking and Driving Don't Mix

The following tables are used with the permission of the Pennsylvania Liquor Control Board. They illustrate the effects of alcohol consumption on blood alcohol levels and driving skills. These data should be used only as a general reference for the effects of alcohol because body weight and other variables may influence the results. Also, some states define the limit of legal intoxication at a lower blood alcohol level (0.08%).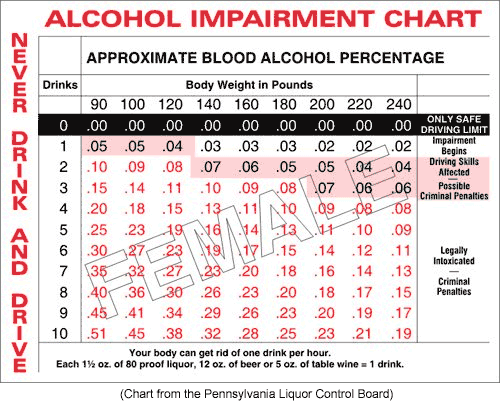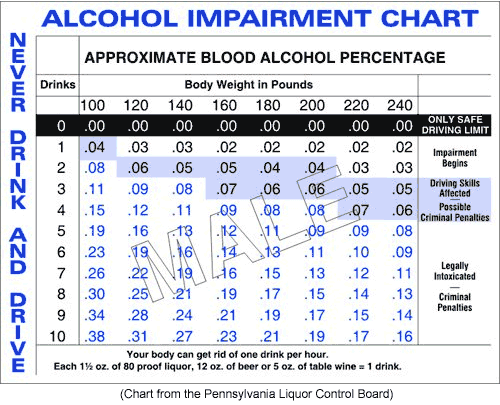 Calculating blood alcohol concentrations (Reference: Winek, C., in Forensic Sciences, edited by C.W. Wecht, Matthew Binder Press, New York, 1984):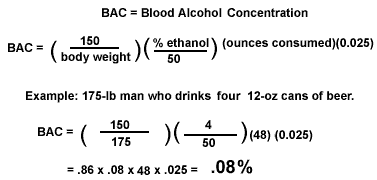 Fetal Alcohol Syndrome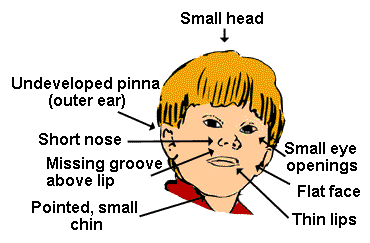 Another consequence of alcohol use is Fetal Alcohol Syndrome (FAS). Inside the mother, a fetus is fed through the placenta. Because alcohol passes easily through the placenta, every time the mother drinks alcohol, the developing fetus gets a dose of alcohol. Alcohol disrupts normal brain development - THAT IS A FACT!!! Fetal exposure to alcohol can impair the development of the corpus callosum (the main connection between the right and left hemispheres of the brain), reduce the size of the basal ganglia and damage the cerebellum and cerebral cortex.
Compared to normal babies, babies born with FAS have:
smaller heads and brains
some degree of cognitive impairment
poor coordination
hyperactivity
abnormal facial features
Did you know?

Americans drink the equivalent of 500 million gallons of pure alcohol each year. (Statistic from Prevention's Giant Book of Health Facts, 1991.)
Alcohol consumption by college students is linked to at least 1,400 student deaths and 500,000 unintentional injuries each year.>(Statistic from the National Institute on Alcohol Abuse and Addiction, Alcohol Alert, 58:1-4, 2002.)
The 18th Amendment to the US Constitution was passed in 1919 and was made effective in 1920. This started the period known as prohibition. The 18th Amendment declared that alcohol could not be manufactured, sold, imported, exported or transported in the United States. In 1933, the 21st Amendment to the Constitution was passed which repealed the 18th Amendment and made alcohol legal again.
References and further information
For more information about alcohol, see:
Information about other drugs:
Copyright © 1996-2023, Eric H. Chudler All Rights Reserved.