Behavioral Effects of PCP
PCP can be eaten, snorted, injected or smoked. Depending on how a person takes the drug, the effects are felt within a few minutes (2-5 minutes when smoked) to an hour. PCP can stay in a person's body for a long time; the half-life of PCP ranges from 11 to 51 hours. Furthermore, because PCP is made illegally under uncontrolled conditions, users have no way of knowing how much PCP they are taking. This makes PCP especially dangerous.

PCP users are often characterized as violent or suicidal. However, this portrait of a PCP user may not be accurate. Dr. Jaime Diaz, a professor in the Department of Psychology at the University of Washington, reviewed many of the published reports of PCP use in his book, How Drugs Influence Behavior. A Neuro-Behavioral Approach (Upper Saddle River (NJ): Prentice Hall, 1997). He states that PCP use rarely results in violence and concludes that:

"Phencyclidine does not cause aggression or criminal behavior."

Dr. Diaz believes that the reported violent behavior is not due to the pharmacological effect of PCP, but rather is the result of the way people under the influence of PCP perceive things and are subsequently treated by law enforcement personnel. People under the influence of PCP may not feel pain and their perception of sensory stimuli may be altered, possibly causing police officers to use stronger methods to control such individuals.
% of 12th Graders Who Have Used PCP
Sometime During Their Lifetime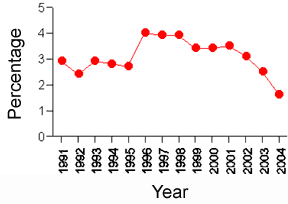 (Source: Monitoring The Future Survey)