you are here: home > postcards
Neuroscience For Kids
postcards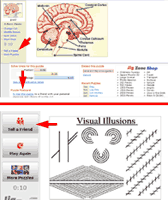 Try these jigsaw puzzles!
Click on one of the puzzle pictures to scramble the pieces.
Drag pieces of the puzzle to fit them together. Change the number of the puzzle pieces by clicking on icon with 9 small dots, then click "ok.".
Copyright © 1996-2021, Eric H. Chudler All Rights Reserved.