you are here: home > neuroscience in the news
Neuroscience For Kids
neuroscience in the news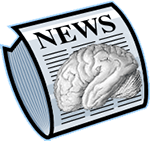 What's going on in the world of neuroscience? What's new? What's happening? With fascinating stories that focus on brain research, this page will keep you informed about the breaking discoveries and events in neuroscience.
Why Rocking to Sleep Is a Matchless Sedative - and Elixir, Scientific American, January 24, 2019.
Why we sleep?", Scientific American Blog, January 25, 2019.
Poor sleep at night, more pain the next day, Society for Neuroscience, ScienceDaily, January 29, 2019.
Learning new vocabulary during deep sleep, University of Bern, ScienceDaily, January 31, 2019.
Exercise benefits brains, changes blood flow in older adults, study finds, University of Maryland, ScienceDaily, January 31, 2019.
This bacteria-fighting protein also induces sleep, ScienceNews, January 31, 2019.
Laughter may be best medicine -- for brain surgery, ScienceDaily, February 4, 2019.
Sleep Loss Encourages Spread of Toxic Alzheimer's Protein, NIH Director's Blog, February 5, 2019.
Later school starts linked to better teen grades, ScienceNewsforStudents, February 5, 2019.
Voluntary control of brainwaves in deep brain of patients with Parkinson's disease, Osaka University, ScienceDaily, February 6, 2019.
How exercise may protect against Alzheimer's, Columbia University Irving Medical Center, ScienceDaily, February 8, 2019.
Brain-zapping implants that fight depression are inching closer to reality, ScienceNews, February 10, 2019.
Discovering a Source of Laughter in the Brain, NIH Director's Blog, February 12, 2019.
Night-vision 'super-mice' created using light-converting nanoparticles, Nature, February 28, 2019.
Weekend lie-ins don't compensate for week-long exhaustion, Nature, February 28, 2019.
Bungee jumping for science, Charite - Universitatsmedizin Berl, ScienceDaily, February 28, 2019.
Could an eye doctor diagnose Alzheimer's before you have symptoms?, Duke University Medical Center,ScienceDaily, March 11, 2019.
Smoking, high blood pressure, diabetes and obesity each linked to unhealthy brains, European Society of Cardiology, ScienceDaily, March 11, 2019.
Using an anti-smoking drug to control neurons, Howard Hughes Medical Institute, ScienceDaily, March 14, 2019.
A repellent odor inhibits the perception of a pleasant odor in vinegar flies, Max Planck Institute for Chemical Ecology, ScienceDaily, March 15, 2019.
Copyright © 1996-2019, Eric H. Chudler All Rights Reserved.