Emergency Room Visits due to Cocaine and Heroin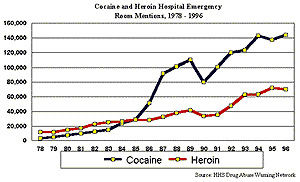 Image courtesy of the Office of National Drug Control Policy
Death caused by too much cocaine (an overdose) is not uncommon. Cocaine can cause large increases in blood pressure that may result in bleeding within the brain. Constriction of brain blood vessels can also cause a stroke. An overdose of cocaine can cause breathing and heart problems that could result in death. This is what killed the University of Maryland basketball player, Len Bias, in 1986. Comedian John Belushi also died from a cocaine/heroin overdose in 1982.

Cocaine is highly "reinforcing": when it is given to animals, they will give it to themselves. In fact, if animals are given the choice, they will put up with electrical shocks and give up food and water if they can get cocaine.

Cocaine acts by blocking the reuptake of the neurotransmitters dopamine, norepinephrine and serotonin in the brain. Therefore, these neurotransmitters stay in the synaptic cleft for a longer time. Research has also shown that cocaine can also cause the release of dopamine from neurons in the brain.

Cocaine can also affect the peripheral nervous system. These effects include constriction of blood vessels, dilation of the pupil and irregular heart beat.