Effects of Caffeine on the Nervous System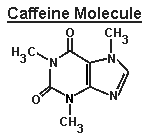 Caffeine is a central nervous system stimulant. In moderate doses, caffeine can:
increase alertness
reduce fine motor coordination
cause insomnia
cause headaches, nervousness and dizziness
In massive doses, caffeine is lethal. A fatal dose of caffeine has been calculated to be more than 10 grams (about 170 mg/kg body weight) - this is the same as drinking 80 to 100 cups of coffee in rapid succession - not an easy thing to do.

Caffeine enters the bloodstream through the stomach and small intestine and can have its effects as soon as 15 minutes after it is consumed. Once in the body, caffeine will stay around for hours: it takes about 6 hours for one half of the caffeine to be eliminated.
Caffeine belongs to the xanthine chemical group. Adenosine is a naturally occurring xanthine in the brain that is used as a neurotransmitter at some synapses. One effect of caffeine is to interfere with adenosine at multiple sites in the brain including the reticular formation. Caffeine also acts at other sites in the body to increase heart rate, constrict blood vessels, relax air passages to improve breathing and allow some muscles to contract more easily.
Some studies show that caffeine causes physical dependence. One way to tell if someone "needs" that cup of coffee or bottle of Coke is to take it away from them and then see if they have any withdrawal symptoms. Typical withdrawal symptoms associated with caffeine are headache, fatigue and muscle pain. These symptoms can occur within 24 hours after the last dose of caffeine. One study has stated that the minimum consumption of caffeine for physical dependence is 4 cups of coffee per day. Other studies say that a few more cups of coffee are needed to develop dependence.