Welcome to The UW Shoulder Site @ uwshoulder.com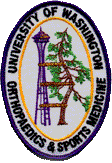 Please note that information on this site was NOT authored by Dr. Frederic A Matsen III and has not been proofread or intended for general public use. Information was intended for internal use only and is a compilation for random notes and resources.
If you are looking for medical information about the treatment of shoulders, please visit shoulderarthritis.blogspot.com for an index of the many blog entries by Dr. Frederick A Matsen III.
Styker Shoulder Prostheses
Stryker Solar
| | | | | |
| --- | --- | --- | --- | --- |
| | | | | |
| Styker Solar | | | Not Bony Ingrowth Neck | |
These have a similar appearance to Biomet Bio-Modular and DePuy Global prostheses. Note anterior superior rim, pointy distal end and head that would make an asymmetrical sphere if completed.
This system has a special extraction device and must be specifically requested from Stryker during any revision case. Without the extraction device, you will need to use a bone tape and a mallet to bang on the rim under the neck to remove the humeral prosthesis.
Compared to DePuy Global systems, they lack the medial ridge present on Global prostheses.
Compared to Biomet Bio-Modular systems, they lack the distinct tapered neck for the Morse taper on the superior portion of the humeral stem.
Note distinctive pancaked or rounded off heads often seen with these systems.
Stryker Dual Offset Head may or may not be used
Note that Solar Heads are Rounded Off

Blue outlines the profile of many non Stryker designs

Pancaked Head
Prosthesis Not Confirmed

UK Study

Posterior Shoulder Dislocations and Fracture-Dislocations

&

Primary Hemiarthroplasty for Treatment of Proximal Humeral Fractures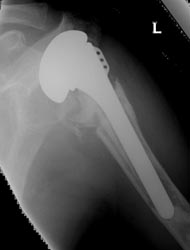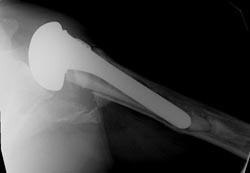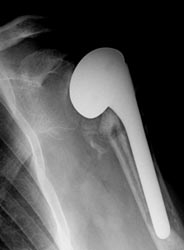 Offset head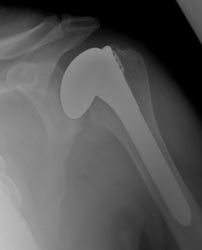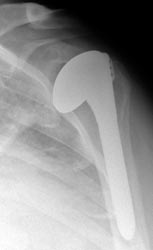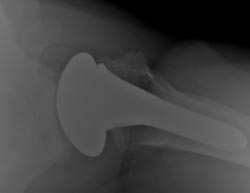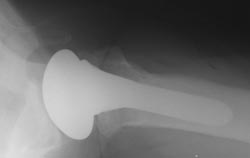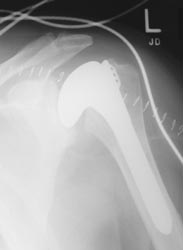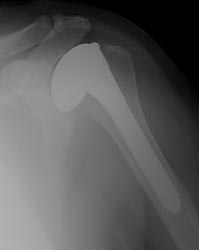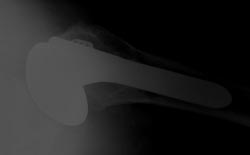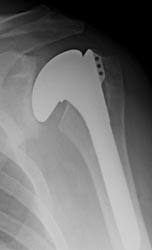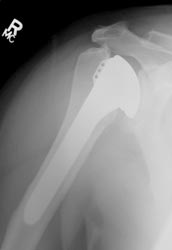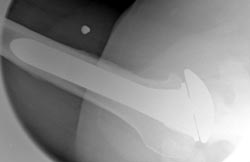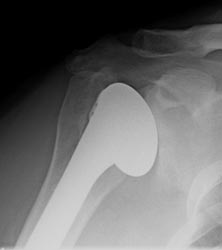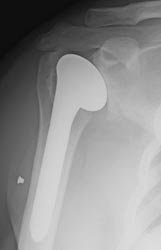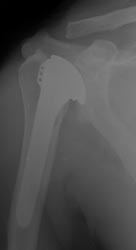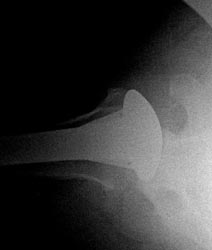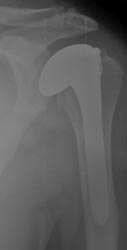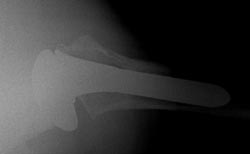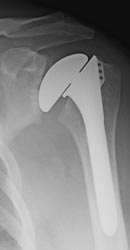 Done June 2005, converted to TSA Oct 2005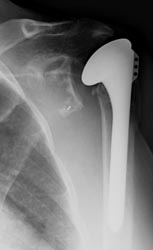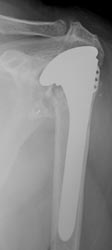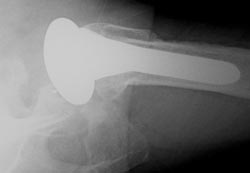 Big fat globus head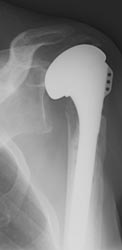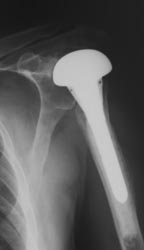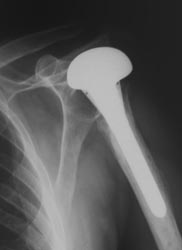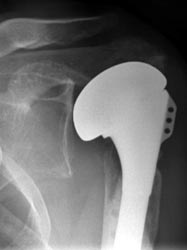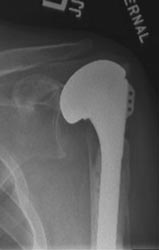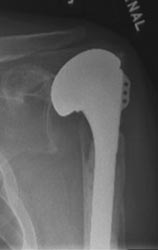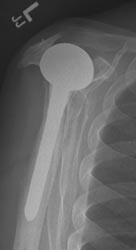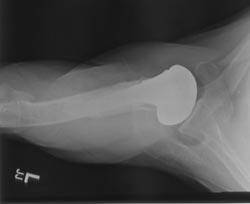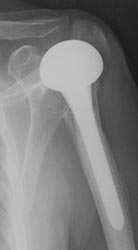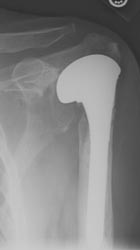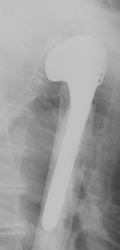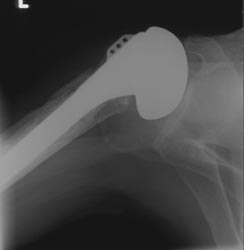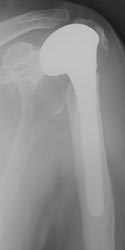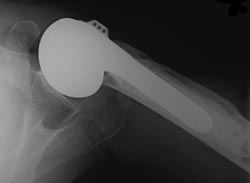 L TSA Dr. Turner in July 1999 and R TSA Dr. Turner in September of 1999 - Later revised to hemi, one presumed infected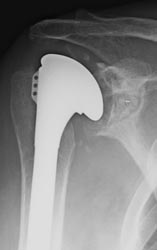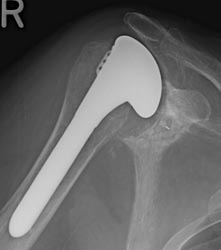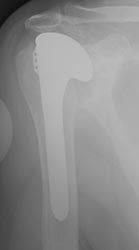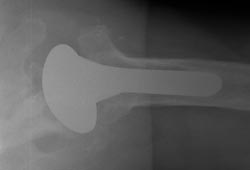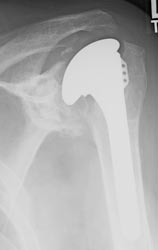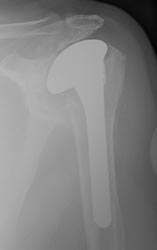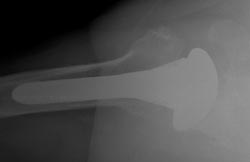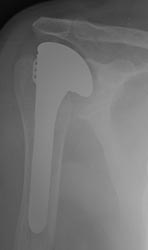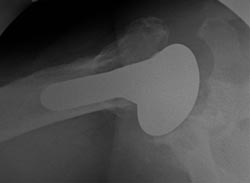 Done 2005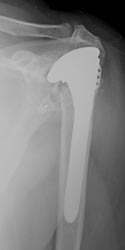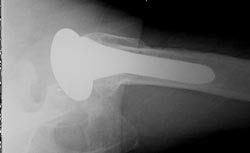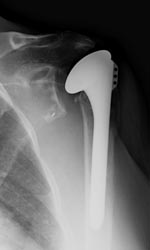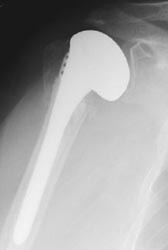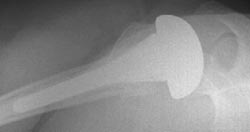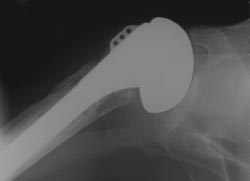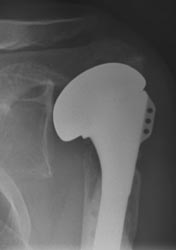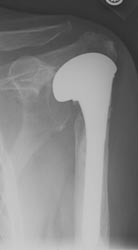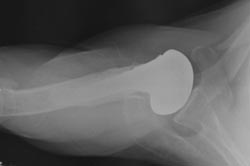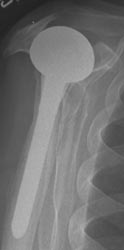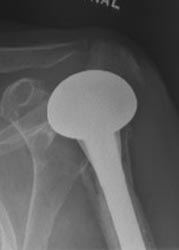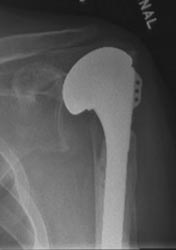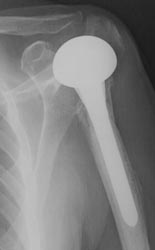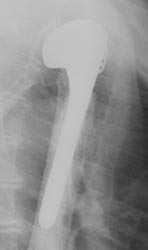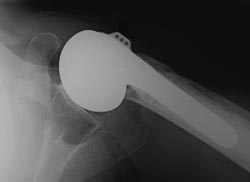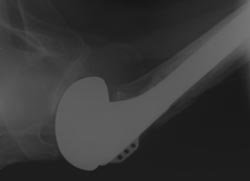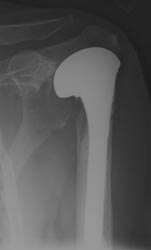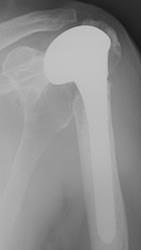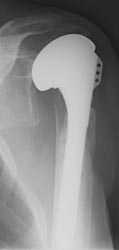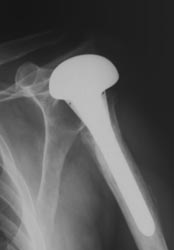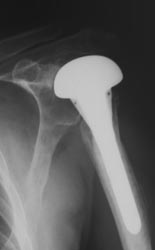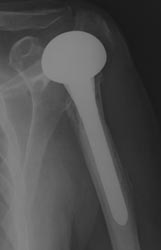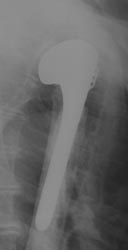 Surgery done 2004ish for multiple failed RCR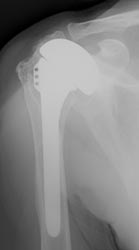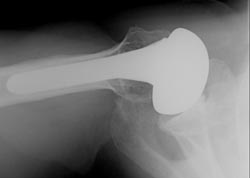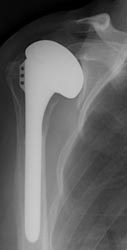 BiPolar Head on Stryker Solar Stem
It can be difficult to differentiate the Biomet Bio-Modular Bipolar from a Stryker Bipolar system. The Stryker may have a pointed distal end and a flat surface at the base of the male Morse taper. The Biomet Bio-Modular should have a tapered up ridge at the base of the female Morse taper and often has a distinctively enlarged neck with a boney ingrowth structure.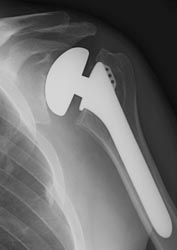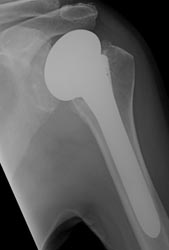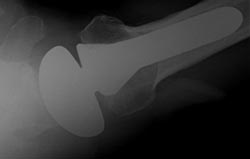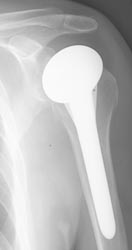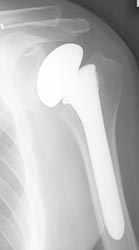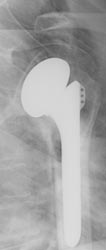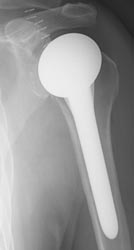 Stryker ReUnion Fracture System
Note superior medial hole for bone growth.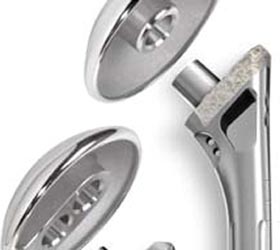 Howmedica Monospherical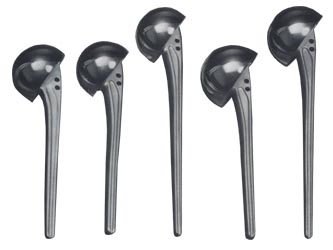 Thomas H Berquist. Imaging atlas of orthopedic appliances and prostheses. New York : Raven Press, 1995.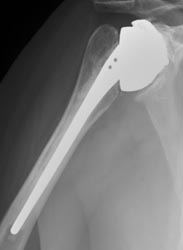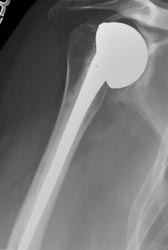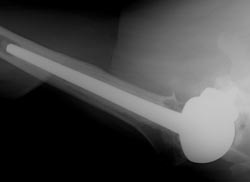 Not confirmed - seen in clinic 10 Apr 08 - surgery done 1991 Sacred Heart Medical Center
Howmedica D.A.N.A. (desined after natural anatomy) total shoulder system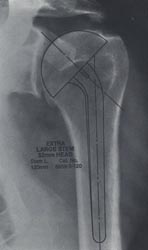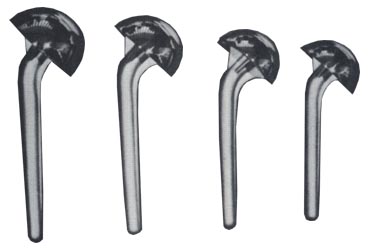 Thomas H Berquist. Imaging atlas of orthopedic appliances and prostheses. New York : Raven Press, 1995.
Not Confirmed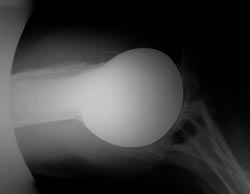 Original surgery done in 1970s or 80s - Prosthesis not confirmed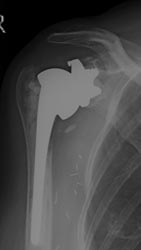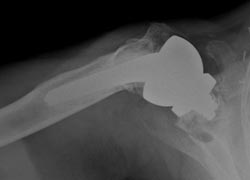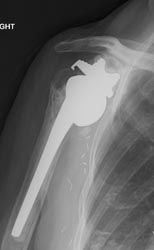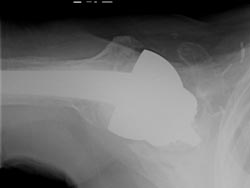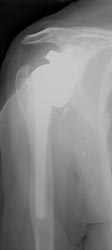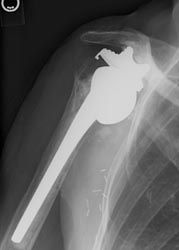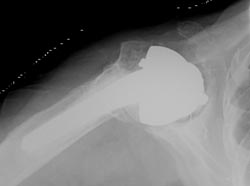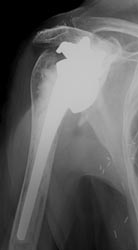 Howmedica - O'Leary total shoulder