Welcome to The UW Shoulder Site @ uwshoulder.com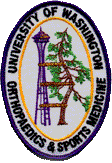 Please note that information on this site was NOT authored by Dr. Frederic A Matsen III and has not been proofread or intended for general public use. Information was intended for internal use only and is a compilation for random notes and resources.
If you are looking for medical information about the treatment of shoulders, please visit shoulderarthritis.blogspot.com for an index of the many blog entries by Dr. Frederick A Matsen III.
DePuy Line of Shoulder Prostheses
DePuy has produced several very popular shoulder systems. The first was a monoblock system knowns as the HRP. A second generation modular Global system was produced and the newer Global advantage modular system is currently in wide use.
DePuy had three models - the HRP, Global and Global Advantage
The HRP was a first generation monoblock design
The Global is a second generation Modular Design
The Global Advantage is also a second generation Modular Design
DePuy HRP
These first generation monoblock prostheses were actually made after the second generation modular DePuy Global. Since the original DePuy Globals have such large exposed rims under their modular humeral heads, small heads mounted on these bodies leave the rim exposed and proud. These protruding rims can cause open booking as it levered on the glenoid.
The later Global Advantage reduced the size of this rim and created a head with an overhang that covered the minimized rim, which makes the HRP prostheses less desirable than the newer prostheses. The 44 and 48 Global Advantage head will not fit on the old Global bodies.
radiolucent line

Humeral Fixation by Press-Fitting of a Tapered Metaphyseal Stem

Humeral Fixation by Press-Fitting of a Tapered Metaphyseal Stem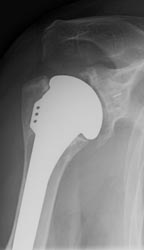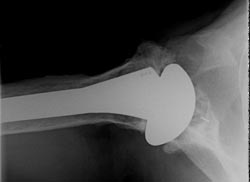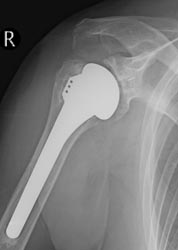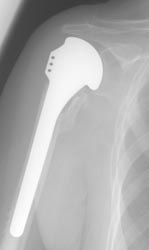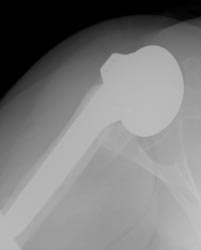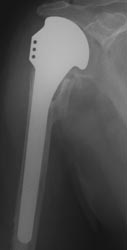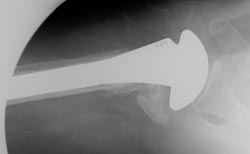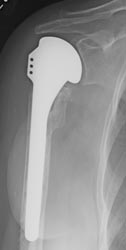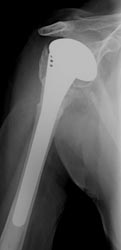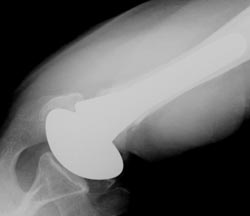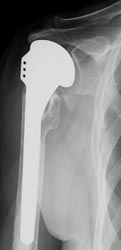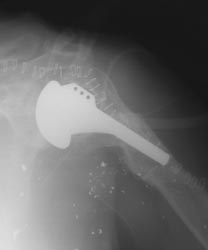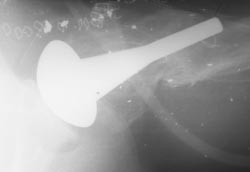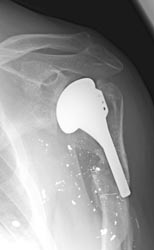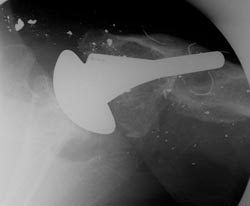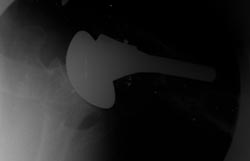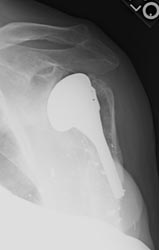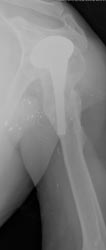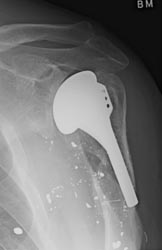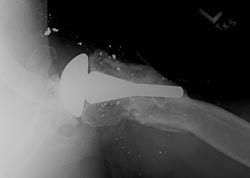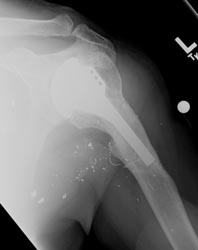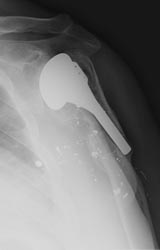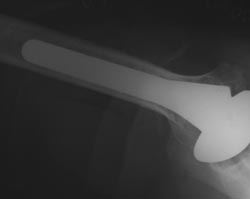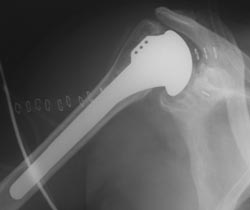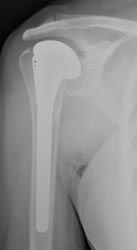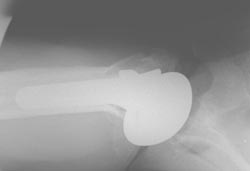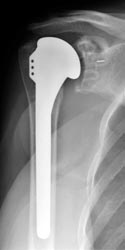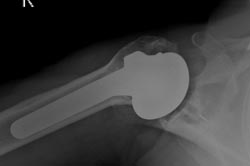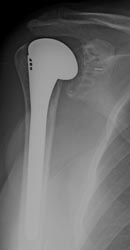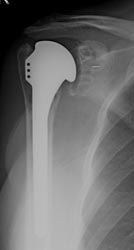 04-apr-2000 failed Cofield revised to12x52 short HRP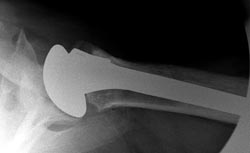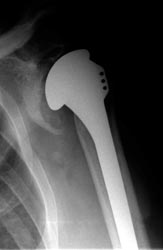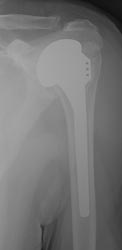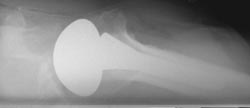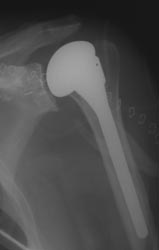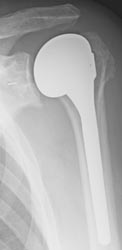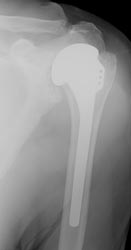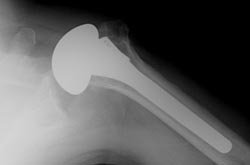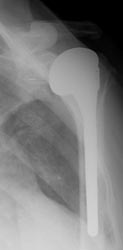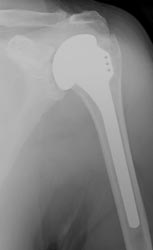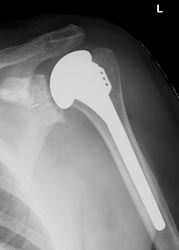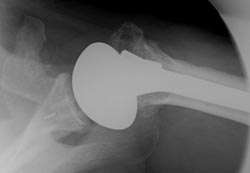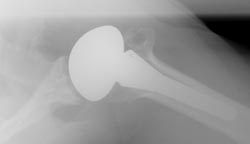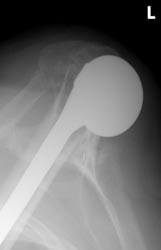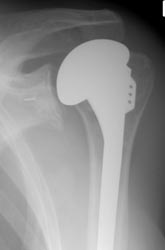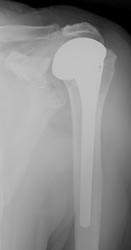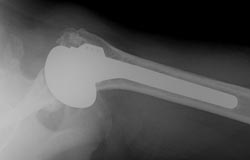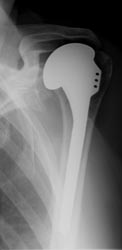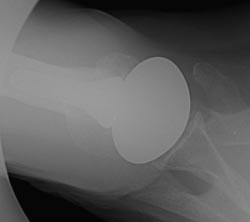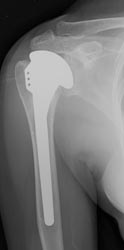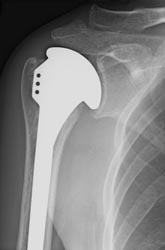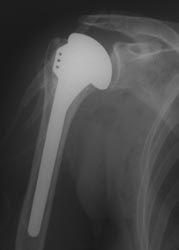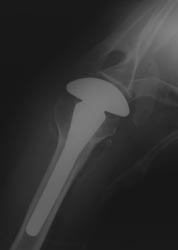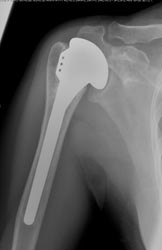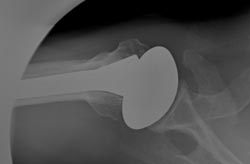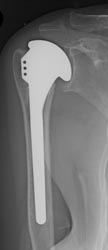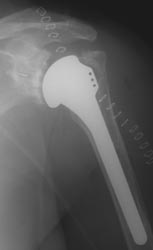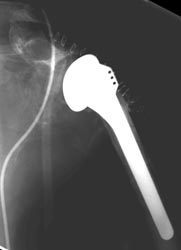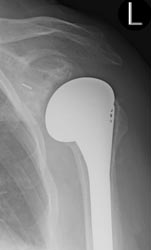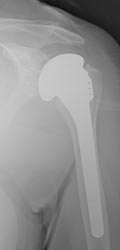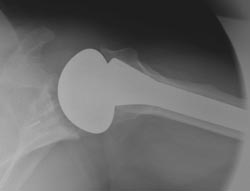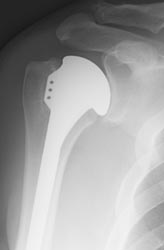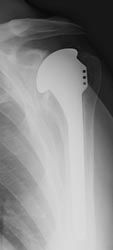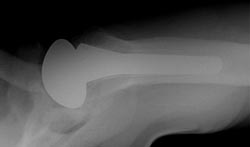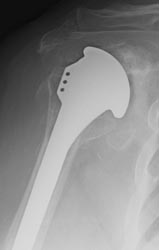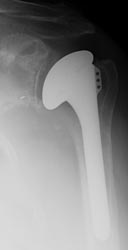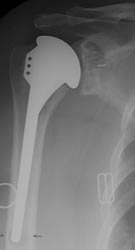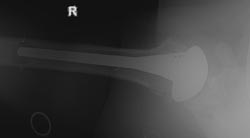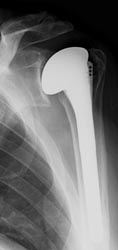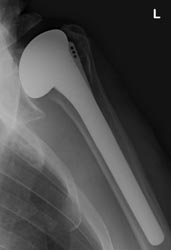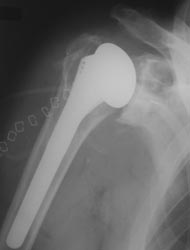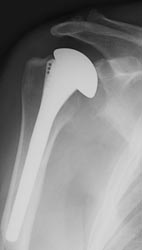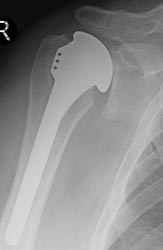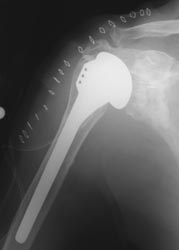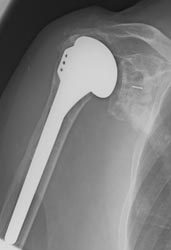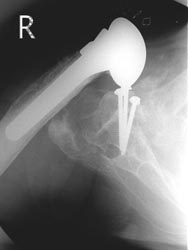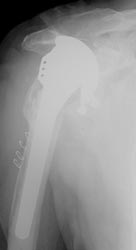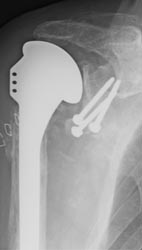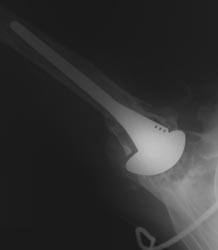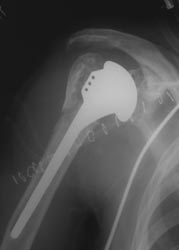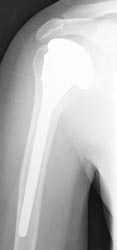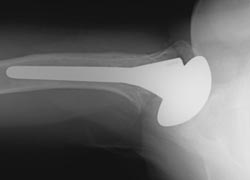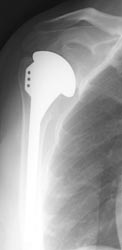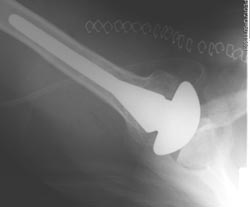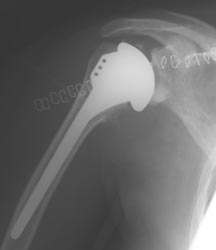 DePuy Global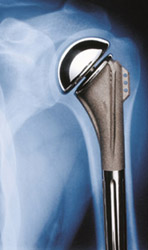 Thomas H Berquist. Imaging atlas of orthopedic appliances and prostheses. New York : Raven Press, 1995.
Note space between upper rim of stem and head. Also not how prominent the upper rim is compared to Global Advantage.
This prosthesis uses a "pickle fork" aka "tuning fork" head extractor to separate the head form the stem.
Stems may be double sized - with a smaller distal diameter than the proximal stem.
Because of the large rim on the Global prostheses, you will not be able to put on the 44 and 48 Global Advantage heads because of the overhang in the new design. Newer Global Advantage 52 heads have a close fit on the old Global stems and 56 heads fit fine. The eccentric heads don't seem to work but a 56 18 just fits with about a millimeter of clearance.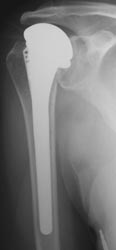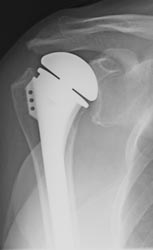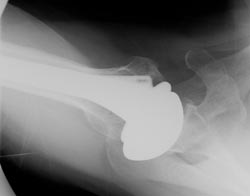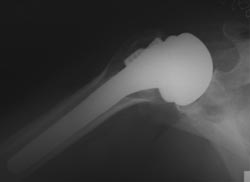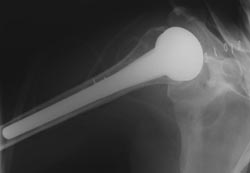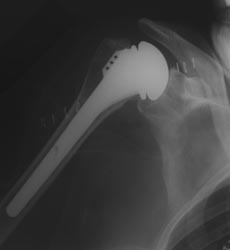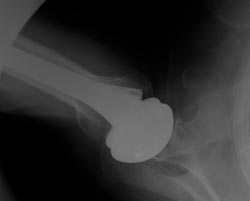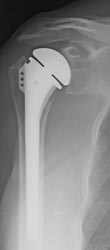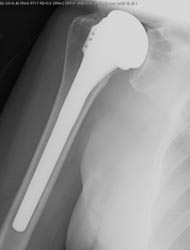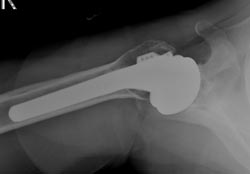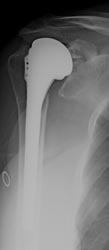 Arrows show loss of joint space

Shoulder Arthroplasty with or without Resurfacing of the Glenoid in Patients Who Have Osteoarthritis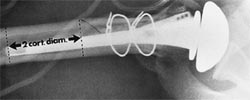 Prosthesis Not Confirmed

superior displacement of the humeral head component from glenoid component

Current Concepts Review - Complications of Total Shoulder-Replacement Arthroplasty
Prosthesis Not Confirmed

Shoulder Arthroplasty for the Treatment of Inflammatory Arthritis
Prosthesis Not Confirmed

anterior subluxation of the glenohumeral joint and superior
escape of the humeral head

Complications of Total Shoulder Arthroplasty

Prosthesis Not Confirmed

circumferential glenoid radiolucent line

Complications of Total Shoulder Arthroplasty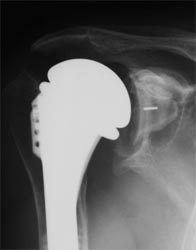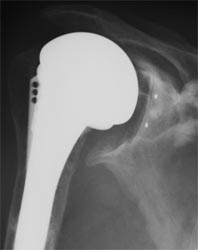 Prosthesis Not Confirmed

Reimplantation of a Glenoid Component Following Component Removal and Allogenic Bone-Grafting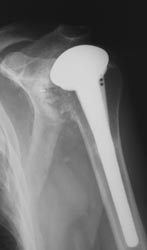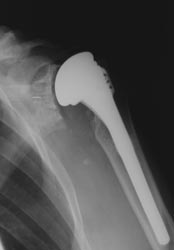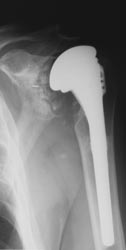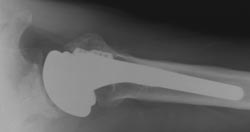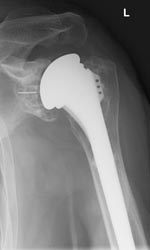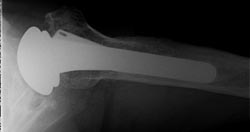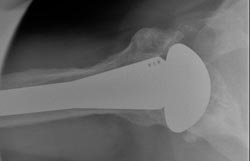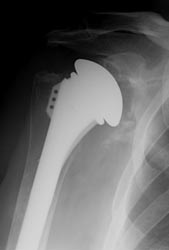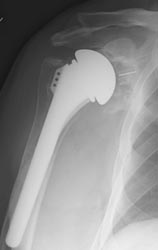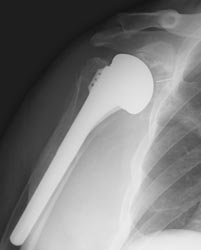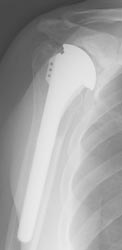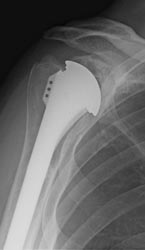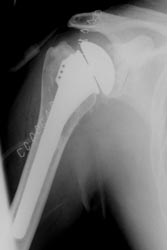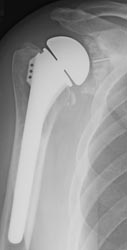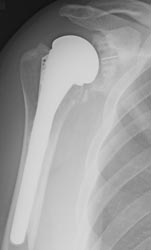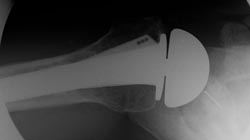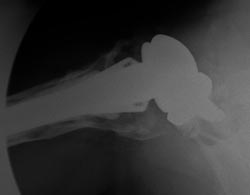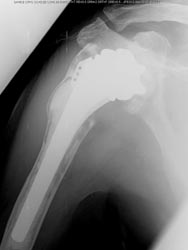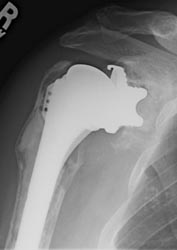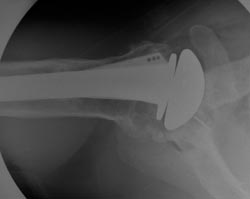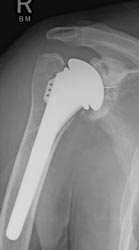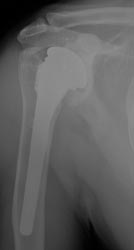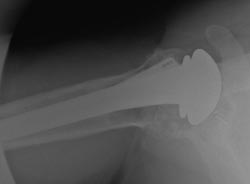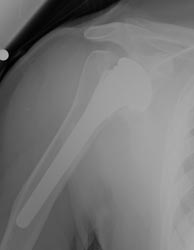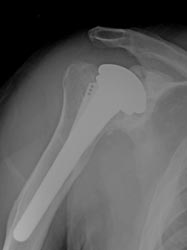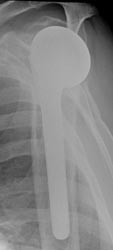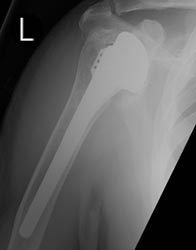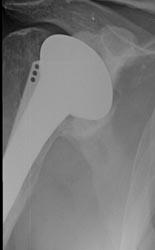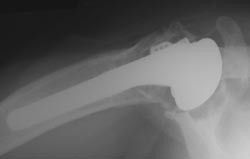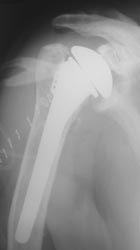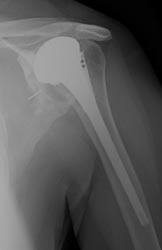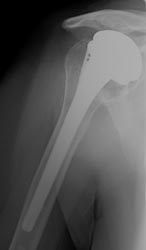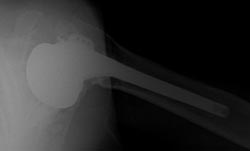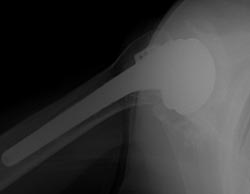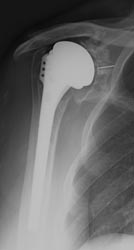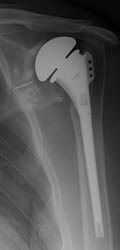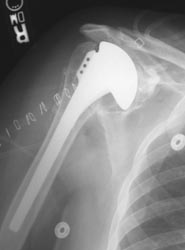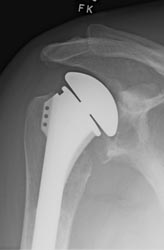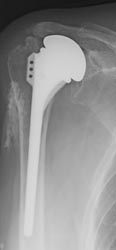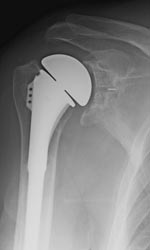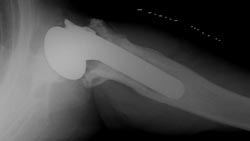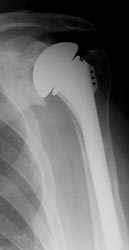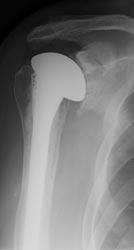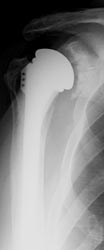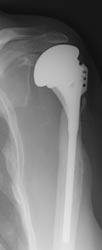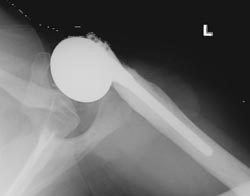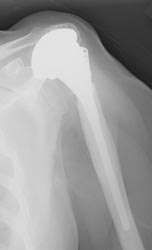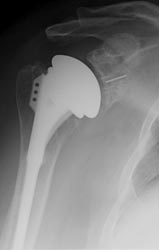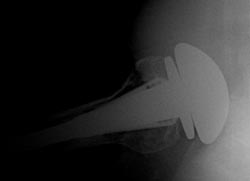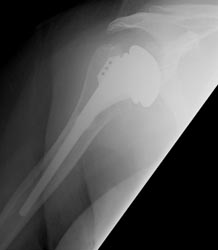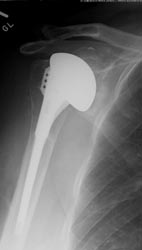 TSA done 9/24/91. This was later revised (see next set)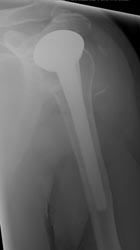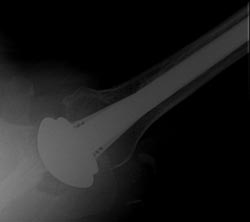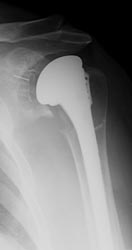 Glenoid component removed and 56-18 prosthesis impacted onto Global Body 29-nov-2005.
Note Global dorsal fin and upper rim obscured by newer head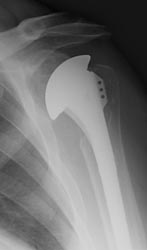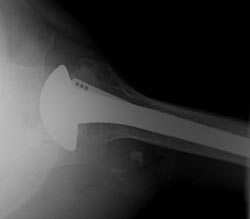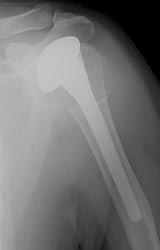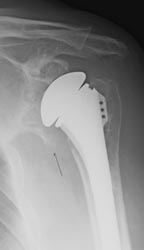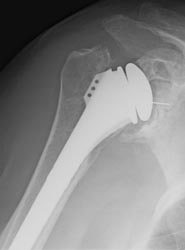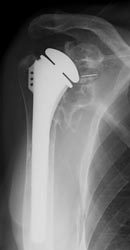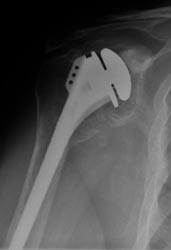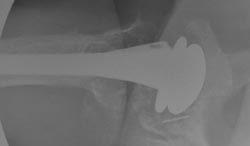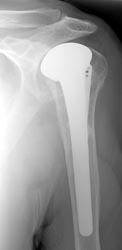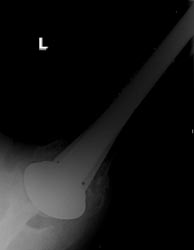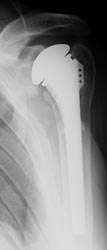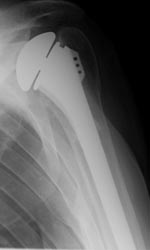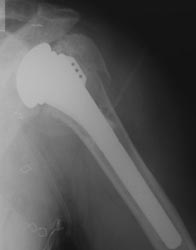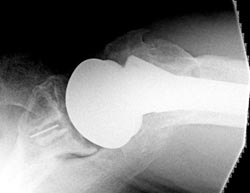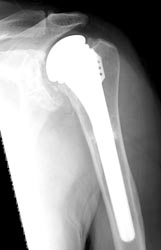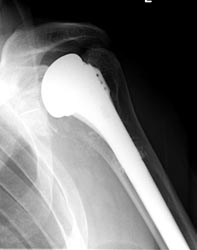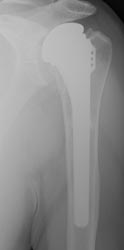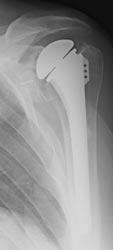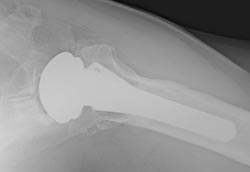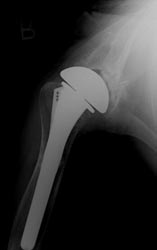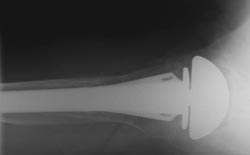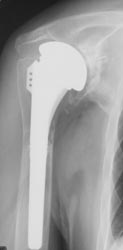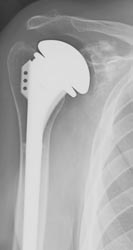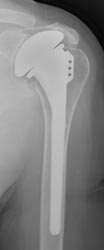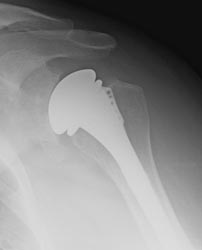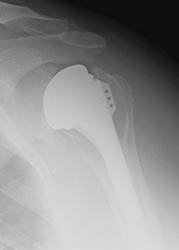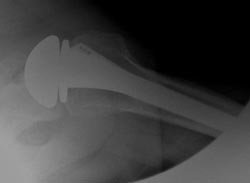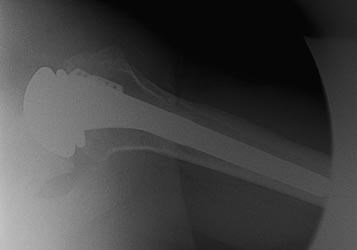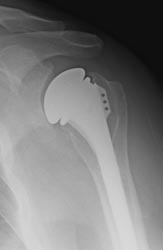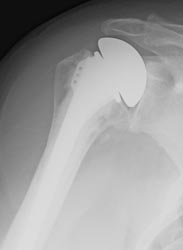 | | |
| --- | --- |
| | |
| Influence of Preoperative Factors on Outcome of Shoulder Arthroplasty for Glenohumeral Osteoarthritis | |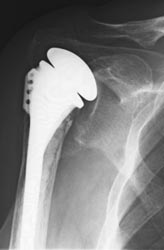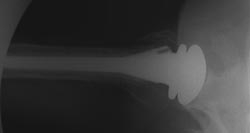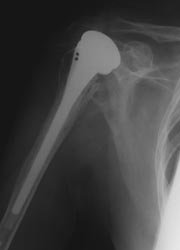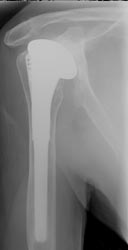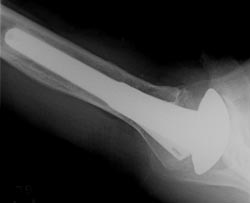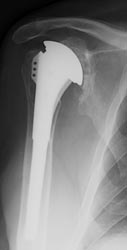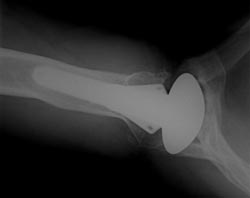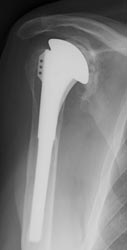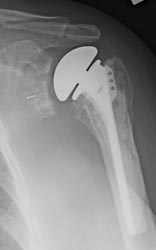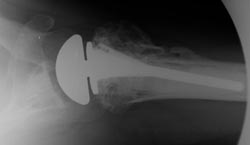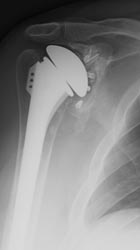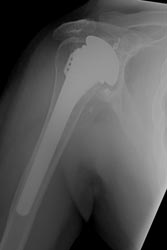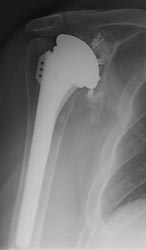 Original surgery 13-sep-1994 with #1414 Body, 52 medium head and 52 pegged glenoid
Sep 05, glenoid removed and 56-18 head inserted (shown)
Note posterior fins of Global with a newer Global Advantage head obscuring the superior humeral rim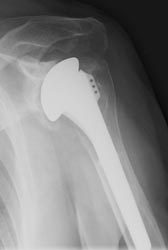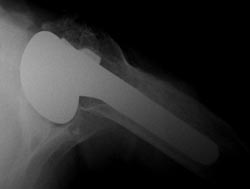 24-sep-1997 Revision to 8 mm diameter, 220 mm long special global component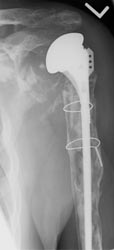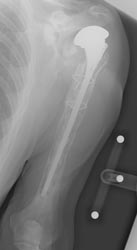 29-nov-1994 - 1414, # 52 pegged glenoid, #52 medium head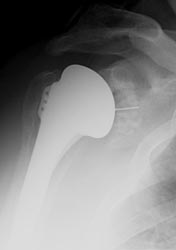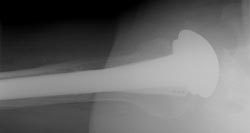 DePuy Global Advantage
| | |
| --- | --- |
| | |
| DePuy Global | |
Here's a great view of a head/stem interface. Note that the Global Advantage does not have a viewable gap between the body and head. The medial (ventral) fin has a hole in it and the Global does not. Note the size of the anterior rim - this is as big at it gets since it appears to be on the smallest sized stem (6mm).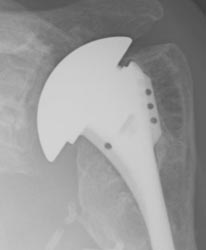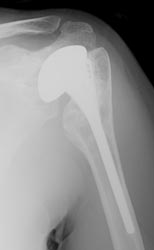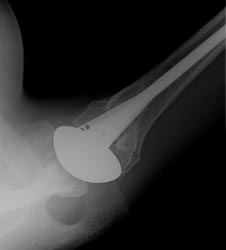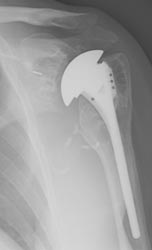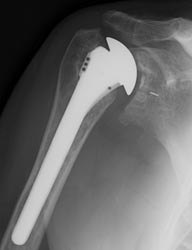 Note Recessed notch on dorsal fin on Global Advantage. This Notch is not present in DePuy Global or HRP.
52 15 14 - 15-feb-2005 Hemi (later converted to TSA oct 05 with same humeral and head component)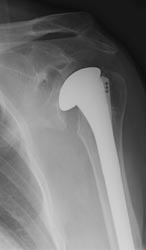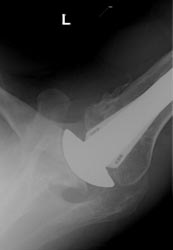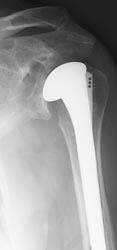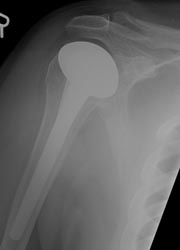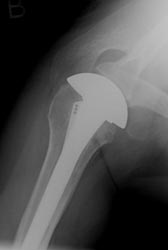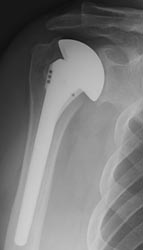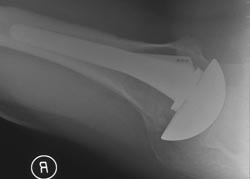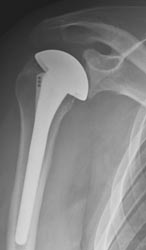 Global Advantage body with eccentric head later revised to 4415 head (second image)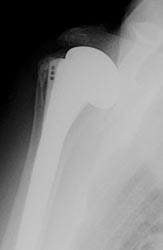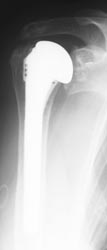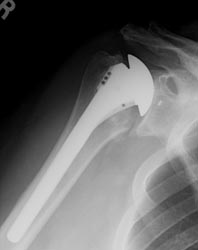 17-apr-2001 6 mm stem, 40 short advantage prosthesis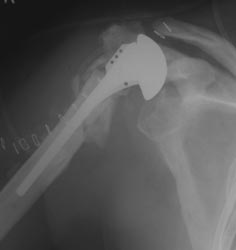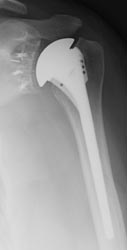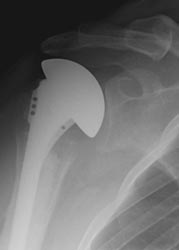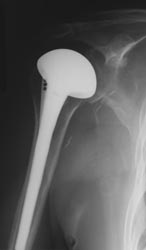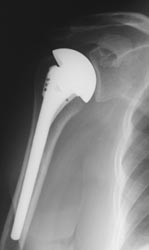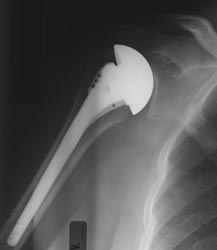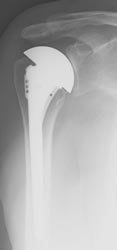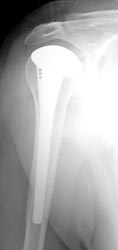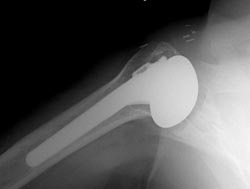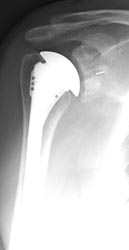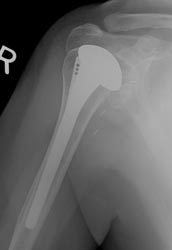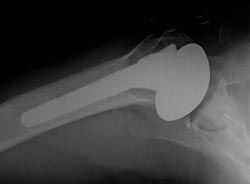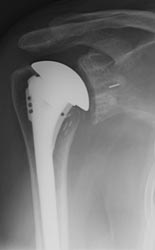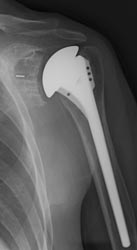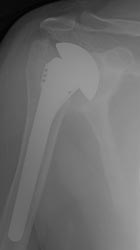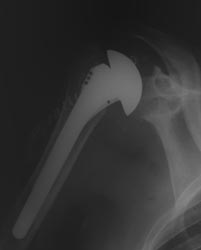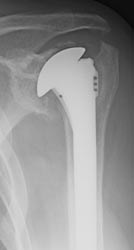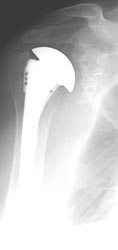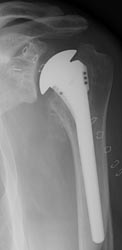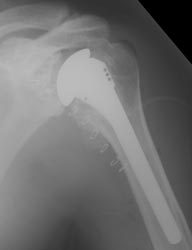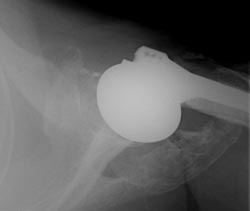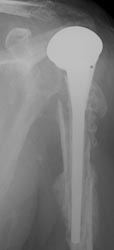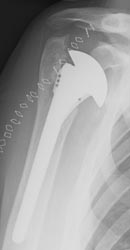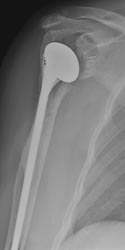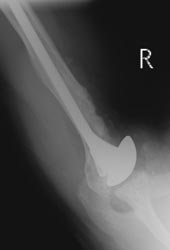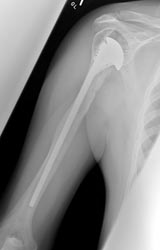 07-sep-2004 - Custom 300mm 6mm Global Advantage stem with distal 4 cm removed and 52 15 head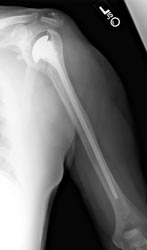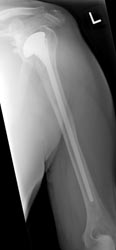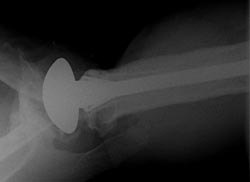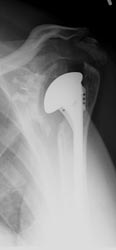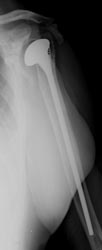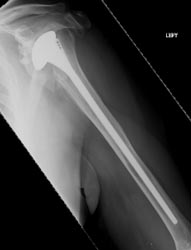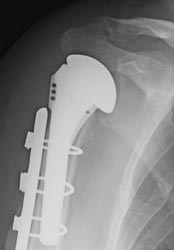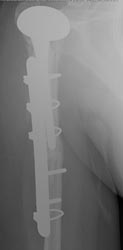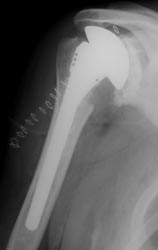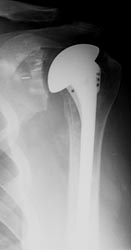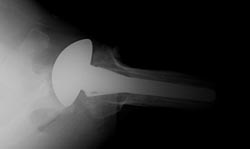 DePuy Global Advantage CTA Head
These come in size 18 and 21 and have a distinctively large bulbous head that sweeps over superiorly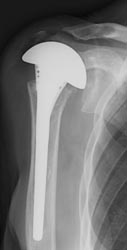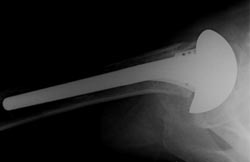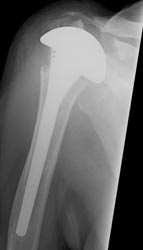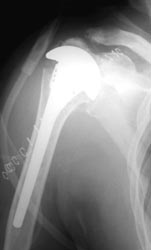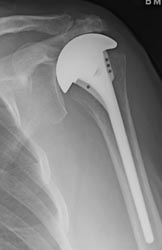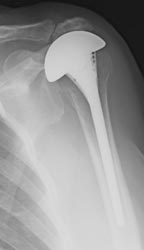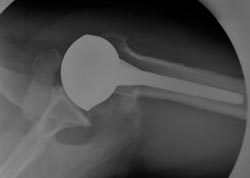 CTA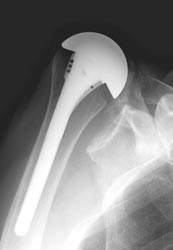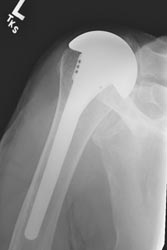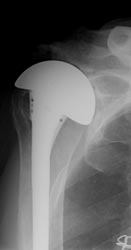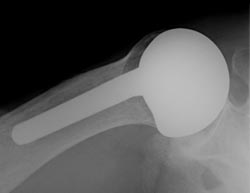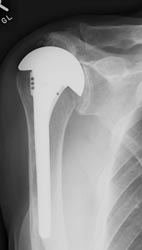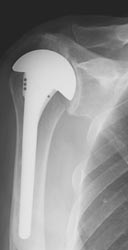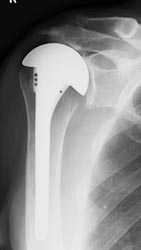 DePuy Global CTA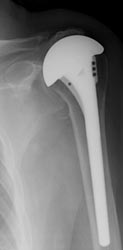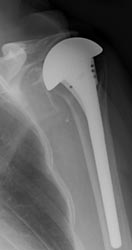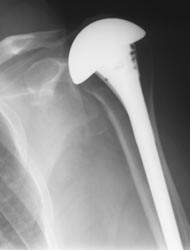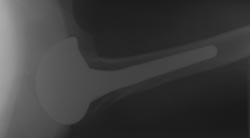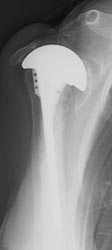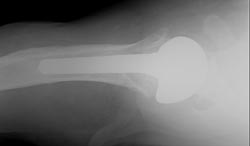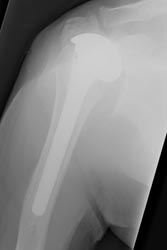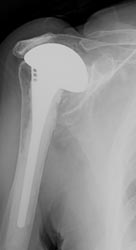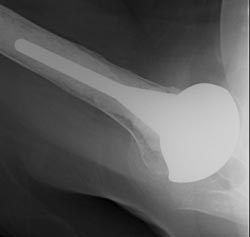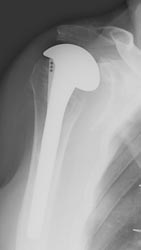 DePuy Global CTA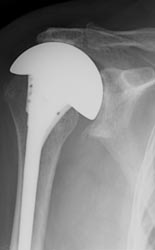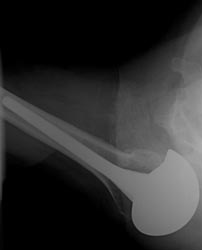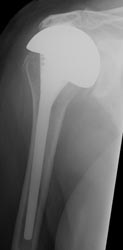 CTA Head on DePuy Fracture Stem. The CTA head is misaligned on the body.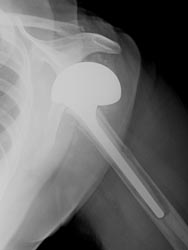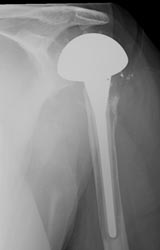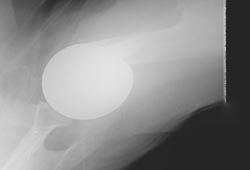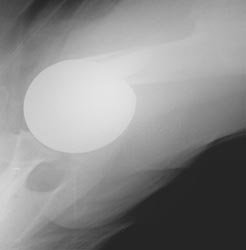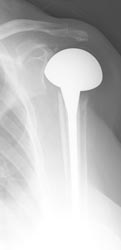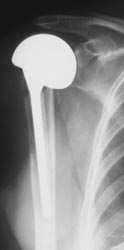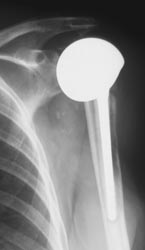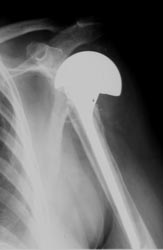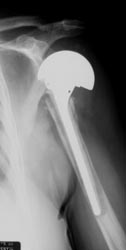 DePuy Global Fracture
| | |
| --- | --- |
| | |
| DePuy Global Fx | |
The Depuy Global fracture stems are cobalt steel. It has a more prominent anterior rim than the Global Advantage stem. The dorsal fin has only one hole and the posterior lateral fins have three holes that are positioned more superiorly than the Global Advantage stems. In the fracture stem, the distance of the edge of the first hole from the superior edge of the posterior lateral fin is about the length of the diameter of the hole. The distance from the superior edge to the edge of the first hole in the posterior lateral fin of the Global Advantage is about 3 diameters of one of these holes.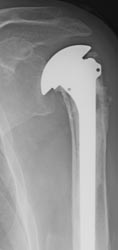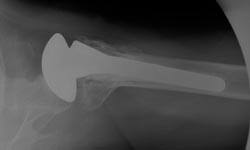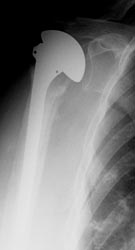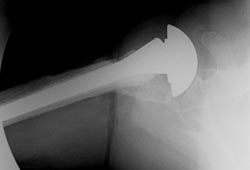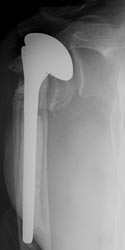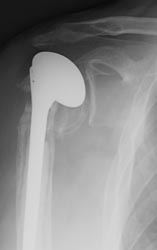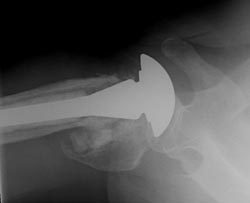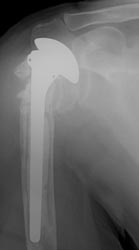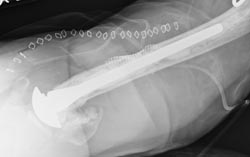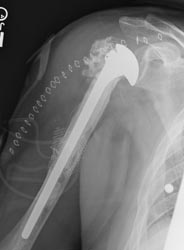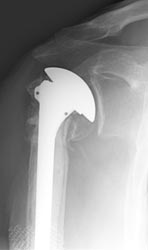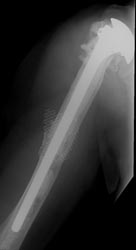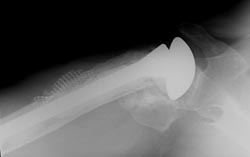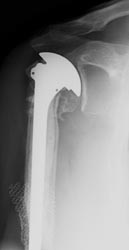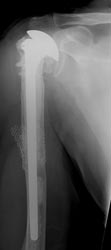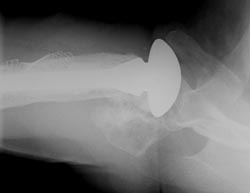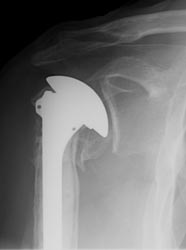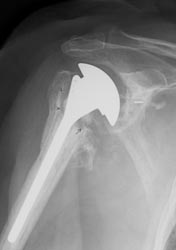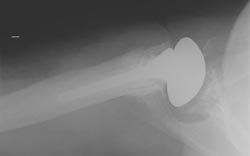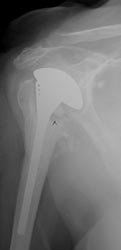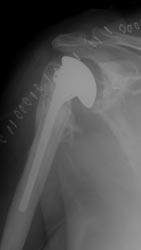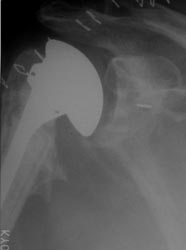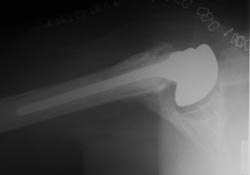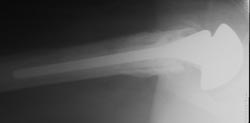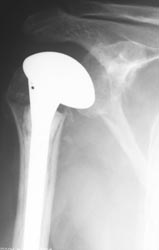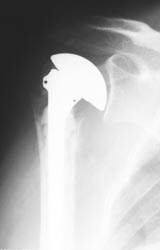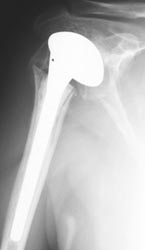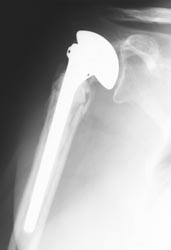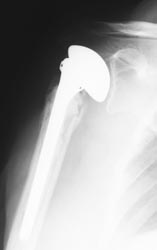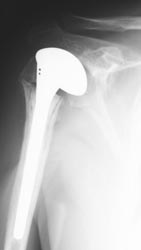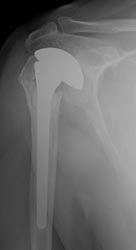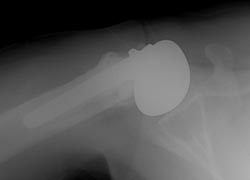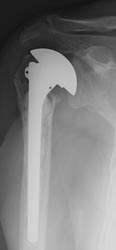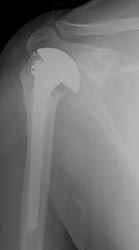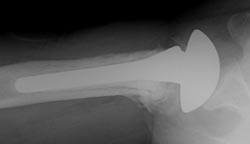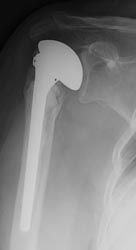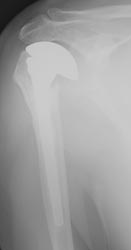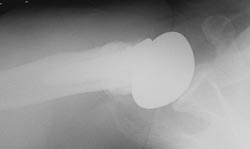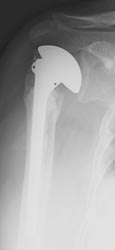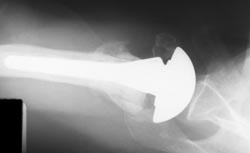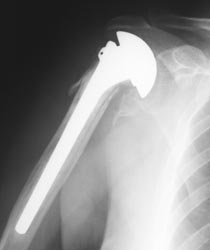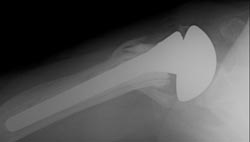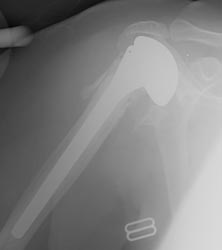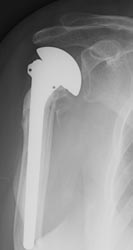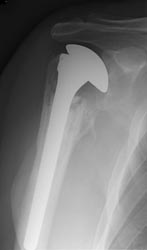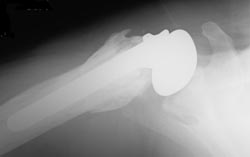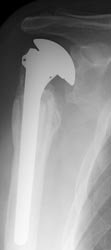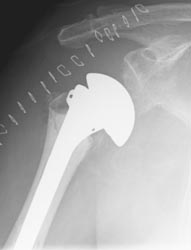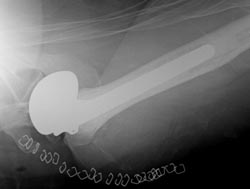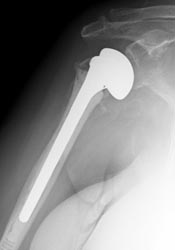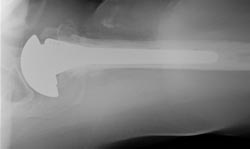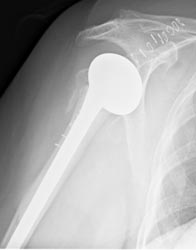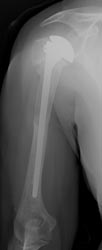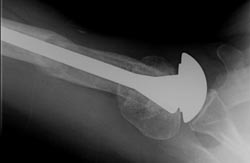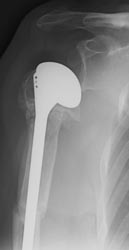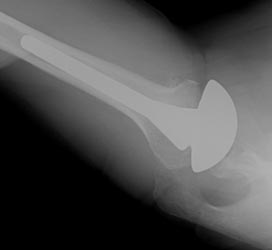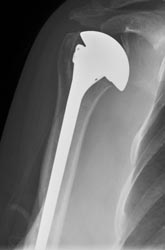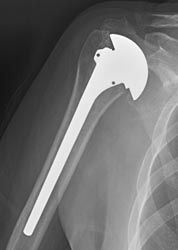 DePuy Fracture stem with CTA head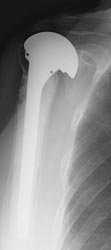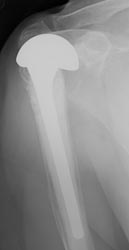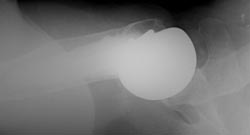 DePuy Global AP - Released February 12, 2007
Note lack of dorsal fin or holes in side fins. This design allows for adjustment of neck angle in two planes. An adapter is available to allow for fixed angle of the head.