Welcome to The UW Shoulder Site @ uwshoulder.com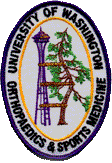 Please note that information on this site was NOT authored by Dr. Frederic A Matsen III and has not been proofread or intended for general public use. Information was intended for internal use only and is a compilation for random notes and resources.
If you are looking for medical information about the treatment of shoulders, please visit shoulderarthritis.blogspot.com for an index of the many blog entries by Dr. Frederick A Matsen III.
DePuy Delta Reverse Shoulder Prostheses
DePuy Delta Reverse and Tornier Aequalis Reverse
| | |
| --- | --- |
| | |
| DePuy Delta Reverse | Tornier Aequalis Reverse |
Note subtle difference in neck taper between Delta and Aequalis. The Delta also has an anterior and posterior hemi circle notched out of humeral head. The Tornier often has a nub on most posterior and superior part of humeral component.
DePuy Delta Reverse
DePuy Delta Reverse
DePuy Delta Reverse Long Stem

The reverse shoulder prosthesis: a review of imaging features and complications
Partial disassembly

Radiologic Assessment of Reverse Shoulder Arthroplasty

Complete disassembly

Radiologic Assessment of Reverse Shoulder Arthroplasty

&

Complications of Total Shoulder Arthroplasty

Dislocation

Radiologic Assessment of Reverse Shoulder Arthroplasty
Malpositioning of the metaglene

Radiologic Assessment of Reverse Shoulder Arthroplasty

Malpositioning inferior fixation screw

Radiologic Assessment of Reverse Shoulder Arthroplasty

Published as Tornier - Note superior notches and lack of posterior superior nub

The reverse shoulder prosthesis: a review of imaging features and complications
Loose Glenoid

Treatment of Painful Pseudoparesis Due to Irreparable Rotator Cuff Dysfunction with the Delta III Reverse-Ball-and-Socket Total Shoulder Prosthesis

Salvage head

Treatment of Painful Pseudoparesis Due to Irreparable Rotator Cuff Dysfunction with the Delta III Reverse-Ball-and-Socket Total Shoulder Prosthesis

Failure of the glenoid baseplate

Complications of Total Shoulder Arthroplasty

Anterior glenohumeral dislocation

Complications of Total Shoulder Arthroplasty
| | |
| --- | --- |
| | |
| Desmoid Tumor of the Subscapularis Presenting as Isolated Loss of External Rotation of the Shoulder | |
DePuy Delta III
aka Grammont Reverse or Inverse Total Shoulder
Arrow shows notching

Radiologic Assessment of Reverse Shoulder Arthroplasty

&

Complications of Total Shoulder Arthroplasty

Radiologic Assessment of Reverse Shoulder Arthroplasty
Shoulder reconstruction using Grammont (Delta III) total arthroplasty after resection for malignant bony tumours of proximal humerus
Treatment of Painful Pseudoparesis Due to Irreparable Rotator Cuff Dysfunction with the Delta III Reverse-Ball-and-Socket Total Shoulder Prosthesis
Failure of the glenoid baseplate

Complications of Total Shoulder Arthroplasty
DePuy Delta Xtend