Past Members

People

-

Torii Lab Members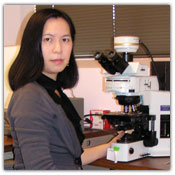 Principal Investigator
Endowed Distinguished Professor of Biology
Investigator, HHMI-GBMF
She is the lab head. The extreme coffee addict, dedicates her life for exciting Arabidopsis research!
Dr. Lynn Richardson

Postdoctoral Researcher

Lynn earned her PhD in Dr. Robert Mullen's lab at the University of Guelph, Ontario, Canada, where she studied the Endosomal Sorting Complex Required for Transport (ESCRT) in plants, and its role in viral replication. In the Torii lab, Lynn is interested in understanding the in vivo trafficking and dynamics of receptors involved in stomatal patterning.

Dr. Julian Avila

Postdoctoral Researcher

Julian earned his PhD in Biochemistry at Texas A&M University studying postranslational modifications in the AMP-dependent protein kinases in Tomato. In the Torii lab Julian's research focuses on elucidationg the early phosphorylation signaling events controlling stomatal development, more specifically during the perception of signaling peptides by ERECTA-family receptor kinases. On his free time Julian enjoys sketching, exploring Seattle's dining, and taking his dog Chia to the park.