Past Members

People

-

Torii Lab Members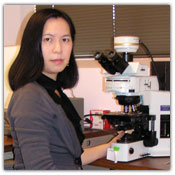 Principal Investigator
Endowed Distinguished Professor of Biology
Investigator, HHMI-GBMF
Oversea Principal Investigator, ITbM, Nagoya University
She is the lab head. The extreme coffee addict, dedicates her life for exciting research on plant developmental biology and cell-cell signaling!
Links for Dr. Torii's profiles : UW HHMI ITbM•Nagoya Univ
Alex Hoffstetter

Research Technologist I

Alex is a research technician in the Torii lab. He is currently working on protein purification and ERECTA binding events. Alex is preparing to apply to medical school in 2015. During his free time, he enjoys video games, cooking, exploring Seattle, and studying photography.

Emily Lo

Undergraduate Researcher

Biology Sergant Awardee

Emily is an undergraduate researcher studying biology and computer science now as a senior at the University of Washington. In the Torii Lab, Emily studies and visualizes peptide activities that play a role in specifying plant epidermal patterning. Outside of the lab, she is a reading, puzzle-solving, and culinary arts enthusiast!