Past Members

People

-

Torii Lab Members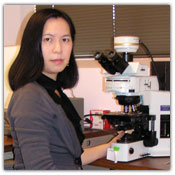 Principal Investigator
Endowed Distinguished Professor of Biology
Investigator, HHMI-GBMF
Oversea Principal Investigator, ITbM, Nagoya University
She is the lab head. The extreme coffee addict, dedicates her life for exciting research on cell-cell signaling and cell-fate specification during plant development!
Links for Dr. Torii's profiles : UW HHMI ITbM•Nagoya Univ
Dr. Xingyun Qi

Postdoctoral Researcher

Xingyun earned her PhD in Cell Biology in Hugo Zheng's lab at McGill University, Montreal, where she studied the role of RabA proteins in membrane trafficking pathways and the function of endoplasmic reticulum in determining the cell polarity. In the Torii lab, Xingyun focuses on the in vivo/in situ interaction between ERL1 and TMM, as well as the ligand-mediated behaviors of the receptor dimers, to explore the establishment of meristemoid polarity and fate.

Alex Hoffstetter

Research Technologist I

Alex is a research technician in the Torii lab. He is currently working on protein purification and ERECTA binding events. Alex is preparing to apply to medical school in 2015. During his free time, he enjoys video games, cooking, exploring Seattle, and studying photography.