Past Members

People

-

Torii Lab Members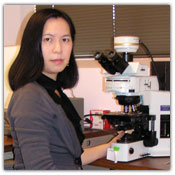 Principal Investigator
Endowed Distinguished Professor of Biology
Investigator, HHMI-GBMF
Oversea Principal Investigator, ITbM, Nagoya University
She is the lab head. The extreme coffee addict, dedicates her life for exciting Arabidopsis research!
Dr. Simone Di Rubbo

Postdoctoral Researcher

Simone obtained his PhD at VIB-Ugent in Ghent, Belgium, in the lab of Dr. Jenny Russinova, studying how clathrin mediated endocytosis of the brassinosteroid receptor BRI1 regulates its signaling output. In the Torii lab, Simone is taking a cell biological approach to understand how the EPF1-ERL1 ligand-receptor couple acts as a polarization cue orienting asymmetric cell divisions and controlling stomata patterning. When not in the lab, he likes to listen to music and to indulge his espresso cravings.

Dr. Kae Yoshino

Postdoctoral Researcher

Uehara Postdoctoral Fellow

Kae earned her Ph.D. under supervision by Dr. Yoshitaka Takano at Kyoto University in Japan. She studied molecular analyses of plant-fungus interactions by using Colletotrichum species. In the Torii lab, Kae studies regulation of transcription factors specifying cell fate determination during stomatal development. Her interest is to understand the roles of post-translational regulations a Myc-type bHLH transcription factor, ICE1/SCRM, that is critical for cell fate determination within the stomatal cell lineages and beyond.