you are here: home > brain awareness week > 2010 brain awareness week open house
Neuroscience For Kids
2010 brain awareness week open house
Brain Awareness Week (BAW) is a nationwide effort started by the Dana Alliance for Brain Initiatives and the Society for Neuroscience to promote the public and personal benefits of brain research. The official week for the next BAW is March 15-21, 2010, but any time is a good time to get involved.

BAW was celebrated on March 11, 2010, at the University of Washington when 605 elementary and middle school students attended an Open House. The Open House was supported by the Hope Heart Institute, Pacific Cascade Chapter of the Society for Neuroscience, University of Washington Engineered Biomaterials, UW Graduate Program in Neurobiology and Behavior and the UW Student Activities & Union Facilities.

To start the Open House, students were led by Dr. Eric Chudler through an interactive, multimedia "Brain Assembly" to learn about the nervous system. We attempted to set a new world record for the largest model of an action potential and played with some visual illusions.
Students then visited exhibits set up by University of Washington departments and other organizations. Students were connected to a transcranial Doppler machine to measure their brain blood flow (UW Dept. of Anesthesiology & Pain Medicine). The UW Department of Biological Structure had a comparative neuroanatomy display and the Neurobiology and Behavior Program had exhibits to test the senses and materials to build neuron models. The Pacific Science Center provided many exhibits that they bring out to schools. The DO-IT program, UW Department of Otolaryngology, Institute for Learning and Brain Sciences, Women's Bioethics Project, Regional Epilepsy Center, Northwest Association for Biomedical Research, UW Medicine Sleep Institute, UW Medicine/South Lake Union Group, Western Washington University Department of Psychology, Department UW Chapter of Unite for Sight, Youth Take Heart and Seattle Hydrocephalus Support Group also provided exhibits.
Student Comments
Thank you for everything; the exhibits, the presentation, and the activities! It was all amazing. I learned a lot while having so much fun.
I appreciate your time to teach us about the brain. I wish I could go again.
Thank you for the chance to come to your presentation and the booths with all the fun games!
Thank you for inviting us to the amazing Brain Awareness Open House. I plan to use what I learned to help my brain and other people's brains by thinking more carefully.
I usually don't like or understand science too much. You really made me understand and enjoy it!
Teacher Comments
That was great! The kids always come away quietly, thinking about all of the things they've heard and seen and held, just perfect for ten year olds. All of your work and the work of the volunteers is appreciated, time and again.
The brain awareness expedition was fascinating. We thoroughly enjoyed our visit on campus.
Wonderful as usual. Thanks to everyone who was involved. The students had a great time.
Thank you for making this opportunity available to so many students, including Open Window School. This is a highlight of our fifth grade year and provides a high-impact learning environment.
Thank you so much for the incredible opportunities to learn about the brain. The students so much enjoyed this opportunity and also gained so much in learning and excitement. Please extend our gratitude also to the graduate students and staff for the wonderful activities and exhibits.
My sixth grade class thoroughly enjoyed the open house....thanks so much! Even though I heavily engage in hands on/inquiry based science, given the financial and time restraints, we are limited to some degree! The best part for the kids was having the chance to really participate and DO. As I am sure you are aware....kids need to do. (especially the middle school aged!).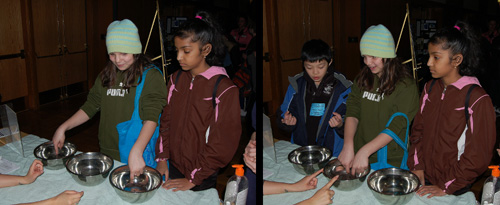 BACK TO:
BAW 2009 | BAW 2008 | BAW 2007 | BAW 2006
BAW 2005 | BAW 2004 | BAW 2003 | BAW 2002
BAW 2001 | BAW 2000 | BAW 1999 | BAW 1998
Copyright © 1996-2011, Eric H. Chudler All Rights Reserved.