2007 brain awareness week open house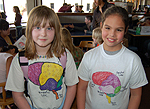 Brain Awareness Week (BAW) was celebrated on March 6, 2007, at the University of Washington when 400 elementary, middle and high school students attended an Open House. The Open House was supported by the Hope Heart Institute, Pacific Cascade Chapter of the Society for Neuroscience, University of Washington Engineered Biomaterials, and the Graduate and Professional Student Senate.
To start the Open House, students were led by Dr. Eric Chudler through an interactive, multimedia "Brain Assembly" to learn about the nervous system. Students then visited exhibits set up by University of Washington departments and other organizations. Students were connected to a transcranial Doppler machine to measure their brain blood flow (UW Dept. of Anesthesiology). The UW Department of Biological Structure had a comparative neuroanatomy display and the Neurobiology and Behavior Program had an exhibit to test the senses and to learn about natural neurotoxins. The Pacific Science Center provided many exhibits that they bring out to schools. The DO-IT program, UW Department of Otolaryngology, Cascade College (Portland, OR), Science, UW Institute for Learning and Brain Sciences, and Seattle Hydrocephalus Support Group also provided exhibits.
Scenes from the Open House
Comments from Teachers about the Open House
"Wonderful job with the exhibitors who also spoke at a level the kids could understand, yet did not speak "down" to them."
"I took 30 7th graders and they loved it, learned a lot, and had a great day. We appreciated it; thanks!"
"Thanks again for Brain Day, and for all the work you do in support of K12 teachers and students. We had a great time."
"Thank you so much for the amazing open house today! My middle schoolers had a blast and continually commented on how much they enjoyed the speaker, as well as the exhibits. Overall, we rate this experience as a 10."
"Thanks for a great day. An event of this magnitude requires so much pre-planning and attention to detail...it really was seamless. What a wonderful opportunity for young students."
"Thank you for a wonderful experience this morning. The children were completely engaged during their visit as their on task behavior proved!"
"Thank you very much for the very educational workshop. My sons and I really enjoy the workshop as well as the exhibits. Everyone was very informative and helpful and my sons said they will remember what they learn because of the way things are presented."
"Thank you so much for the wonderful open house! It left a lasting impression on our students and we have received continuing positive feedback since then. Some students have commented that their feeling that the brain was 'gross' was dispelled, others were fascinated by what they learned, and one even aspires to pursue a career in medical research or neurosurgery."
BACK TO:
Brain Awareness Week 2006 | Brain Awareness Week 2005 |
Brain Awareness Week 2004 | Brain Awareness Week 2003 |
Brain Awareness Week 2002 | Brain Awareness Week 2001 |
Brain Awareness Week 2000 | Brain Awareness Week 1999 |
Brain Awareness Week 1998
Copyright © 1996-2007, Eric H. Chudler All Rights Reserved.