2008 brain awareness week open house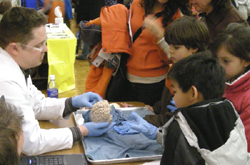 Brain Awareness Week (BAW) was celebrated on March 3, 2008, at the University of Washington when 700 elementary, middle and high school students attended an Open House. The Open House was supported by the Hope Heart Institute, Pacific Cascade Chapter of the Society for Neuroscience, University of Washington Engineered Biomaterials, UW Graduate Program in Neurobiology and Behavior and the UW Student Activities & Union Facilities.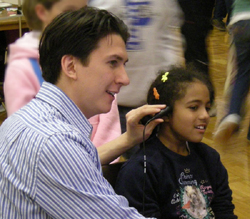 To start the Open House, students were led by Dr. Eric Chudler through an interactive, multimedia "Brain Assembly" to learn about the nervous system. Students then visited exhibits set up by University of Washington departments and other organizations. Students were connected to a transcranial Doppler machine to measure their brain blood flow (UW Dept. of Anesthesiology). The UW Department of Biological Structure had a comparative neuroanatomy display and the Neurobiology and Behavior Program had an exhibit to test the senses and to learn about natural neurotoxins. The Pacific Science Center provided many exhibits that they bring out to schools. The DO-IT program, UW Department of Otolaryngology, Institute for Learning and Brain Sciences, Women's Bioethics Project, UW Neuropathology, UW Genome Sciences, UW Biology, UW Chapter of Unite for Sight, Youth Take Heart and Seattle Hydrocephalus Support Group also provided exhibits.
Scenes from the Open House
Comments from Students about the Open House
"Thank you for the wonderful, amazing, amusing exhibits! It was so fun."
"I loved the assembly. I learned a lot. The brains were really cool. I hope we can come back again and learn more."
"Thank you for the fun Brain Awareness Week. My favorite spot was the Braille machine and the strawberry DNA. It was cool and I hope I can come again next year."
Comments from Teachers about the Open House
"Thank you for an amazing and positive learning experience for our children and us two adults who chaperoned them!! It was really good for the children to be able to meet students face-to-face and learn about their school career, what they will do with their education and how they have arrived where they are. It was very encouraging to have the number of females participating as science is one of those areas that girls often end up shying away from. The girls were pretty impressed by their presence. My nephew was not bored, a huge compliment as he requires stimulation and he certainly got his fill of it today."
"The Brain Awareness Open House is probably the most amazing field trip I have ever taken students to. They were so involved in and fascinated by both the presentation and the many activities."
"Thank YOU!! It was great. The kids loved every aspect of it and learned a lot of new information. The presenters were engaged, friendly, and asked the kids a lot of questions which was great. Thanks for including the kids from rural Enumclaw, for most of them it was the first time they have ever been to a university, so that in itself was a great experience too."
"We appreciated the opportunity to come to the event. It was a wonderful day of learning and one we will be sure to tell all our friends to put on their calendars for next year. Thank you for all you time, effort and super teaching. We loved your neuron model."
BACK TO:
Brain Awareness Week 2007 | Brain Awareness Week 2006 |
Brain Awareness Week 2005 | Brain Awareness Week 2004 |
Brain Awareness Week 2003 | Brain Awareness Week 2002 |
Brain Awareness Week 2001 | Brain Awareness Week 2000 |
Brain Awareness Week 1999 | Brain Awareness Week 1998
Copyright © 1996-2008, Eric H. Chudler All Rights Reserved.