Text: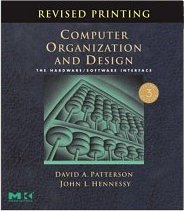 Computer Organization and Design:
The Hardware/Software Interface Third Edition (2007), Revised (Paperback)

David A. Patterson & John L. Hennessy
Morgan Kaufmann Publishers (Elsevier Inc.)
ISBN: 978-0-12-370606-5
About this book:
The performance of software systems is dramatically affected by how well software designers understand the basic hardware technologies at work in a system. Similarly, hardware designers must understand the far-reaching effects their design decisions have on software applications. For readers in either category, this introduction to the field provides a reasonably thorough examination of the computer. It demonstrates the relationships between the software and hardware and focuses on the foundational concepts that are basis for current computer design.

A MIPS processor is the core used to present the fundamentals of hardware technologies at work in a computer system. The book presents:
a complete RISC (MIPS) instruction set,
fundamentals of assembly language,
RISC/CISC and archtectures,
computer arithmetic,
pipelining,
memory hierarchies,
bus structures and I/O,
logic designs, microprogramming, and FPGAs,
embedded computing and parallel machines,
essentials of network and multiprocessor architectures, and
how hardware and software components impact program performance.
Website: http://www.mkp.com/companions/1558606041/