Beware of Lead in American Girl Jewelry
June 10, 2011

The US Consumer Product Safety Commission (CPSC) and EKSuccess Brands have issued a recall of the American Girl Crafts Jewelry Kit because these products have a high lead content. High lead levels have been found in the Pearly Beads & Ribbon Bracelets kit that has 56 pieces. The items were sold at Michaels Stores and other retailers from September 2009 through June 2011 for about $8.
Lead poses a health hazard if it is eaten and it is toxic to many organs of the body. It is especially dangerous because it can damage the brain and peripheral nerves. Lead can affect anyone, but children are especially at risk because they are still growing rapidly.
For specific product numbers and descriptions, please visit the CPSC Web site. The CPSC recommends that the kits and any completed bracelets be taken away from children; the company should be contacted for a full refund.
Recalled Product: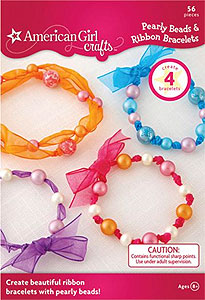 For more about lead in products, see:
Copyright © 1996-2011, Eric H. Chudler, University of Washington