September 5, 2005

The US Consumer Product Safety Commission (CPSC) has announced the recall of children's sunglasses sold at The Disneyland Resort in California, The Walt Disney World Resort in Florida, Disney's Vero Beach Resort in Florida, and the Disney Cruise Line based in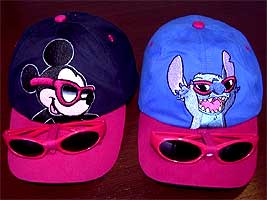 Florida. These red sunglasses were sold from November 2004 through June 2005 for about $16.
The sunglasses contain a high amount of lead paint that could pose a health risk if it is eaten. Each pair of sunglasses was sold with either a navy blue cap with a picture of Mickey Mouse or a light blue cap the character Stitch. The CPSC recommends that the glasses be taken away from children immediately. Adults should contact the Walt Disney World Company for a free replacement pair of sunglasses.
For more about the recall and lead in products, see: