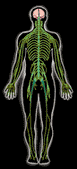 How Does Lead Affect the Nervous System
Lead is toxic to many organs of the body. It is especially dangerous because it can damage the brain and peripheral nerves. These nerves connect the brain and spinal cord to the rest of the body. Lead can affect anyone, but children are especially at risk because they are still growing rapidly.
Peripheral Nerve Damage
Lead poisoning can cause peripheral nerve damage: this can cause muscle weakness and problems with the sense of touch. When researchers examine these damaged nerves, they find that the myelin insulation is often gone and the axons are destroyed. These changes prevent nerves from transmitting messages properly.
Brain Damage
Lead can cross from a mother's blood supply to her developing baby in the uterus, where it concentrates in the baby's brain, liver and bones. Babies who are exposed to lead tend to be born premature and weigh less than normal. Lead may disrupt the functioning of mitochondria in the developing brain. Because the mitochondria are important for energy production within a neuron, a change in their function may damage the cell. Lead may also affect brain function by interfering with neurotransmitter release and synapse formation.

Lead affects many different areas of the brain including the cerebral cortex, cerebellum and hippocampus. The structure of blood vessels in the brain may also be altered which can can lead to bleeding and brain swelling. In children, lead exposure has been associated with reduced IQ, learning disabilities, decreased growth, hyperactive and antisocial behavior, and impaired hearing. Lead-poisoning in adults may cause muscle and joint pain, digestion problems, memory and concentration problems, high blood pressure, headaches, and dizziness.