you are here: home > postcards
Neuroscience For Kids
postcards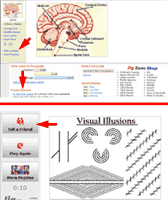 Try these jigsaw puzzles!
Click on one of the puzzle pictures to scramble the pieces.
Drag pieces of the puzzle to fit them together. Change the shape and number of the puzzle pieces by clicking on "Change Cut".
When you are finished, you can send the puzzle by e-mail to a friend by clicking on the "Tell a Friend" or "Share" button on the left side of each puzzle (red arrows at left).
Copyright © 1996-2020, Eric H. Chudler All Rights Reserved.