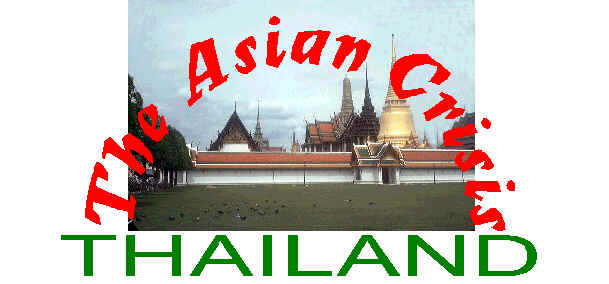 articles and commentaries

| China | Hong Kong | Indonesia | International Monetary Fund |
| Japan | Malaysia | South Korea | Taiwan | Thailand | United States |

Back to the Asian Crisis home page or go to the WTO home page.

Mar 23, 1999. THOMAS L. FRIEDMAN. "Thailand's situation stable after crisis forced needed changes," New York Times, reprinted in Seattle Post-Intelligencer.
"Thailand is still not out of the woods financially, but the situation has stabilized and the country is on a growth path again. What is most striking, though, is the degree to which Thai political reformers, who were hit hard by the economic crisis, now view it as an enormously useful turning point for their country."
Apr 16, 1998. Joseph Kahn. "Thai Business Dynasty Humbled by Asian Financial Woes" New York Times.
"The Thai government is determined to change the system, clearing a path for Western banks in this long-cloistered market. The International Monetary Fund has made an overhaul a central condition of its $17.2 billion bailout package.

"The changes are already striking. The central bank nationalized four banks earlier this year, wiping out founding-family shares. Two other banks have fallen into foreign hands, one to the Dutch banking giant ABN-Amro, and the other to the Singapore Development Bank. The rest are scrambling to raise funds in a way that insures long-term family control, but few see that as a realistic possibility for more than one or two of them."
March 11, 1998. Political and Economic Risk Consultancy, Ltd. A risk report.
"The government seems to be making the right moves at last, and the result is a slow but noticeable increase in confidence in its ability to stop the economy's downward spiral. Instead of being a brief interim government likely to last not much more than one year, speculation is growing that the government headed by Chuan Leekpai might last a good deal longer.

"What goes around comes around. Just as Thailand's problems caused a chain reaction around the Asian region, from Indonesia to Korea, Thailand is now vulnerable to the way its neighbors deal with their problems. Developments in Indonesia are particularly worrying. If conditions there continue to deteriorate, it could be more difficult for Thailand to stabilize its baht and to get the on-going support it needs from foreign banks and investors. For this reason, we have raised the weighting of the external risk section of our model. Thailand might be stabilizing its own situation, but confidence is still too weak to withstand the fallout from a political and economic meltdown in Indonesia."
Feb 24, 1998. Stephen H. Dunphy, "Asian `tigers': Financial crisis overwhelms region, but base is there for eventual recovery," Seattle Times.
"A wave of bankruptcies is likely in the coming months. But for Thailand, the crisis is more financial than economic. That means when Thailand gets its banking, financial and regulatory system back in shape, the country could well be on its way to recovery. There still is much pain in the collapsed real-estate market.

Agriculture, long ignored as the country's economy moved toward the Japanese export-oriented model, is making a comeback. Because of the devalued currency, Thai agricultural products are very competitive in world markets."
Jan 7, 1998. David E. Sanger, "Aid Programs for Thailand, Indonesia Show Signs of Faltering," New York Times.
"As the United States has focused on rescuing South Korea, the emergency programs to stabilize Thailand and Indonesia have begun to unravel, raising new fears about the effectiveness of the International Monetary Fund's prescriptions for stabilizing large regions of Asia.
"At the end of December, the IMF sent President Suharto, Asia's longest-serving leader, a strongly worded letter urging his government to carry out economic changes. Members of the Suharto family and close friends of the president, who hold huge financial stakes in the country's most lucrative businesses, have sought to dilute or evade such reforms.
Nov 24, 1997. Neel Chowdhury and Anthony Paul. "Where Asia Goes From Here," Fortune.
"The root cause of Thailand's problems is its current political system. Thai politicians spend millions of dollars getting elected in hopes of recouping while in office. As Singapore's Lee Kuan Yew recently pointed out, Thai politicians, who held personal stakes in many troubled financial institutions, have displayed "a natural reluctance to discipline them."
---
| Conferences on Growth and Trade | Kar-yiu's home page |
| Kar-yiu's books on growth and trade | Kar-yiu's papers on growth and trade |
If you have comments, information about this crisis and the countries, please click here, or if you have papers on Asian growth that you want to be included in the economics papers section, please click here.
This page was last revised on May 12, 1999.