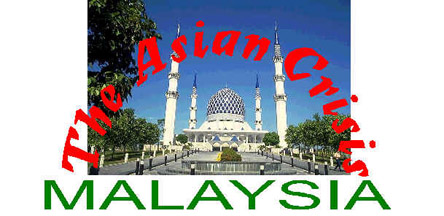 articles and commentaries
[This page was last revised on January 12, 2000.]


Jan 12, 2000. EDUARDO LACHICA. "Capital Controls Prove Mixed Bag In Asia as IMF Offers Assessment," Wall Street Journal.
"Malaysia's foreign-exchange measures, for instance, helped put an end to speculation in the ringgit and buy time for urgent banking-sector reforms but at the cost of a temporary loss of investor confidence, the IMF says in a review of the developing world's experience in coping with volatile capital flows."
Sept 29, 1999. "Malaysia's Mustapa Eyes 1999 Econ Growth Upgrade," Wall Street Journal.
"Malaysia's Second Finance Minister Mustapa Mohamad Wednesday said the government likely will revise up an economic-growth projection of 1% for 1999 when it issues the budget for 2000 next month.

"An upgrade is expected as the economy posted growth of 4.1% year-on-year in the second quarter and expanded 1.4% in the 1999 first half against the year-earlier period.

"The International Monetary Fund expects 2.4% growth in 1999, rising to 6.5% in 2000 - a figure he described as "overly optimistic."

"In a wide-ranging speech on the economy and Malaysia's financial and banking systems, the minister reaffirmed the government's commitment to keeping the ringgit peg to the U.S. dollar at its current level of MYR3.80."
July 9, 1999. Joceleyn Gecker. "High-tech `Cyberjaya' rises in Malaysian jungle," Associted Press, printed in Seattle Times
"Prime Minister Mahathir Mohamad unveiled phase one of the futuristic city named Cyberjaya - a project expected to eventually cost $5.3 billion and usher Malaysia into the information age.

"In step with Mahathir's dream, Malaysia is today the world's largest exporter of microchips. So far, 225 companies have applied to set up shop in the Super Corridor. Among them are 78 foreign companies including giants like Microsoft, Sun Microsystems, Oracle and Fujitsu.

"But amid the grand opening, Cyberjaya faces uncertainty. While officials say the essentials are in place and hail its opening six
months ahead of schedule, many are not rushing in just yet.

"A railway line to Kuala Lumpur has been stalled until 2001 and a network of three expressways is still under construction.

"Aside from Cyberjaya's headquarters - a few dozen neat two-story office chalets and manicured gardens - much of the 7,100-acre high-tech valley is unfinished."
Sept 29, 1998. Keith B. Richburg. "Will Malaysia be next to fall?" Washington Post, reprinted in Seattle Times.
Sept 2, 1998. "Foreign brokers halt Malaysian trading amid confusion," South China Morning Post.
Sept 1, 1998. Paul Krugman, "An Open Letter to Prime Minister Mahathir," Fortune.
Sept 1, 1998. "Malaysia restricts currency conversion," South China Morning Post.
"Dr Mahathir said there would be no value attached to the ringgit outside Malaysia after October 1. All Malaysian currency in banks overseas will have to be brought back to the country by then.
"The ringgit has lost its value by nearly 40 per cent against the US dollar since the Asian contagion broke out in July 1997."
Mar 5, 1998. David Lamb. "Asian crisis leaves Malaysia's plans for growth on hold," Los Angeles Times, reprinted in Seattle Times.
"Western and Asian economists say they believe Malaysia is in a better position than Thailand or Indonesia to begin the process of economic recovery. Malaysia has not suffered from a serious foreign-exchange shortage, and in the last quarter it recorded a trade surplus."
Nov 24, 1997. Neel Chowdhury and Anthony Paul. "Where Asia Goes From Here," Fortune.
"The first order of business for these nations is to get their fiscal and monetary houses in order. In Malaysia, for instance, Prime Minister Mahathir Mohamad oversees a nation that has invested heavily--some say overinvested--in real estate and infrastructure projects, yet he refuses to raise interest rates to wring excess capacity out of the system."
Nov 4, 1997. Political and Economic Risk Consultancy, Ltd. A risk report.
"Malaysia may have suffered along with the rest of Asia in the current financial crisis, but its behavior over the last few months may well ensure that it is no longer regarded as part of the crowd when foreign investors eventually return. Instead, fund managers are likely to favor countries such as Singapore and even Indonesia which are perceived to have reacted more appropriately.

"Government intimidation of local economists and market analysts in recent months has been so effective that the credibility of economic analysis originating from Malaysia is now in serious doubt. The result is that outside observers are in danger of swinging too far in the opposite direction, overlooking genuinely positive developments and focusing on the negative ones instead.

"Watch out for further moves to restrict the number of foreign laborers in the country. In addition to the usual arguments about such workers being associated with a rising incidence of crime and communicable diseases, policy-makers now have a powerful economic argument. In recent weeks officials have been pointing out that foreign workers in the country remit an estimated M$4 billion to their home countries each year, thus contributing significantly to the services deficit."
---
| Conferences on Growth and Trade | Kar-yiu's home page |
| Kar-yiu's books on growth and trade | Kar-yiu's papers on growth and trade |
If you have comments, information about this crisis and the countries, please click here, or if you have papers on Asian growth that you want to be included in the economics papers section, please click here.