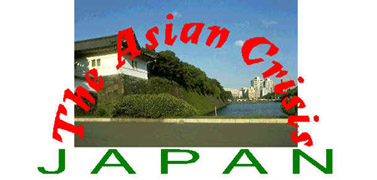 articles and commentaries
[This page was last revised on October 12, 1999.]



Oct 11, 1999. Arthur B. Laffer. "Japan Rise Again," Wall Street Journal.
"In April the Japanese government cut the highest marginal tax rate on personal income (federal and local) to 47% from 63%. They did this simply by lopping off the highest tax bracket. The lower bracket tax rates weren't changed at all. The highest corporate tax rate was also cut by almost 10 percentage points to a smidgen over 40%. Small business tax rates were cut to 27% from about 34%. There were no phase-ins, no exceptions, no ties to deficit reduction, nor any of the other gimmicks so popular in continental Europe and the U.S. This was pure supply-side economics."
Sept 23, 1999. Martin Feldstein. "Japan's Yen for a Weak Currency," Wall Street Journal.
"But why would investors expect the yen to keep rising? For two related reasons. First, Japan has an enormous current-account surplus (3% of GDP) while the U.S. has an even more oversized current-account deficit (3.5% of GDP). This year, that deficit has forced foreign investors to accumulate dollar investments at a rate of about $250 billion, adding to the accumulated net foreign investment in the U.S. that now exceeds $1.5 trillion. The reluctance of global investors to go on accumulating dollar investments at such a pace, with the associated exchange-rate risk, means that the dollar must continue to fall if American goods are to be more
competitive in world markets, slowing the rise of U.S. imports and increasing exports.

"Second, inflation in Japan is now negative and particularly so for the products Japan exports. The yen must rise if those goods are not to become even more competitive and Japan's trade surplus is not to widen further.

"There are some constructive things Japan could do to stimulate domestic spending. Substantial reforms of land-use rules could encourage more house building. A shift from government infrastructure spending to personal tax cuts would also help. Sadly, there seems little prospect for such changes now.

"Instead, attention in Tokyo is shifting to yen policy and net exports. Major Japanese industries say they need an exchange rate of 115 yen to the dollar in order to remain viable in global markets. The Japanese government has been intervening in the foreign-exchange market, selling yen in the hope of stopping its rise. Not surprisingly, such interventions have been overwhelmed by private transactions, leaving the underlying market trends unchanged."
Mar 19, 1999. Patrick Harrington. "Japan's economic woes translate into software sales for local firms," Seattle Times.
"The company is Encompass Globalization. It translates and modifies U.S.-made software to be sold in Japan and other Asian countries. Its 1998 sales rose 133 percent to $2.8 million from $1.2 million in 1997. If sales for 1999 continue at the current rate, they will reach $3.6 million by year's end.

"Encompass' boom times are fueled by Japanese companies struggling to cut costs by becoming more efficient. In many cases, companies are laying off workers and replacing them with computers and software."
Feb 23, 1999. Dirk Beveridge. "Economic crisis easing in Asia, but unemployment is still high," Associated Press, printed in Seattle Times.
"Paul Schulte, chief Asian investment strategist for ING Baring Securities (Hong Kong), says, "We're looking at a very, very mild recovery in 1999" - except for Japan.

J"apan, the world's second-largest economy, is stuck in its worst recession since World War II and has been unable to help pull neighboring economies out of their gloom.

"Japan's jobless rate hit a post-World War II high of 4.4 percent in November, easing only to 4.3 percent in December."
Feb 17, 1999. "Japanese deny dumping steel in U.S. markets," Associated Press, printed in Seattle Times.
"Yesterday, major U.S. steelmakers and the United Steelworkers Union filed complaints accusing Japan and seven other countries of selling steel in the U.S. market at below production cost and home market prices.

"Bethlehem Steel, Gulf States Steel, IPSCO Steel, Tuscaloosa Steel, USX and the union said eight countries were responsible for pushing down prices that forced U.S. factories to significantly cut back production.

"Japan's exports of steel-plate products to the United States skyrocketed more than 5,800 percent to 278,180 tons in the first 11 months of last year, according to the Japan Iron and Steel Federation.

"The U.S. International Trade Commission has 45 days and the Commerce Department 160 days to make a preliminary determination of injury that could lead to new tariffs."
Feb 17, 1999. Martin Fackler. "Ailing Japanese banks attempt to stay afloat by improving service," Associated Press, printed in Seattle Times.
"Sumitomo's newfound attention to service is part of a wave of restructuring, bad-loan write-offs and mergers that many here are hailing as the beginning of the end for Japan's 7-year-old banking crisis.

"Critics, however, say the reforms fail to get to the core of the banking industry's problems, which include a chronic lack of profitability, unwise lending policies and a severely tarnished
public image."
Dec 16, 1998. David Thurber. "Japan pledges $5.1 billion to aid Asian economies," Associated Press, Seattle Times.
"Japanese Prime Minister Keizo Obuchi today announced $5.1 billion in new low-interest loans to help troubled Asian countries rebuild their devastated economies.

"The loans, for projects such as roads, bridges, power stations and airports, also will help Japan's sagging economy because the contractors must be Japanese companies."
Dec 3, 1998. Yuri Kageyama. "Japan's economy continues shrinking," Associated Press, Seattle Times.
Nov 28, 1998. Seattle Times news services. "Dollar rises to seven-week high against Japan's yen," Seattle Times.
Nov 15, 1998. Stephen H. Dunphy. "Japan on the edge: Economic crisis in Asia's powerhouse," Seattle Times.
"Japan has slashed its own economic outlook for the year ending in March, predicting gross domestic product will have shrunk 1.8 percent instead of grown 1.9 percent as earlier forecast.

"Coming on the heels of a 0.7 percent decline in 1997-98, the expected fall will mark the first time in the postwar era that Japan's economy has shrunk for two consecutive years. Yamasawa believes the economic slide will last well into the next century."
Nov 14, 1998. "U.S. and Japan tangle over tariffs," Associated Press, printed in Seattle Times.
"Over two days of negotiations, Japanese officials have adamantly argued they are in no position to cut border taxes in two sensitive areas - forestry products and fish - when their economy is in recession."
Oct 23, 1998. Martin Fackler. "Japan to nationalize troubled major bank," Associated Press, printed in Seattle Times.
"In announcing the first nationalization of a Japanese bank since World War II, Prime Minister Keizo Obuchi said he approved the takeover of the Long-Term Credit Bank of Japan (LTCB), , whose recent troubles had shaken world confidence in Japan's banking system and prompted heated debate about a taxpayer bailout."
Oct 13, 1998. "Japan's lower house approves bank bailout," Bloomberg News, printed in Seattle Times.
"Japan's lower house passed legislation today allowing the government to spend up to $510 billion to recapitalize its debt-burdened banking system and help pull the economy out of recession."
Oct 12, 1998. "Japan close to finalizing $574 billion bailout plan," Bloomberg News, printed in Seattle Times.
"Japanese politicians are meeting today to hammer out details of a bank-bailout plan worth $573.7 billion, more than double earlier proposals and about 13 percent of the nation's gross domestic product."
Oct 8, 1998. Thomas S. Mulligan and James Flanigan. "Yen's surge suggests Asia is improving," Los Angeles Times, reprinted in Seattle Times.
"Responding to evidence that Japan at long last is nearing a political deal to rescue its tottering banking system, the yen surged, and the dollar tumbled by 8.7 percent yesterday - its biggest one-day loss against the Japanese currency in 25 years. The dollar continued its plunge today, dropping by as much as 8 percent.

"The explosive moves, which brought the dollar as low as 111.58 yen today from 130.29 Tuesday, immediately brightens the economic picture for hard-pressed nations across Asia. The changes ease pressure on Asia's beleaguered currencies and make their goods more competitive against those from Japan."
Sept 28, 1998. Todd Zaun. "Big Japan lender goes bankrupt," Seattle Times.
"A leasing company saddled with more than $16 billion in debt announced today it has filed for protection in Japan's biggest bankruptcy.

"Instead of starting a market meltdown, however, stocks in Japan rose 1.35 percent and analysts said the failure actually might be good for Japan's ailing banking sector."
Sept 27, 1998. Sheryl WuDunn. "Japanese parties settle on plan to revive nation's banking system," New York Times, reprinted in Seattle Times.
"With yesterday's agreement, a set of long-awaited financial laws could be passed by the Parliament by Oct. 7, when the current Parliament session ends. The new laws would set up a mechanism for strengthening Japan's banks, dealing with large bank failures and confronting the problem of bad loans that are at the heart of Japan's economic crisis."
Sept 21, 1998. Nicholeas D. Kristof. "Japan Sees Itself as Scapegoat of Washington in Asia Crisis," New York Times.
"Japan was the first major country to pay attention to the crisis unfolding in Thailand in the summer of 1997, and then-Prime Minister Ryutaro Hashimoto tried to get world leaders to discuss the economic instability in Asia at the Denver summit meeting, two weeks before the crisis exploded into the public eye. But no other leader wanted to discuss what then seemed like an obscure topic.

"Then just this month, Obuchi proposed that leaders of the industrialized countries meet to consult on the Russian crisis and global economic risks. Washington killed that idea, too. But a few days ago, as the crisis became more serious, Clinton summoned finance ministers and central bankers from the same countries to discuss the problems.

"Yosano noted that Japan has contributed $43 billion to rescue packages in Asia, compared to $12 billion from the United States and $7 billion from Europe."
Sept 6, 1998. David E. Sanger. "U.S. and Japanese Officials Split on Seriousness of Economic Crisis," New York Times.
"But in a sign of the growing split between Tokyo and Washington, Japanese officials bristled at the mounting American pressure and suggested that they were being made scapegoats for problems that are unrelated to Tokyo's seven years of economic mismanagement."
August 10, 1998. Martin Fackler. "Japanese foes blast Obuchi over economy," Associated Press, reprinted in Seattle Times.
Obuchi has promised quick action to revive a recession-bound economy that threatens to throw the rest of Asia into a new round of economic chaos.

He is seeking to stimulate consumption with more than $41 billion worth of tax cuts and $69 billion in public spending.
August 9, 1998. Sue Zeidler. "Japanese bailing out of U.S. real estate," Reuters, printed in Seattle Times.
Japanese investors owned $10 billion in Southern California properties at the height of the real-estate boom, only to suffer steep paper losses through the 1990s.

According to Ernst & Young Kenneth Leventhal Real Estate Group, the Japanese are expected to unload between $3 billion and $5 billion nationwide in U.S. real-estate assets each year through the end of the decade.
July 31, 1998. "Dollar hits 6-week high against yen," Seattle Times.
Japan's economy remains in the doldrums. The economy contracted 0.7 percent in the year ended March 31, its worst performance in 50 years. Japan announced today the jobless rate rose to a postwar record-high 4.3 percent in June.
July 28, 1998. Eiichiro Tokumoto. "Experienced hand to guide Japan's finances," Reuters, printed in Seattle Times.
July 13, 1998. Eric Talmadge. "Japan's prime minister quits," Associated Press, reprinted in Seattle Times.
June 17, 1998. Bloomberg News, "Dollar falls sharply after Fed sale to strengthen yen," Seattle Times.
"The dollar fell 3.5 percent today against the yen after the Federal Reserve sold dollars for the Japanese currency, a move traders interpreted as an attempt to prevent countries in Asia from slumping deeper into recession.

"The dollar fell as low as 138.25 yen, down from an eight-year high of 146.78 set yesterday."
June 12, 1998. Martin Fackler, "It's official: Japan in severe recession," Associated Press, reprinted in Seattle Times.
"In announcing its first year of economic contraction in more than two decades, Japan confirmed today that it is in a severe recession, and fears deepened that its woes would worsen Asia's financial crisis.

"The Economic Planning Agency said Japan's gross domestic product (GDP) for the fiscal year that ended in March shrank by 0.7 percent, the first full year of economic contraction since 1974.

"To make matters worse, Prime Minister Ryutaro Hashimoto embarked on a program to raise taxes and balance Japan's budget just as its economy was showing its first sign of recovery since 1990. The tax increase squelched consumer spending."
Apr 25, 1998. Sheryl WuDunn. "Japan Unveils $128 Billion Stimulus Program," New York Times.
"Officials from the United States and elsewhere around the world have been watching the slumbering Japanese economy with increasing alarm. Japan's $600 billion in bad and doubtful debt has dragged down economic growth since 1991 and the Japanese appetite for imports has diminished, posing a threat to other economically troubled countries in Asia.

"The amount of spending will be $92 billion, about the size of the economy of Poland, and almost all of it will be rushed into the economy within 12 months. Indeed, the spending portion of the package has been creeping up as criticism from around the world kept pouring in and investors kept battering the markets here. Now, the government says the package could add 2 percent to growth, though private economists are less optimistic."
April 21, 1998. Niholas D. Kristof. "Shops Closing, Japan Still Asks `What Crisis?'" New York Times.
"The lack of a crisis mentality means that Japan cannot summon the political will to lay off surplus workers, to extinguish insolvent banks, to snuff out the hopes of the kindly old ladies who run rice shops and futon stores. It means that there is little public pressure on Prime Minister Ryutaro Hashimoto to push for the sweeping deregulation and huge stimulus measures that the United States is urging."
Jan 12, 1998. Rudi Dornbusch, "What's the Weakest Link in the World Economy? Japan," Business Week.
Nov 28, 1997. Mary Jordon, "As its neighbors reel, Japan turns away from leadership role," Washington Post. Reprinted in Seattle Times.
Nov 24, 1997. Edward W. Desmond. "Japan: A Model for What Not to Do," Fortune.
"Even with those risks, many economists question whether Japan can afford to apply any new Keynesian or supply-side tonics, given the size of its budget deficit and the huge burden it faces in caring for the world's most rapidly aging population. "Japan's policymakers are adopting a fatalistic approach," says Peter Tasker, a strategist at Dresdner Kleinwort Benson. "They managed to prevent heavy unemployment and bankruptcies of major corporations in the 1990s. Now they feel the economy may just have to take its lumps."

"If the setbacks roiling the rest of Asia make it impossible to dodge a contraction, Japan can only hope that its coming slump will at least force it to deregulate and restructure the way it should have ten years ago. That, of course, is a lesson its neighbors would do well to ponder too."
---
| Conferences on Growth and Trade | Kar-yiu's home page |
| Kar-yiu's books on growth and trade | Kar-yiu's papers on growth and trade |
If you have comments, information about this crisis and the countries, please click here, or if you have papers on Asian growth that you want to be included in the economics papers section, please click here.
This page was last revised on October 12, 1999.