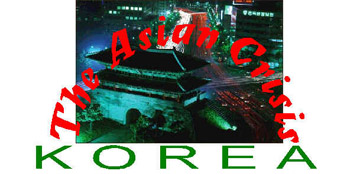 articles and commentaries



July 3, 1999. Thomas Wagner. "Asia's markets roar back to life," Associted Press, printed in Seattle Times.
"South Korea, the largest Asian economy to require an IMF bailout, saw its gross domestic product grow by 4.6 percent in the first quarter of this year. Singapore's GDP grew by 1.2 percent."
Jan 29, 1999. Stephen H. Dunphy . "Envoy: South Korea's on mend" Seattle Times.
"South Korea, one of the hardest-hit countries in the Asian financial crisis, may be one of the first to show signs of revival after almost a year and a half of problems.

"Lee Hong-koo, Korean ambassador to the U.S., told a meeting of the World Affairs Council in Seattle that growth in Korea could be between 1 percent and 2 percent this year.
Nov 26, 1998. Valerie Reitman. "South Korea's `love rice': A few grains feed many," Los Angeles Times, reprinted in Seattle Times.
"Since the crumbling of the economy late last year, hundreds of South Korean businesses have gone bust, leaving tens of thousands of people without jobs. City park benches and train stations now hold thousands who have been left homeless. Some parents have left their children at orphanages because they can no longer afford to feed them."
March 11, 1998. Political and Economic Risk Consultancy, Ltd. A Risk Report.
"In the face of financial collapse, Korea must make deep-rooted changes to its financial structure. As stipulated by the IMF in return for US$57 billion in bailout loans, Korea must curb economic growth, open its markets, increase transparency and allow companies in trouble to go into bankruptcy. With the presence of the IMF, Korea will have little choice but to implement such changes. If it does, the nation may return to a more stable growth path within a couple of years. However, Korean politicians, businesses and civic groups, though committed to the IMF package, are showing some resistance, particularly on the issue of lay-offs."
Mar 3, 1998. Andrew Pollack. "Asian Financial Crisis Deals Body Blow to U.S. Operations of Asian Companies," New York Times.
"The American operations, for instance, have been a lifeline for Kia Motors Corp., a South Korean automaker that fell into bankruptcy last year. The American subsidiary was asked to accept shipments of extra cars, said Greg Warner, executive vice president of Kia Motors America. U.S. sales were up 65 percent last year and in January were nearly triple the level of a year earlier, because of the devaluation of the won and because new dealers have opened. But dealers are having trouble getting financing, Warner said.

"According to Commerce Department figures for 1995, the latest available, there were 109 nonbank affiliates of South Korean companies operating in the United States, with sales of $23.8 billion and 22,900 employees. Few Korean companies have set up United States factories in the way that Japanese companies like Honda and Sony have. So many of the most recent cutbacks since then have been in sales and administrative personnel and have tended to be small.

"South Korean banks are closing their American branches and selling loan portfolios. Korean banks collectively had 26 branches and seven subsidiaries in the United States with total assets of $21.2 billion at the end of 1996, according to the Bank of Korea."
Feb 24, 1998. Stephen H. Dunphy, "Asian `tigers': Financial crisis overwhelms region, but base is there for eventual recovery," Seattle Times.
"One of the problems was that many of Korea's loans were short-term, with payments - big payments as high as $20 billion - due these first months of the new year.

"By extending the loans, Korea has more time to earn money to make the payments."
Feb 10, 1998. Stephanie Strom. "In Korea, Domestic Loans Said to Be Serious Problem," New York Times. [Graph: Total debt as a percentage of its GDP]
"South Korean banks owe their foreign counterparts some $153 billion, about $23.4 billion of which was short-term debt until it was restructured last month. That total pales beside domestic debt, the money South Korean companies owe South Korean financial institutions, which at current exchange rates is somewhat more than $300 billion, according to analysts.

"Between 50 percent and 75 percent of domestic debt is short term, much of it in the form of "oum" notes that come due in three to six months. A Korean tradition, the use of "oum," or promissory, notes, is pervasive in South Korean business.

"Analysts estimate that at least 20 percent of the domestic loan portfolio, or somewhere between $60 billion and $65 billion, is probably already in default, and other estimates range as high as 30 percent or 40 percent."
Jan 8, 1998. Louis Uchitelle. "Economists Blame Short-Term Loans for Asian Crisis," New York Times.
"In more than a dozen interviews at the three-day conference of the American Economic Association this week, a common theme emerged: that rules should be developed to discourage the sort of short-term borrowing that can suddenly leave a country like South Korea overindebted to the industrial nations.

"Korea drew criticism for having gradually eliminated restrictions on such borrowing, contributing to the current crisis. But Japanese, European and U.S. banks were also faulted for eagerly making loans despite growing evidence of possible defaults."
Jan 4, 1998. Seth Faison. "One Korean Certainty: No More Business as Usual," New York Times.
"South Korea's financial crisis, so much worse than anyone had predicted, is forcing business executives, government officials and ordinary people to thoroughly rethink the way they have done things for decades. Financial methods and practices left over from a simpler era are abruptly clashing with the demands of a more modern society, like accountability and openness, and it is as true for big conglomerates as it is for housewives like Mrs. Kim.

"The current crisis emerged from a tight collusion between big companies and government that meant that credit was allocated using political, and not financial, criteria. Only when several of South Korea's enormous conglomerates started going bankrupt did the extent of the problem emerge."
---
| Conferences on Growth and Trade, Asian crisis | Kar-yiu's home page |
| Kar-yiu's books on growth and trade | Kar-yiu's papers on growth and trade |
If you have comments, information about this crisis and the countries, please click here, or if you have papers on Asian growth that you want to be included in the economics papers section, please click here.
This page was last revised on July 21, 1999.