Biographical Timeline | Leadership Qualities | Tibetan Language Erasure | References
Responsive
Tame Wairere Iti strongly displays the leadership quality of being responsive to his surroundings. This distinguishes Tame Iti's leadership style from other activists because he has consistently demonstrated that he not only is well aware of all factors that affect his actions, but also of how his actions come across to others. By being responsive to change, Tame Iti has been able to easily adapt the movement he has created to be more readily inclusive and accessible to everyone. Tame Iti was one of the first Maori activists to begin using the internet and social media platforms in the early 2000s as he recognized the potential to mobilize interest in younger and more globally diverse audiences.  Furthermore, this has always benefited Tame Iti when organizing and leading events as he often changes the avenue in which his activism is delivered to best match the receiving audience and thereby have the most impact. For instance, after his 2005 arrest, Tame Iti began to create artistic expressions of Maori activism because "art is a form accessible to all". His pieces still consistently reflect the theme of Indigenous rights, such as one of his most famous pieces of modern art in which "I will not speak Maori" is copied over and over again against a red background, yet these works are still a departure from his earlier and more violent activist strategy. Tame Iti recognized that after his imprisonment, in which he was granted a lighter sentence, subsequent actions of the same manner would result in both the end of his career and a diminished reputation. Although this is just one specific example, it is illustrative of a key quality of Tame Iti's leadership style.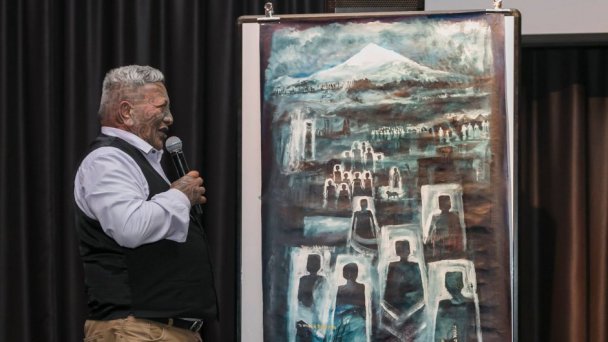 Resilient
Tame Wairere Iti has always displayed resilience. From the time he was a young kid in primary school, and stood up to his principal by continuing to speak his native language, to when he continued to appeal his sentence in 2012, Tame has been resilient. Iti was arrested and convicted in 2012 for various firearm charges as well as one charge for unlawful possession of Molotov cocktails. He and his partner were sentenced to two and a half years in prison even though some of the surveillance footage was illegally acquired by the police. The legality of the evidence was not taken into account by the judge during the sentencing or trial, but Iti made sure to get justice by using this while appealing the case and his sentencing. His resilience proved effective, and he was released on parole a year early. This is only one example of Tame's resilience, but he continuously shows it as he fights for the rights of his people. There are constant barriers and people who try to stop him, but nevertheless he continues on with his fight. His resilience also makes it easy for his followers to look up to him, and try to follow in his footsteps.
Courageous
Tame Wairere Iti has always shown great courage. Whether as a child, refusing to give up speaking Maori, or working as an activist as an adult, Tame Iti has always had a powerful ability to not show fear. At age 15, Tame Iti began a life of anti-authority protest, and his courage would serve him well. Beginning with his establishment of a Tuhoe "Embassy" in Wellington in the 1970s, Iti began a career of challenging authority to pursue indigenous sovereignty in ways most people would balk at. Perhaps the most notable example of this was in 2005, when, at a ceremony with many judges and officials in attendance, Iti fired a shotgun into a New Zealand flag, in an attempt to convey what it felt like to be Maori under the New Zealand government. Defacing the flag while government officials look on is not an act the average individual would be capable of doing, nor facing down police, or many of the other things Tame Iti has done on a regular basis in the past 50 plus years. His bravery in the face of those who oppress him and his people make him a great leader and activist, and it has helped him in the fight to get New Zealand to respect Maori sovereignty.