PUBLICATIONS LIST
---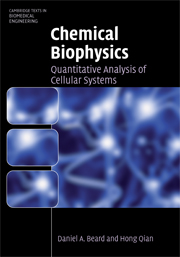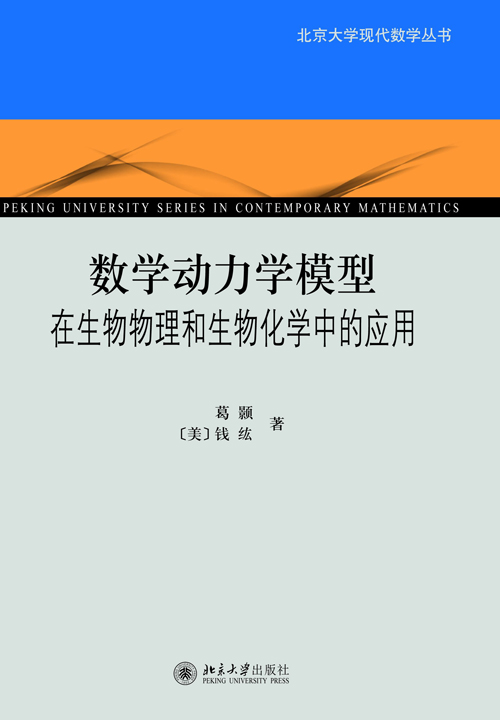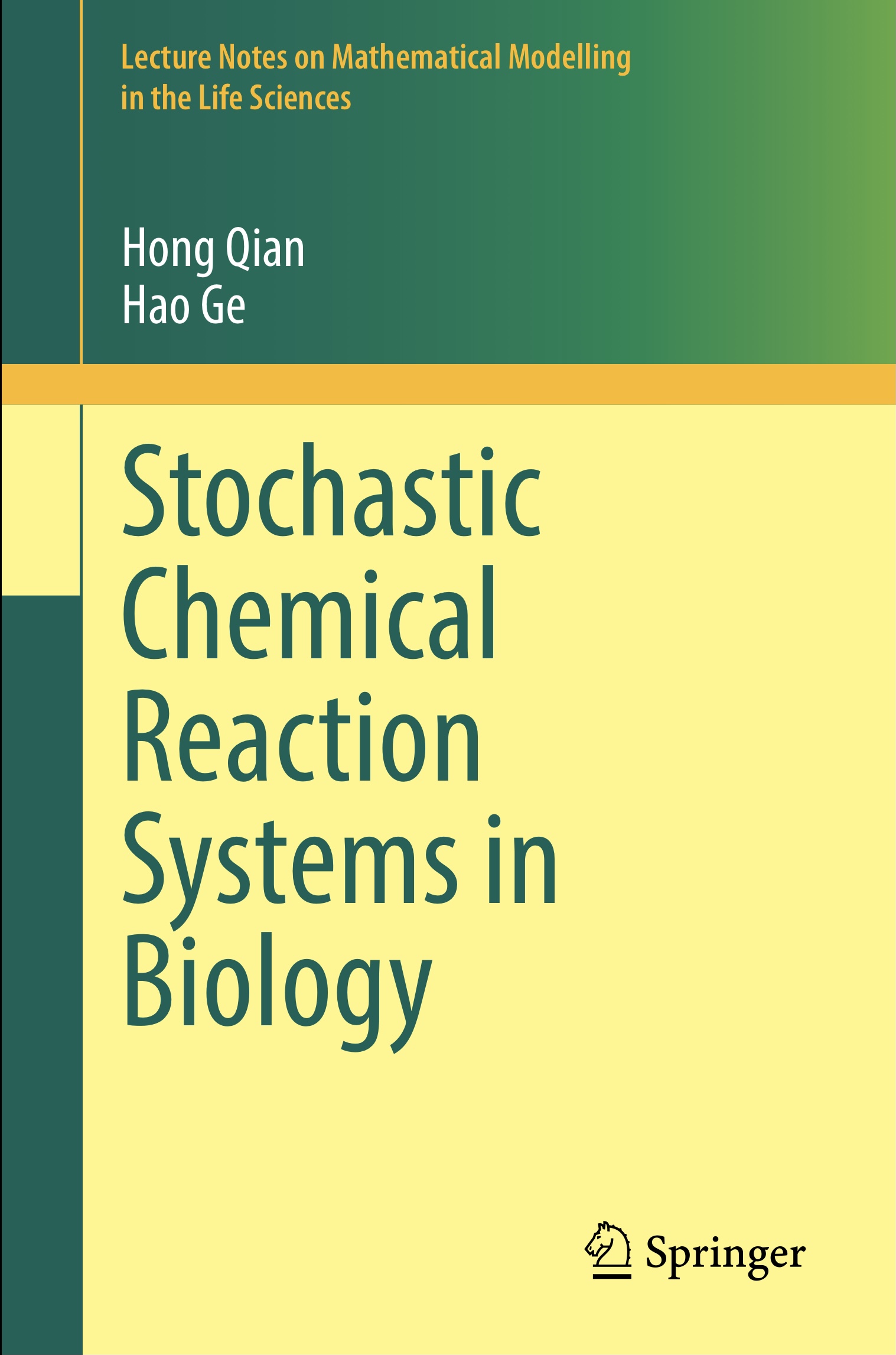 BOOKS
Chemical Biophysics: Quantitative Analysis of Cellular Systems. (with Beard, D.A.) Cambridge Texts in Biomedical Engineering, Cambridge University Press (2008).
Mathematical Kinetic Models: Applications in Biophysics and Biochemistry. [in Chinese] (with Ge, H.) Peking University Series in Contemporary Mathematics, Peking University Press (2017).
Stochastic Chemical Reaction Systems in Biology (with Ge, H.) Lecture Notes on Mathematical Modelling in the Life Sciences, Springer (2021).
REVIEWS and FEATURE ARTICLES
APPLIED MATHEMATICS
PHYSICS and PHYSICAL CHEMISTRY
BIOCHEMISTRY, BIOPHYSICS and LIFE SCIENCES
The hidden energy in irreversible temporal fluctuations as the origin of noise induced biochemical phenomena: The case of fluctuation-enhanced sensitivity. (with Bishop, L.M.)
Phosphorylation energy and nonlinear kinetics as key determinants for G2/M transition in fission yeast cell cycle. (with Wang, T., Zhao, J., Ouyang, Q., Fu, Y.V. & Li, F.) bioRxiv 084400.
Counting single cells and computing their heterogeneity: from phenotypic frequencies to mean value of a quantitative biomarker. (with Cheng, Y.-C.) Quantitative Biology, 8, 172-176 (2020).
A model for positive feedback control of the transformation of fibroblasts to myofibroblasts. (with Elson, E.L., Fee, J.A. & Wakatsuki, T.) Progress in Biophysics and Molecular Biology, 144, 30--40 (2019).
Structure for energy cycle: A unique status of the Second Law of thermodynamics for living systems. (Bai, S.-N. & Ge, H.) Science China: Life Sciences, 61, 1266-1273 (2018).
Relatively slow stochastic gene-state switching in the presence of positive feedback significantly broadens the region of bimodality through stabilizing the uninduced phenotypic state. (with Ge, H., Wu, P. & Xie, X.S.) PLoS Computational Biology, 14, e1006051 (2018).
Competition regulation among DNA methylation, nucleotide synthesis and anti-oxidation in cancer vs. normal tissues. (with Cao, S., Zhu, X., Zhang, C., Schuttler, H.-B., Gong, J.-P. & Xu, Y.) Cancer Research, 77, 1-11 (2017).
Information and entropic force: physical description of biological cells, chemical reaction kinetics, and information theory. Scientia Sinica Vitae [In Chinese], 47, 257-261 (2017).
Actin aggregations mark the sites of neurite initiation. (with Zhang, S.-X., Duan, L.-H. & Yu, X.) Neuroscience Bulletin, 32, 1-15(2016).
Nonequilibrium population dynamics of phenotype conversion of cancer cells. (with Zhou, J.X., Pisco, A.O. & Huang, S.) PLoS ONE, 9, e110714 (2014).
Fitness and entropy production in a cell population dynamics with epigenetic phenotype switching. Quantitative Biology, 2, 47-53 (2014).
Stochastic physics, complex systems and biology. Quantitative Biology, 1, 50-53 (2013).
A little engine that could: ATP-powered electrical battery and heater inside cells. (with Autzen, H.E.) Biophysical Journal (New and Notable), 103, 1409-1410 (2012).
A stochastic model of DNA fragments rejoining. (with Li, Y., Wang, Y. & Cucinotta, F.A.) PLoS ONE, 7, e44293 (2012).
Mesoscopic biochemical basis of isogenetic inheritance and canalization: Stochasticity, nonlinearity, and emergent landscape. (with Ge, H.) MCB: Molecular & Cellular Biomechanics [Special Issue in Honor of Shu Chien], 9, 1-30 (2012).
The Brownian ratchet revisited: Diffusion formalism, polymer-barrier attractions, and multiple filamentous bundle growth. (with Cole, C.L.) Biophysical Reviews and Letters, 6, 59-79 (2011).
Stochastic ensembles, conformationally adaptive teamwork and enzymatic detoxification. (with Atkins, W.M.) Biochemistry (New Concept), 50, 3866-3872 (2011).
Delayed onset of positive feedback activation of Rab5 by Rabex-5 and Rabaptin-5 in endocytosis. (with Zhu, H. & Li, G.-P.) PLoS ONE, 5, e9226 (2010).
Stochastic bistability and bifurcation in a mesoscopic signaling system with autocatalytic kinase. (with Bishop, L.M.) Biophysical Journal, 98, 1-11 (2010).
Open-system thermodynamic analysis of DNA polymerase fidelity. (with Cady, F.) Physical Biology, 6, 036011 (2009).
A mechanism for Src kinase-dependent signaling by noncatalytic receptors. (with Cooper, J.A.) Biochemistry (New Concepts), 47, 5681-5688 (2008).
Temporal cooperativity and sensitivity amplification in biological signal transduction. (with Cooper, J.A.) Biochemistry, 47, 2211-2220 (2008).
Linear analysis near a steady-state of biochemical networks: Control analysis, correlation metrics and circuit theory. (with Heuett, W.J. & Beard, D.A.) BMC Systems Biology, 2, 44 (2008).
Viscoelasticity of living materials: Mechanics and chemistry of muscle as an active macromolecular system. MCB: Molecular & Cellular Biomechanics [Special Issue in Honor of Yuan-Cheng Fung], 5, 107-117 (2008).
Reducing intrinsic biochemical noise in cells and its thermodynamic limit. Journal of Molecular Biology, 362, 387-392 (2006).
Metabolic futile cycles and their functions: A systems analysis of energy and control. (with Beard, D.A.) IET Proceedings Systems Biology, 153, 192-200 (2006).
Free energy distribution of binary protein-protein binding suggests cross-species interactome differences. (with Shi, Y.Y., Miller, G.A. & Bomsztyk, K.) Proceedings of the National Academy of Sciences USA, 103, 11527-11532 (2006).
E-PRINTS
PROCEEDINGS and CHAPTERS
Chemical master equation. (with Ge, H.) In Springer Encyclopedia of Systems Biology (W. Dubitzky, O. Wolkenhauer, K.-H. Cho & H. Yokota, eds.) Springer, 396-399 (2013).
Stochastic processes, Fokker-Planck equation. (with Ge, H.) In Springer Encyclopedia of Systems Biology (W. Dubitzky, O. Wolkenhauer, K.-H. Cho & H. Yokota, eds.) Springer, 2000-2004 (2013).
Irreversible stochastic processes, coupled diffusions and systems biochemistry. (with Shi, P.-Z.) In Frontiers in Computational and Systems Biology (Computational Biology Series, Vol. 15, J.-F. Feng, W.-J. Fu & F.-Z. Sun, eds.) Springer-Verlag, 175-201 (2010).
Chemical fluxes in cellular steady states measured by fluorescence correlation spectroscopy. (with Elson, E.L.) In Single Molecule Spectroscopy in Chemistry, Physics and Biology (Nobel Symposium: Springer Series in Chemical Physics, Vol. 96, A. Gräslund, R. Rigler & J. Widengren, eds.) Springer, 119-137 (2009).
Multiscale modeling of cardiac cellular energetics. (with Bassingthwaighte, J.B., Chizeck, H.J. & Atlas, L.E.) In The Communicative Cardiac Cell (Annual of the New York Academy of Science, Vol. 1047, S. Sideman, R. Beyar & A. Landesberg, eds.) 395-426 (2005).
Constraint-based modeling of metabolomic systems. (with Beard, D.A.) In Encyclopedia of Genetics, Genomics, Proteomics, and Bioinformatics, Vol. 3: Proteomics (M. Dunn, ed.) Sec. 8: Systems Biology (R.L. Winslow, ed.) John Wiley & Sons, (2005).
Stoichiometric foundation of large-scale biochemical system analysis. (with Beard, D.A. & Bassingthwaighte, J.B.) In Modelling in Molecular Biology (Natural Computing Series, G. Ciobanu & G. Rozenberg, eds.) Springer, 1-19 (2004).
Mathematical Biology. In Dictionary of Applied Math for Engineers and Scientists - A Volume in the Comprehensive Dictionary of Mathematics (E. Previato ed.) CRC Press (2003).
Fractional Brownian motion and fractional Gaussian noise. In Processes with Long-Range Correlations: Theory and Applications (Lecture Notes in Physics, Vol. 621, G. Rangarajan & M.Z. Ding, eds.) Springer, 22-33 (2003).
Strain-dependent fluorescence correlation spectroscopy: proposing a new measurement for conformational fluctuations of biological macromolecules. (with Elson, E.L.) In Fluorescence Correlation Spectroscopy: Theory and Applications (Springer Series in Chemical Physics, Vol. 65, R. Rigler & E.L. Elson eds.) Springer, 65-83 (2001).
The cardiome project: An integrated view of cardiac metabolism and regional mechanical function. (with Bassingthwaighte, J.B. & Li, Z.) In Oxygen Transport to Tissue, Vol. 21, (Advances in Experimental Medicine and Biology, Vol. 471, A. Eke & D.T. Delpy Eds.) Kluwer Academic/Plenum Publishers, 541-553 (1999).
Measurements of molecular transport in small systems. (with Elson, E.L.) In Cell Biology (AMS Lectures on Mathematics in the Life Science, Vol. 24, B. Goldstein & C. Wofsy eds.) American Mathematical Society, 37-49 (1994).
Characterization of confocal laser based microscope - an optical sectioning microscopy approach. (with Elson, E.L.) In Optical Microscopy for Biology (B. Herman & K.A. Jacobson eds.) Alan R. Liss, 119-130 (1990).
Interpretation of fluorescence correlation spectroscopy and photobleaching recovery in terms of molecular interactions. (with Elson, E.L.) In Quantitative Fluorescence Microscopy - Imaging and Spectroscopy (Methods in Cell Biology, Vol. 30, D.L. Taylor & Y.-L. Wang eds.) Academic Press, 307-332 (1989).
Fluorescence microscopic analysis of molecular interactions in 3-dimensional samples by means of fluorescence correlation spectroscopy and photobleaching recovery. (with Elson, E.L.) Proceedings of Electron Microscopy Society of America, Vol. 46, 38-39 (1988).
3-D fluorescence correlation spectroscopy in bulk solution. (with Elson, E.L.) Proceedings of the Society of Photo-Optical Instrumentation Engineers, Vol. 909, 352-359 (1988).
BOOK REVIEWS
Stochastic Chemical Kinetics: Theory and (Mostly) Systems Biology Applications by Péter Érdi and Gárbo Lente, SIAM Review, 57, 475-477 (2015).
Random Perturbations of Dynamical Systems by Mark I. Freidlin and Alexander D. Wentzell, SIAM Review, 55, 569-574 (2013).
Theory and Applications of Stochastic Processes: An Analytical Approach by Zeev Schuss, SIAM Review, 53, 204-207 (2011).
Molecular Modeling and Simulation: An Interdisciplinary Guide by Tamar Schlick, SIAM Review, 47, 843-845 (2005).
Mathematical Physiology by James Keener and James Sneyd, SIAM Review, 46, 587-590 (2004).
Computational Molecular Biology: An Algorithmic Approach by Pavel A. Pevzner, SIAM Review, 43, 733-735(2001).
An Introduction to Chaos in Nonequilibrium Statistical Mechanics by J. R. Dorfman, Bulletin of Mathematical Biology, 63, 597-601 (2001).
Stochastic Processes in Quantum Physics by Masao Nagasawa, SIAM Review, 43, 218-220 (2001).
OTHER MISCELLANEA