PUBLICATIONS LIST
---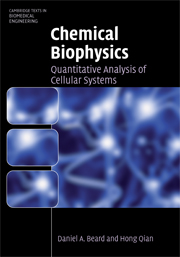 BOOKS
Chemical Biophysics: Quantitative Analysis of Cellular Systems. (with Beard, D.A.) Cambridge Texts in Biomedical Engineering, Cambridge University Press (2008).
REVIEWS and FEATURE ARTICLES
Statistics and related topics in single-molecule biophysics. (with Kou, S.C.)
Analytical mechanics in stochastic dynamics: Most probable path, large-deviation rate function and Hamilton-Jacobi equation. (with Ge, H.) International Journal of Modern Physics B (Review), 26, 1230012 (2012).
Cooperativity in cellular biochemical processes: Noise-enhanced sensitivity, fluctuating enzyme, bistability with nonlinear feedback, and other mechanisms for sigmoidal responses. Annual Review of Biophysics, 41, 179-204 (2012).
APPLIED MATHEMATICS
PHYSICS and PHYSICAL CHEMISTRY
BIOCHEMISTRY, BIOPHYSICS and LIFE SCIENCES
Analysis of chromatin immunoprecipitated RNA polymerase II using a simple stochastic model of inducible transcription. (with Miller, G.A., Krassovsky, K., Shi, Y.Y., Flanagin, S., Ruzzo, W.L. & Bomsztyk, K.)
The hidden energy in irreversible temporal fluctuations as the origin of noise induced biochemical phenomena: The case of fluctuation-enhanced sensitivity. (with Bishop, L.M.)
A little engine that could: ATP-powered electrical battery and heater inside cells. (with Autzen, H.E.) Biophysical Journal, 103, 1409-1410 (2012).
A stochastic model of DNA fragments rejoining. (with Li, Y., Wang, Y. & Cucinotta, F.A.) PLoS ONE, 7, e44293 (2012).
Mesoscopic biochemical basis of isogenetic inheritance and canalization: Stochasticity, nonlinearity, and emergent landscape. (with Ge, H.) MCB: Molecular & Cellular Biomechanics [Special Issue in Honor of Shu Chien], 9, 1-30 (2012).
The Brownian ratchet revisited: Diffusion formalism, polymer-barrier attractions, and multiple filamentous bundle growth. (with Cole, C.L.) Biophysical Reviews and Letters, 6, 59-79 (2011).
Stochastic ensembles, conformationally adaptive teamwork and enzymatic detoxification. (with Atkins, W.M.) Biochemistry (New Concept), 50, 3866-3872 (2011).
Delayed onset of positive feedback activation of Rab5 by Rabex-5 and Rabaptin-5 in endocytosis. (with Zhu, H. & Li, G.-P.) PLoS ONE, 5, e9226 (2010).
Stochastic bistability and bifurcation in a mesoscopic signaling system with autocatalytic kinase. (with Bishop, L.M.) Biophysical Journal, 98, 1-11 (2010).
Open-system thermodynamic analysis of DNA polymerase fidelity. (with Cady, F.) Physical Biology, 6, 036011 (2009).
A mechanism for Src kinase-dependent signaling by noncatalytic receptors. (with Cooper, J.A.) Biochemistry (New Concepts), 47, 5681-5688 (2008).
Temporal cooperativity and sensitivity amplification in biological signal transduction. (with Cooper, J.A.) Biochemistry, 47, 2211-2220 (2008).
Linear analysis near a steady-state of biochemical networks: Control analysis, correlation metrics and circuit theory. (with Heuett, W.J. & Beard, D.A.) BMC Systems Biology, 2, 44 (2008).
Viscoelasticity of living materials: Mechanics and chemistry of muscle as an active macromolecular system. MCB: Molecular & Cellular Biomechanics [Special Issue in Honor of Yuan-Cheng Fung], 5, 107-117 (2008).
Reducing intrinsic biochemical noise in cells and its thermodynamic limit. Journal of Molecular Biology, 362, 387-392 (2006).
Metabolic futile cycles and their functions: A systems analysis of energy and control. (with Beard, D.A.) IET Proceedings Systems Biology, 153, 192-200 (2006).
Free energy distribution of binary protein-protein binding suggests cross-species interactome differences. (with Shi, Y.Y., Miller, G.A. & Bomsztyk, K.) Proceedings of the National Academy of Sciences USA, 103, 11527-11532 (2006).
E-PRINTS
PROCEEDINGS and CHAPTERS
Irreversible stochastic processes, coupled diffusions and systems biochemistry. (with Shi, P.-Z.) In Frontiers in Computational and Systems Biology (Computational Biology Series, Vol. 15, J.-F. Feng, W.-J. Fu & F.-Z. Sun, eds.) Springer-Verlag, 175-201 (2010).
Chemical fluxes in cellular steady states measured by fluorescence correlation spectroscopy. (with Elson, E.L.) In Single Molecule Spectroscopy in Chemistry, Physics and Biology (Nobel Symposium: Springer Series in Chemical Physics, Vol. 96, A. Gräslund, R. Rigler & J. Widengren, eds.) Springer, 119-137 (2009).
Multiscale modeling of cardiac cellular energetics. (with Bassingthwaighte, J.B., Chizeck, H.J. & Atlas, L.E.) In The Communicative Cardiac Cell (Annual of the New York Academy of Science, Vol. 1047, S. Sideman, R. Beyar & A. Landesberg, eds.) 395-426 (2005).
Constraint-based modeling of metabolomic systems. (with Beard, D.A.) In Encyclopedia of Genetics, Genomics, Proteomics, and Bioinformatics, Vol. 3: Proteomics (M. Dunn, ed.) Sec. 8: Systems Biology (R.L. Winslow, ed.) John Wiley & Sons, (2005).
Stoichiometric foundation of large-scale biochemical system analysis. (with Beard, D.A. & Bassingthwaighte, J.B.) In Modelling in Molecular Biology (Natural Computing Series, G. Ciobanu & G. Rozenberg, eds.) Springer, 1-19 (2004).
Mathematical Biology. In Dictionary of Applied Math for Engineers and Scientists - A Volume in the Comprehensive Dictionary of Mathematics (E. Previato ed.) CRC Press (2003).
Fractional Brownian motion and fractional Gaussian noise. In Processes with Long-Range Correlations: Theory and Applications (Lecture Notes in Physics, Vol. 621, G. Rangarajan & M.Z. Ding, eds.) Springer, 22-33 (2003).
Strain-dependent fluorescence correlation spectroscopy: proposing a new measurement for conformational fluctuations of biological macromolecules. (with Elson, E.L.) In Fluorescence Correlation Spectroscopy: Theory and Applications (Springer Series in Chemical Physics, Vol. 65, R. Rigler & E.L. Elson eds.) Springer, 65-83 (2001).
The cardiome project: An integrated view of cardiac metabolism and regional mechanical function. (with Bassingthwaighte, J.B. & Li, Z.) In Oxygen Transport to Tissue, Vol. 21, (Advances in Experimental Medicine and Biology, Vol. 471, A. Eke & D.T. Delpy Eds.) Kluwer Academic/Plenum Publishers, 541-553 (1999).
Measurements of molecular transport in small systems. (with Elson, E.L.) In Cell Biology (AMS Lectures on Mathematics in the Life Science, Vol. 24, B. Goldstein & C. Wofsy eds.) American Mathematical Society, 37-49 (1994).
Characterization of confocal laser based microscope - an optical sectioning microscopy approach. (with Elson, E.L.) In Optical Microscopy for Biology (B. Herman & K.A. Jacobson eds.) Alan R. Liss, 119-130 (1990).
Interpretation of fluorescence correlation spectroscopy and photobleaching recovery in terms of molecular interactions. (with Elson, E.L.) In Quantitative Fluorescence Microscopy - Imaging and Spectroscopy (Methods in Cell Biology, Vol. 30, D.L. Taylor & Y.-L. Wang eds.) Academic Press, 307-332 (1989).
Fluorescence microscopic analysis of molecular interactions in 3-dimensional samples by means of fluorescence correlation spectroscopy and photobleaching recovery. (with Elson, E.L.) Proceedings of Electron Microscopy Society of America, Vol. 46, 38-39 (1988).
3-D fluorescence correlation spectroscopy in bulk solution. (with Elson, E.L.) Proceedings of the Society of Photo-Optical Instrumentation Engineers, Vol. 909, 352-359 (1988).
BOOK REVIEWS
Random Perturbations of Dynamical Systems by Mark I. Freidlin and Alexander D. Wentzell, SIAM Review, (2013).
Theory and Applications of Stochastic Processes: An Analytical Approach by Zeev Schuss, SIAM Review, 53, 204-207 (2011).
Molecular Modeling and Simulation: An Interdisciplinary Guide by Tamar Schlick, SIAM Review, 47, 843-845 (2005).
Mathematical Physiology by James Keener and James Sneyd, SIAM Review, 46, 587-590 (2004).
Computational Molecular Biology: An Algorithmic Approach by Pavel A. Pevzner, SIAM Review, 43, 733-735(2001).
An Introduction to Chaos in Nonequilibrium Statistical Mechanics by J. R. Dorfman, Bulletin of Mathematical Biology, 63, 597-601 (2001).
Stochastic Processes in Quantum Physics by Masao Nagasawa, SIAM Review, 43, 218-220 (2001).
OTHER MISCELLANEA