A Pocketbook Full of Lead
June 26, 2012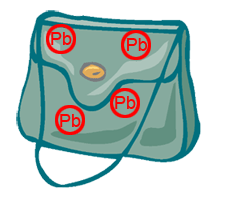 Although some women carry around pocketbooks (purses) filled with cosmetics, food, keys, wallets, cell phone, pens, and medicine, one item they don't expect to carry is a neurotoxin. Nevertheless, that is just what the Center for Environmental Health has found: many purses contain the neurotoxin lead.
The Center for Environmental Health discovered lead in 43 of 300 purses tested. This may be dangerous because lead could rub off a purse and get into the body of someone carrying it. Lead could also be swallowed if a child chewed on a handbag.
Lead is toxic to many organs of the body. It is especially dangerous because it can damage the brain and peripheral nerves. These nerves connect the brain and spinal cord to the rest of the body. Lead can affect anyone, but children are especially at risk because they are still growing rapidly.
References and further information:
Copyright © 1996-2012, Eric H. Chudler, University of Washington