After a lonely winter with just me and Megan (@BivalveFanatic) holding down the fort, our lab is full of life again.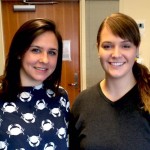 This February, UWT alumna Michelle McCartha (@Geoduck_Pac) joined our group as a technician to take the lead on the Washington Department of Natural Resources Ocean Acidification project. Michelle is no stranger to the Becker Lab, since she did her undergraduate capstone research on metal stress proteins in benthic infauna with us in 2013. It is her goal to do research on ocean acidification, so this project was a natural match for her. This month, undergraduate Brenda Smithhisler joined us as an independent research student working with Michelle. Brenda has been busy learning about acidification and qPCR, and is starting to work in the lab with Michelle. Expect to hear from both of them as their project progresses.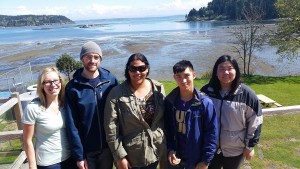 Also this month, the long-awaited TESC 495 Undergraduate Research Experience course has begun. We have a team of four students in the class, plus Megan as the de-facto TA. They will work with us on the Olympia Oyster Connectivity project. They have had a crash course in invertebrate zoology, bivalve veligers, and Oly oyster restoration, and we have already started some preliminary experiments on shell growth at the PSRF Manchester Lab. The students have been asked to each add one post to this page, so hopefully you will soon hear about their progress in their own words.
I am so pleased to have a full lab again, and am looking forward to working with this promising bunch for the next few months. To learn more about everyone, check out our Current Lab page. Welcome to our lab!