Despite the large size of the African continent, its Mesozoic mammal fauna is the most poorly known among southern continents. We pursue fieldwork to improve this.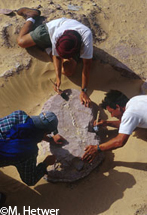 Cretaceous of Niger & Morocco
In 1995 and 2000, over 3,000 kg of fossiliferous sediment were collected from the Cenomanian Kem Kem beds of southeastern Morocco, and various horizons from the Cretaceous of the Iullemmeden Basin of Niger (Barremian Tiouraren Formation, Aptian-Albian Elrhaz Formation, Cenomanian Farak Formation). We are in the process of screenwashing and picking and will be describing the recovered microvertebrate fauna. For more information about the larger field projects, click here.
Collaborators: Paul Sereno, Didier Dutheil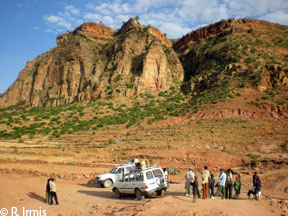 Late Triassic & Late Jurassic of Ethiopia
In 2008, I joined the Blue Nile Project to document vertebrate faunas of the Upper Triassic Adigrat Sandstone and Upper Jurassic Mugher Mudstone in Ethiopia's northwestern plateau (Warren et al. 1998, Goodwin et al. 1999, Clemens et al. 2007). This project was initiated in the 1990s by Mark Goodwin, C.B. Wood, Chuck Schaff, Bill Clemens, and Howard Hutchison. For more information on our recent fieldwork click here.
Collaborators: M.B. Goodwin, R.B. Irmis, C. Mesfin, B. Atnafu