Make a Neuron
For grades 3-12

Create a model of a neuron by using clay, playdough, styrofoam, recyclables, food or anything else you can get your hands on. Use pictures from books to give you an idea of where the components of a neuron should go and what shape they should be. Use different colors to indicate different structures. Make a neural circuit with a few of the neurons. Create sensory or motor systems. Eat your model if you made it out of food!!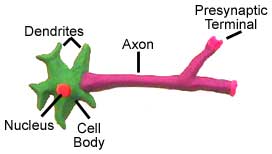 Materials:
Clay or Playdough or Styrofoam or Recyclables (bottle caps, cups, buttons, etc) OR Food (fruit, jelly beans)
A picture or diagram of a neuron (see the picture below or go to: more about neurons.)

If you would like to use this "build a neuron" as a classroom activity, here is a lesson ready to go.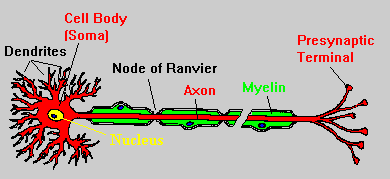 Need some play dough but don't have any? Here is a recipe that you can use to make your own:
Mix: 1 cup flour, 1/2 cup salt & 2 teaspoon cream of tartar
Add: 1 cup cold water with food coloring, 1 Tablespoon salad oil
Cook over a low heat, stirring constantly until it thickens. Let it cool a bit and then knead it. Keep in an airtight container so it doesn't dry out.
You can also add color to the play dough by adding some poster paint with the liquid instead of food coloring. Try to use as little paint as possible to get the desired color or it will make the play dough sticky.