An International Conference
WTO, China, and the Asian Economies:
Free Trade Areas and New Economic Relations

Hotel Accommodation

The conference will be held from June 18 to 20. Participants can stay in one of the following four-star hotels, both are within walking distance of the university campus.
A standard room costs US$51 per day, including breakfast for two persons, or US$46 per day, including breakfast for one person. It is about 5 to 10 minute walk to the campus. Please see the map below. Its web site is http://www.yanshanhotel.com.
A standard room costs US$60 or US$70, including breakfast. It is about 15-20 minute walk to the campus. Please visit its web site: http://www.bjfriendshiphotel.com.
In order to stay in either hotel at these conference rates, you need to book your room through Renmin University of China. Please contact, before May 25, Ms. Guo Qin of Renmin University of China at <gq8811@263.net>. Please indicate which hotel, which type of room you prefer, and the dates of arrival and departure.
From Beijing Capital Airport: It takes

about 40 minutes by taxi to Renmin University or to

either hotel. The cost is around RMB 100 yuans. (US$1 = app. RMB 8.2 yuans)

From Beijing Train Station: It takes about 30 minutes (if there is no traffic jam), costing about RMB 45 yuans.
Please download an address card of either hotel. Bring it with you to Beijing and show it to the taxi driver. (The upper half is for Yanshan Hotel and the lower half for Friendship Hotel.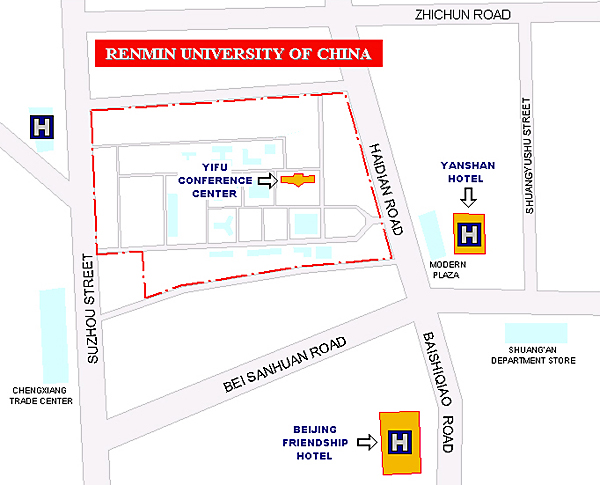 back to the conference home page

tentative program