Exploration or discovery of the structure of the subject space by contributions from the community of experts,
Developing a shared understanding of the nature of that space, the relevant issues, and the relative importance or merit of the elements in that space,
Making visible any disagreements and providing opportunities to evaluate those,
Making a final evaluation of what has been learned so far and providing feedback to the community as a basis for possible additional iterations.
Thus, with the exception of the need to involve "experts" in the process, the Delphi method provides an reasonably structured process for attacking some, if not all of the questions posed above.
The method was conceived as providing experts with an unbiased approach to reaching agreement, or at least, finding areas of disagreement for further work. The reason experts are considered as the community of interest is that, presumably, experts will remain focused, and on topic. This stands in stark contrast with many unmoderated usenet groups where the voices of non-experts often drown out those of experts (or at least serious students) trying to carry on a dialogue.
Another aspect of the Delphi method is the need for a moderator or facilitator to coordinate the production of proposals or questionnaires, to summarize the responses and to provide the feedback to the community. The need for human intervention can cause significant delays over many iterations of the discourse. Though Delphi is meant to be an objective exploration of the subject space, in fact, the influence of the facilitator (or whoever formulates the questions/propositions) can lead to biases, if not inefficiencies in discovery. Too often, the facilitator can inadvertently guide exploration in certain directions or use up valuable time asking irrelevant questions.
More recently, attempts at automating the communications aspects of the Delphi method have been made. There is at least one Web-based version available [HERO 2001].
The reliance on human moderation/facilitation seriously limits the scalability of the method. Clearly, really large communities of interest cannot be served. Finally, for subject spaces involving new sets of questions, new problems for which there are no experts around, the method does not offer much help.
2.2. Electronic Discourse
Electronic discourse systems (EDS) have been developed almost from the first time two computers were hooked together via a network. Bulletin boards and email were rapidly put to work in the service of community discourse. The latter by virtue of listserv software/protocols. Usenet came on the scene in short order.
Most of these systems were designed to let communities conduct an open asynchronous discussion with a minimum of constraints. Listservs and usenet provided support for human moderation. And some forms of automated filtering have been developed. But for the most part these systems have been more useful for supporting on-going, open-ended discussions. A common aspect of the dynamics of these discussions is the forking of threads of commentary. Community participants are free to follow any or all threads within the framework. There is no necessary relationships established or tracked between various threads. Such discourse is considered divergent.
While useful to conduct on-going discussions, there is no structural support, beyond moderation, in these systems to focus discourse for the purpose of coming to decisions. The next generation of EDS involved the incorporation of some form of internal structure that accomplishes the goal of providing direction and focus. E-conferencing (e.g., Web conferences) systems provide an environment that allows conferees to be widely distributed, generally have topic (not just thread) support, and provide mechanisms for enforcing exchange norms (who gets to respond, to what and when). A number of the commercial tools available attempt to replicate the milieu of a real-time, in-person conference (in some cases including video and audio streaming). As such, they are not always useful for asynchronous communications.
Decision Support Systems (DSS) are a family of computer-based tools that allow groups with interest in arriving at a decision for action. There are commercial products available that are used, for example, in the enterprise context to make effective business decisions. Some of the newer offerings are coupled with data mining facilities (or can import structured information from other products), user graphics tools that allow construction of semantic maps, and other features. The purpose of these systems is to facilitate the communication of ideas (comments), proposals, options, etc., collection of these text objects in some knowledge base, and (generally) provide for various forms of voting on those objects. These systems are highly structured internally, which helps to focus the ensuing discourse. Such systems are used by many companies to examine marketing strategies, financial portfolios and many other complex problems that require many inputs, facts, opinions, views, etc. That such systems have specialized data requirements tends to make them less flexible for use in an open discourse setting. Finally, of course, the commercial products that are available tend to be rather pricey so are precluded from general distribution.
Among the newest Web-based discourse systems is the Wiki Web [Cunningham, 2004]. This tool allows participants to create and edit web pages served from a central server repository. The major advantage of using HTML is the ability to include hyperlinks to any resource so that semantic linkages can be constructed or evolved over time. This tool, being maximally flexible, can be used for any number of applications (not just discourse). See for example the now renowned Wikipedia, an on-line user developed encyclopedia. And, most importantly, it is free!
2.3. Collaborative/Deliberative Discourse
To deliberate means to take one's time in thinking through a topic/problem and to consider alternative aspects. Anyone who has participated actively (or even just lurked) in a usenet newsgroup that was not moderated knows that generally discourse is not deliberative. Participants are often too quick to respond to prior comments. They too frequently fail to read the comment carefully, thus making some error in interpretation, or don't think carefully about their own response so that what they end up writing is not really what they were thinking. Add in the inevitable ad hominem comments and the process of discourse falls apart quickly.

This highlights one of the major weaknesses of EDS. Those who study the content of discourse in electronic media are quick to point out the narrow bandwidth of text files compared with the full range of human-human communications in person (body language, etc.). Effective use of EDS will require participants to enter into the process with full understanding that they need to be deliberative.

The development of an EDS such as ConsensUs will need extensive study of how people actually work with the system. We will look to invite researchers involved in the usage issues to help refine the functionality of the system.
2.4. Standards Setting Processes
A good example of a highly structured deliberative, collaborative discourse, often conducted electronically, is the standards setting process used by a number of communities. A good example of this process is that of the W3C (World Wide Web Consortium). Evolving standards for Web-based technologies are worked out via this process.
The process is structured in that it involves the promulgation of standards (technical) proposals by a limited group of experts. Generally these standard involve fairly complex technical issues and must be broken down into a hierarchical structure (like an engineering specification) so that attention can be focused on whatever detail is required.
There follows a period of open comment where members of the community may offer their observations, suggestions, etc. These are collated by a team of experts who extract useful information from the texts and edit the proposal(s) to incorporate the information. The modified proposals now go out for another round of comment.
This is an iterative process that may go on for several rounds. As such, one expects to find a convergence of ideas as the standards emerge. Such convergence often represents a fair amount of compromise to reach consensus. And, it does happen that some processes do not converge and no standard is arrived at. Still, more often than not, the process yields significant results. Even failures sometimes provide a basis for later attempts. A great deal of credit for the success of this process comes from the degree of structure in it. Of course a significant amount of credit must go to the fact that the topic area is quite technical and involves experts. Never the less, the structure enhances the likelihood for success and certainly increases the efficiency of the process.
2.5. Open-Source Development Processes
Another form of stuctured, collaborative discourse is the open source software development process. One might not always consider software development as discourse, but in fact it does entail the capture of ideas in a language (even if a formal one) and disseminating those ideas to a community for review and modification.
3. Discourse Structures and the Representation of Group Knowledge
Below we provide a peek under the hood at the various types of discourse structures used in ConsensUs. We use an object oriented description. Objects are defined by a class declaration. We use a Java-like syntax.
The structures defined here, constitute a representation of the discourse knowledge developed from the acts of the community members.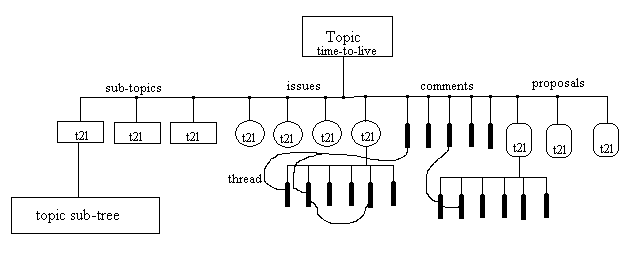 Figure 5. A Discourse Structure showing the organization of a node in a topic tree.
3.1. Abstract Discourse Object
This class is the base class from which all discourse objects are extended. This class contains the instance variables that provide identification, authorship, text for name and description and a link to the parent node (or null if the node is the root). [Note: The class definitions given here are only for instance data and do not necessarily reflect all such data, i.e., with the exception of the timeDateStamp field, no maintenance/overhead variables are shown.]
abstract class DiscourseNode
	Id 		id		// JXTA URN-based ID
	String 		author		// anonymous or attributed
	String 		text		// discourse text
	String 		description	// short explanatory description if needed
	DiscourseNode	parent		// back reference to parent node
	DateTimeStamp	created
	DateTimeStamp 	last_edited
end class

An Id object is essentially a global URN (JXTA) assigned at creation time. The author variable can be either a ConsensUs antonymous name or the actual name of the participant (group member) depending on how the system is set up when the P2P network is created. The text field carries the terse name/identification for the derived object. For example, in a Topic object (see below) this would be the topic title field. The description field is generic for all derived object types. Finally, the parent is a back reference to whatever node is the parent for the instantiated, derived node. The DiscourseNode is abstract, meaning that it cannot be instantiated as an object.
3.2. The Topic Object
class Topic extends DiscourseNode
	long 		timeToLive
	Set<Topic>	subtopics	// set of subtopics
	Set<Issue> 	issues		// set of issues under this topic
	Set<Comment> 	comments	// set of comments under this topic
	Set<Proposal> 	proposals	// set of proposals under this topic
	Set<UserDefined>	other
end class

As shown in Figure 2, a Topic class object extends the DiscourseNode class by adding a timeToLive (previously referred to as t2l) variable. In this definition it is shown as a primitive long integer. In actual practice this variable may be a reference to an Adaptrode-like object that acts like a memory trace device in a discourse object. This will be part of the on-going research effort for this project.

The Topic class adds five Set (a generic container in Java) objects to the DiscourseNode. Each set contains a single instance reference to a distinct DiscourseNode of types Topic (recurrent reference), Issue (see below), Comment (see below), Proposal (see below) and a generic user-definable DiscourseNode extended type. Each set contains references to children nodes of the respective types as defined below.

Topics may be non-editable. Since topics can die from non-support, a poorly worded topic may be abandoned and will just go away. Rather than allow editing, a new (reworked) topic may be nominated that better states the nature of what is being discussed. The thought here is that CMs will be very careful in how they construct topic nominations if they know they cannot edit them.
3.3. The Comment Object
If the topic hierarchy forms the skeleton of the discourse structure, then Comments could be said to provide the muscles.
Comments are the least restricted text object in the ConsensUs application. CMs are free to write anything that they feel is appropriate to the on-going discussion. However, structurally, comments are attached to a specific topic (or, as seen below to an issue or a proposal also) which implies that they should be about the topic at hand - the age-old problem of being "on topic" takes on specific meaning in this context.
The author of a comment may nominate it for "voting". Doing so causes the instantiation of a CommentScales object as a member variable (see below). The display of a comment will show a set of horizontal slide bars with scales from 0 to 10. These values are initialized to 0. A CM can set the bars at whatever point on the scale they deem appropriate and then, when satisfied, submit their vote. Voting will probably need to be managed by selected rendezvous nodes (a JXTA term for peers that provide message brokering services) to ensure fairness, security, etc. Each CM gets to vote once on any one comment that has been nominated. The vote tally, the value of the scale, is updated frequently so that all other CMs can have a fairly recent view of the weight of support for a given comment.
Comments are also threaded. Each comment is assumed to possibly be in response to either a comment from a higher level in the hierarchy, a comment in the same set as itself or a comment in a set from one of the other discourse objects at the same level in the tree. All comments can only refer to one previous comment. However, any comment may have many other, later comments, refer to it. The ThreadLine class provides for the maintenance of these various threads and ConsensUs provides a means to traverse these threads to track through the related comments.
As described previously, when comments are semantically analyzed and found to be within the boundary of a developing nucleus of consensus, those comments are coalesced into an archive and only the most representative comment (or an edited version) is left visible in the Topic tree. Representative comments will carry a weight variable, ranging between 0 and 1, to indicate the relative level of consensus represented. This will depend on the total number of comments in the set and what fraction of that total is within the boundary and how "tight" that boundary is. Or, in other words, how small the radius of the cluster is. Only representative comments will be shown with a consensus weight value.
class Comment extends DiscourseNode
	CommentScales 	votes
	ThreadLine	thread		// comment thread
	float		weight		// consensus weighting (0 - 1)
end class

class ThreadLine
	Set<Id> 	immediateResponsesTo
	Id 		respondingTo
end class

class CommentScales
	float 		relevance	// ave. of Likert scale (0-10)
	float 		importance
	float 		validity
end class

3.4. The Issue Object
In deliberative, collaborative discourse it is important to make statements about what should be deliberated, what questions need to be answered, what problems need to be solved. The Issue object is used to make these statements/questions explicit. There are no hard rules about what can be put into an Issue text. It is assumed the purpose and dynamics of interactions of the community will establish the norms of what should be called an issue.
As conceived here, an issue might be related to a sub-topic at its same level in the topic tree. Thus, the CM nominating the issue would indicate this link. It is not the case that sub-topics have to have been posted prior to nominating an issue, and the relatedTo link may be updated if the issue subsequently appears to be related to a newly nominated topic.
Often, issues under one topic may be related to issues under a different topic. Such issues are called cross cutting because they involve more than one aspect of a topic tree. This class supports a set of Ids that allow nominators to identify issues from other topics that are related, in some way, to the current issue. CMs can then browse the set of issues that appear to be related and offer comments (threaded) to address these relationships. Similarly, CMs that find some issue that they belive is related to an issue under a different topic may add those issues to each others crossCuttingIssues set. Adding a cross cutting issue to an Issue object increments its t2l variable in the same way that adding a comment does.
class Issue extends DiscourseNode  // also called a Question
	long 		timeToLive
	Topic 		relatedTo	// sub-topic
	Set<Id> 	crossCuttingIssues  // links to issues under other topics
	Set<Comment> 	commentsAbout // comments about Issue
end class

3.5. The Proposal Object
The purpose of this class is to allow CMs to nominate answers, solutions, actions, etc. As with the other objects discussed, there are minimal constraints on what can be put into the text of this object. Comments about proposals are referenced in the commentsAbout set and each comment made about a proposal increments its t2l variable.
Proposals are "voted" on by the community in two ways. Like topics and issues, a proposal needs support by getting comments in order to live long. But, in addition, a proposal invites additional voting in the form of two (at least) attributes: desirability and feasibility. These are rated by the same Likert-scale method as used in Comments. High ratings in these areas will strongly affect the incrementing of the t2l variable.
Comments associated with a proposal may actually contain links to various kinds of documents such as action plans. Thus, ConsensUs can work to coordinate projects intended to solve problems, construct artifacts, etc.
class Proposal extends DiscourseNode
	Set<Comment>	commentsAbout	// comments about proposal
	ProposalScales 	votes
	long 		timeToLive
end class

class ProposalScales
	float 		desirability
	float 		feasibility
end class

3.6. User-defined Type Object
We will reserve this class to allow community organizers to create a discourse structure type that is not specifically provided in the ConsensUs system.
class UserDefinedType extends DiscourseNode
	Object		userFields	// reference to an object of user's fields
	long		timeToLive
end class

4. The ConsensUs Application
In a large community of diverse actors, and for some subject domains it may not always be feasible to reach a consensus. This tool can not guarantee that a consensus opinion will emerge. However, it is possible to use this tool to identify areas where sub-groups form consensus around themes.
4.1. Starting a Topic
4.2. Adding Sub-topics, Issues, Comments and Proposals
4.3. Components' Time To Live - Learning and Forgetting
4.4. Comment Voting
4.5. Proposal Voting
4.6. Comment Consolidation - Finding Consensus Nuclei
4.6.1. Semantic Analysis of Comments
4.6.2. Aggregating and Summarizing A Commentary Nucleus
4.6.2. Expanding Comment Nuclei
4.7. Search Capabilities
4.7.1. Indexed Search Engine
4.7.1. Personal Search Agent
4.7.1. Other Data Mining Options
5. The User Experience
5.1. The Topic Tree Browser
5.2. The Element Display/Editor
5.3. The Comment Browser
5.4. The Issue Browser
5.5. The Proposal Browser
5.6. The Search Engine - Keyword Search
5.7. The Personal Search Agent
6. The ConsensUs Architecture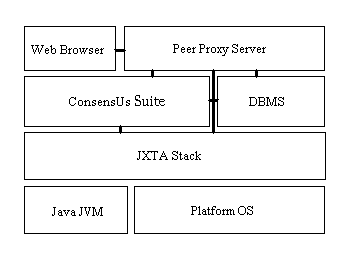 Figure 6. An overview of the ConsensUs architecture.
Figure 6. An overview of the ConsensUs architecture.
6.1. UI - Standard Web Browser
The user interface for ConsensUs will be a standard graphical Web browser. All interactions between the user and other peers in the network will be through this device; however, the browser may launch helper apps - such as a media player - when called upon to do so. Other interactivity will be through applets (e.g. the Topic tree browser frame), Javascript and forms, and various server-side scripts to present page information and collect user input. These server-side scripts will reside and run on the peer, being served by the peer proxy server as servlets.
The presentation of the UI will consist of HTML that is dynamically generated from the servlets, and then rendered with CSS. The collection of data will be through standard HTML forms. Ideally, the presentation will be compatible and will display correctly in any current web browser; this can be achieved through the use of CSS filters, which allow a great deal of control over the rendering of HTML elements in different browsers.
Interfaces to view, add, edit, delete, and search for discourse objects, as well as interfaces to register an account for a given subject domain (a ConsensUs group), to login, to manage account information, and to configure the ConsensUs application will need to be provided. Also, if a user belongs to more than one subject domain, an interface that lets the user choose and switch subject domains should be implemented. These interfaces drive actions the other components of the ConsensUs architecture will take; for example, adding a new discourse object will run a servlet on the peer proxy server to parse the object's information from the submitted HTML form, which then gets passed to the ConsensUs Suite for addition to the appropriate local database and propagation to other ConsensUs peers via the JXTA network.
6.2. The Peer Proxy Server - Jetty
The peer proxy server in the ConsensUs architecture acts as a personal web server for the peer. It is responsible for running the server-side scripts that present the ConsensUs discourse data to the user, as well as collecting the user's input for storage in the local databases and publication in the ConsensUs peer groups by the ConsensUs Suite.
Jetty is the most likely candidate for the peer proxy server, and is included with the standard JXTA distribution. It is a Java-based HTTP server and a servlet container that acts as a single component, able to be embedded into Java applications. With it, servlets will act as the server-side scripts, generating dynamic HTML populated with requested ConsensUs discourse data for presentation to the user; also, they will collect information from the user, such as a new discourse object, and format this information for local storage and remote publication.
There is a choice of languages for developing the servlets, such as JSP and PHP. However, which language is used is more or less arbitrary. JSP is an obvious candidate, in sticking with the Java-theme of the ConsensUs platform; however, the current ConsensUs prototype was developed in PHP, and the Java Servlet SAPI for PHP is designed to run the PHP engine as a servlet (see http://www.php.net/manual/en/ref.java.php for more details). Thus both are possible options.
6.3. The Local Databases - MySQL
The local databases in the ConsensUs architecture will provide persistent storage and local access to the discourse data within the user's subject domain. Advertisements and messages in JXTA come and go, having relatively short lifetimes; the local databases are designed to be repositories of the discourse information they carry, so that this information persists.
The DBMS used for the local databases will be MySQL. It will contain one or more pairs of databases, where each pair corresponds to current and archived discourse data for a subject domain the peer participates in. Each one of these databases will carry tables that store information about topics, root topics, issues, proposals, comments, and other users. The ConsensUs Suite will manage these databases, providing an interface to the servlets on the peer proxy server for accessing and storing data in the databases, and providing an interface to the ConsensUs peer group services that will update and add data to the database through discovered advertisements.
In the case that more than one ConsensUs user for a given peer exists, if those users all belong to the same ConsensUs subject domain, the DBMS will contain only one pair of databases; if they belong to different subject domains, the DBMS will contain a pair of databases for each domain. Also, if a single user belongs to more than one subject domain, the DBMS will contain a pair of databases for each domain. Thus the DBMS will contain a single pair of databases for each ConsensUs subject domain that the peer participates in; the database pairs are not mapped to users.
6.4. The JXTA Peer-to-Peer Platform
JXTA, at its core, is a set of protocols that allow devices to communicate and collaborate as peers. ConsensUs, at its core, will rely upon the JXTA platform to distribute and manage discourse data, in a decentralized way, among ConsensUs users. Due to JXTA's complexity and its importance to ConsensUs, Section 6.4.1 will provide an overview of the JXTA platform. Building upon this overview, Section 6.4.2 will then offer a more detailed design of how ConsensUs - namely the ConsensUs Suite - will leverage the JXTA platform.
6.4.1. JXTA Overview
6.4.1.1. The JXTA Protocols, Messaging, and Pipes
Central to JXTA are the JXTA protocols, which define the ways in which peers interact, and provide a basis for applications and services to utilize a P2P network. There are six JXTA protocols:
Peer Discovery Protocol (PDP): used by peers to advertise their resources and discover advertised resources of other peers. Each advertised resource corresponds to an XML document called an advertisement, which provides meta-information about the resource.
Peer Information Protocol (PIP): used by peers to gather information about the status of other peers.
Peer Resolver Protocol (PRP): used by peers to send generic queries to other peers, and to receive one or more responses to those queries. This protocol can be utilized by services to send and receive any type of information.
Pipe Binding Protocol (PBP): used by peers to establish a connection between one or more peers. Connection endpoints bind to peer endpoints, which are abstracted network interfaces, to establish communication and/or data exchange between two or more peers. These connections are called pipes, and provide the most basic communication method between peers.
Endpoint Routing Protocol (ERP): used by peers to find paths to destination ports on other peers, so that messages can be sent from one peer to another. A path (route) may include multiple intermediary peers based on the network topology.
Rendezvous Protocol (RVP): used by peers to propagate messages to other peers and to receive propagated messages.
Only two of these protocols, the PRP and the ERP, are required to be implemented on every peer; these are the JXTA Core Protocols. The rest of the protocols – the JXTA Standard Protocols - are optional, though useful. All of the JXTA protocols employ a common messaging layer, which is what binds them to specific network transports.
All communication that takes place via the JXTA protocols is conducted with messages, the basic unit of data exchange in JXTA. A message is an object that contains an ordered sequence of name/value pairs, where the value can be of any arbitrary data type. Messages may be sent as XML documents, or binary data, depending on the physical resource constraints of the peers implementing the JXTA protocols. In either case, they act as an envelope for the transfer of any type of data. Because the message is tagged as name/value pairs, each peer can choose to process a subset of the message that it is interested in.

<?xml version="1.0" encoding="UTF-8"?>
<jxta:DiscoveryQuery>

    <Type>2</Type>
    <Threshold>1</Threshold>
    <Attr>Name</Attr>
    <Value>*sidus*</Value>
    <PeerAdv>
        <?xml version="1.0"?>
        <!DOCTYPE jxta:PA>
        <jxta:PA xmlns:jxta="http://jxta.org">
            <PID>
                urn:jxta:uuid-59616261646162614A7874615032503304BD268FA4764960AB93A53D7F15044503
            </PID>
            ... remainder omitted for brevity ...
        </jxta:PA>
    </PeerAdv>
</jxta:DiscoveryQuery>

Figure 6.4.1.1: An example XML DiscoveryQuery Message taken from the JXTA 2.0 Protocol Specification.
To send and receive messages, as well as other kinds of data, peers create pipes, which are virtual communication channels independent of physical network topology and peer location. There are several different types of pipe – asynchronous uni-directional (which is required for the JXTA protocols), synchronous request/response, bulk transfer, streaming, and secure – which use two different modes of communication: point-to-point or propagation. Point-to-point pipes connect two different peers together, while propagate pipes connect one peer to many different peers. To connect peers, pipe endpoints – called output pipes and input pipes, for the sending and receiving ends, respectively – bind to available peer endpoints, or network interfaces, on the peers. This process is achieved dynamically by the PBP at runtime. Once this has been achieved, the PBP will search for other peers (one or more, depending on the type and mode of the pipe) that are bound to the other end of the pipe, and attempt to resolve the connection(s) so that communication can begin. All pipes are represented by pipe advertisements, which are published by peers wishing to establish connections and then discovered by other peers. Pipe advertisements contain information about the pipe, such as a unique pipe ID and the type of pipe, and are used by peers to create pipes.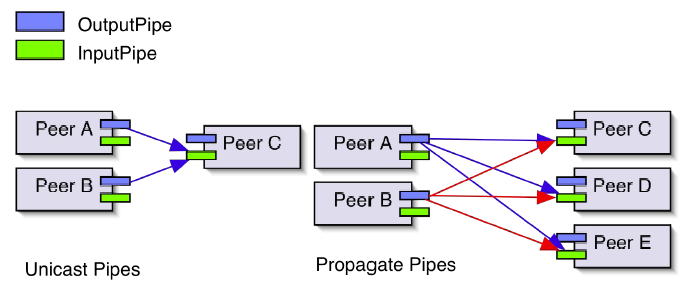 Figure 6.4.1.1.1. An example of the two modes of communication for pipes, from the JXTA v2.3.x Java Programmer's Guide.
6.4.1.2. Peers
The peers in the JXTA network are any connected device that implements the JXTA protocols. (Note that peers are not the same thing as users in this case, although in many applications, they may be synonymous.) In JXTA, peers are independent and asynchronous of each other, and may be one of four types: a minimal edge peer, a full-featured edge peer, a rendezvous peer, or a relay peer.
Minimal edge peers can send and receive messages, but they do not cache advertisements they publish or discover through the PDP, and they do not participate in the routing of messages for other peers. Full-featured edge peers are typically the same as minimal edge peers, with the exception that they cache advertisements, and hence respond to discovery requests made by other peers through the PDP (though they do not forward them to other peers). Rendezvous peers have the same functions as full-featured edge peers with a few exceptions: they are used to propagate messages to other peers, and they maintain a list of other known rendezvous peers, called a PeerView, so that they may propagate messages to a wider number of peers. Finally, relay peers maintain routing information to other peers, and help route messages. The relay peer is queried by peers for routing information needed to send a message to other peers, and is able to forward messages to peers that are not directly addressable (such as peers behind firewalls or NAT devices). Any peer may implement the services needed to be a rendezvous or relay peer, and a single peer can be both; however, full-featured peers will typically make up the majority of peers, because rendezvous peers and relay peers require more physical resources. Peers are discovered and represented by peer advertisements, which contain metadata about the peer, such as its name, a unique peer ID, and available network interfaces (peer endpoints) over which the peer communicates. Peers are also responsible for publishing advertisements for every other kind of resource in the JXTA network, such as pipes, peer groups, and peer services.
6.4.1.3. Peer Groups and Services
JXTA allows peers to self-organize into collections called peer groups. A peer group is defined as a set of peers that have agreed upon a common set of services (functionality built on top of the JXTA protocols). JXTA specifies six core services for peer groups:
Discovery Service: used by peer group members to search for resources within the context of the peer group, such as other peer group members.
Membership Service: used by peer group members to reject or accept another peer's group membership application in a collective way. A peer may be a member of multiple groups simultaneously.
Access Service: used by peer group members to validate requests made by one peer to another. Information about the peer, such as credential data, is used to validate the peer's identity; information about the request, such as what is being requested, is used to determine if the peer has sufficient privileges to access the requested resource. Not all actions by peers in the peer group require checking.
Pipe Service: used by peer group members to create and manage pipe connections among peer group members.
Resolver Service: used by peer group members to send generic queries to other peer group members, allowing any kind of data to be exchanged.
Monitoring Service: used by peer group members to monitor other peer group members.
These six core services are not required, but are very useful. The core services can be implemented in any peer group, and are available in the default NetPeerGroup (the root group that all peers must join) using the JXTA reference implementations. If additional functionality is required, other services can be developed to provide the peer group with the desired functionality. Any additional services are either pre-installed or discovered via the PDP, and include peer services, which only run on the peer publishing those services, and peer group services, which run on multiple members of the peer group. A service corresponds to modules, abstractions that represent any piece of code used to implement a behavior in the JXTA network. Modules are described by several types of advertisements and are discovered through these advertisements as well.
Peer groups, coupled with these core services, essentially form more or less secure (depending on the security policy chosen) logical regions in the JXTA network. This allows published information and services to be protected against unauthorized access by peers outside the peer group. Peer groups also provide a scope for the services implemented inside them; it should be noted that all the core services listed above, and any developed peer group services, operate only in the context of the peer group. For example, in a ConsensUs peer group, the discovery service will only search for advertisements among the advertisements other member peers have published within the group. Peer groups are discovered by peers through peer group advertisements, which are published to the parent group and the group itself. Like all other advertisements, peer group advertisements provide metadata about the groups they represent, such as the group's name and unique peer group ID.
6.4.1.4. Advertisements
As previously mentioned, resources in the JXTA network are advertised with XML documents called advertisements. Advertisements are the most common document exchanged via the JXTA protocols, and are used to represent and describe peers, peer groups, pipes, services, and any other resource that peers can discover. They are either created locally, to publish resources of the peer generating the advertisement, or discovered remotely via the PDP. In either event, they are cached locally on the peer (unless the peer is configured not to do so), and each advertisement possesses a lifetime in order to purge it when it becomes outdated. To extend the lifetime of an advertisement, it is republished before it expires. The JXTA protocols define eight base advertisement types:
Peer Advertisement: describes a peer, holding specific information such as the peer ID, the name, available endpoints, peer services, and the type of peer.
Peer Group Advertisement: describes the peer group and its resources, such as the name, peer group ID, description, and peer group services.
Pipe Advertisement: describes a connection between peers, and is used by the Pipe Service to create input and output endpoints on peers. It holds information such as a unique pipe ID and the type of pipe.
Module Class Advertisement: describes a module class. The module class advertisement formally documents the existence of a module, and has metadata that includes a name, a description, and a unique module class ID.
Module Specification Advertisement: describes a module specification and contains information necessary to access and invoke a module. It's primarily used to provide a reference to documentation necessary to create conforming module implementations of the specification, and is also used to publish information needed to make remotely running instances of the module usable (by embedding a pipe advertisement). It contains a name, a description, a unique module spec ID (which has the module class ID embedded inside it), a pipe advertisement, and parameters needed for the module implementation.
Module Implementation Advertisement: describes a module implementation, and includes a name, the module spec ID for the specification, and other fields that enable a peer to retrieve the code and data necessary to invoke the module.
Rendezvous Advertisement: describes a rendezvous peer for a given peer group.
Peer Info Advertisement: describes statistics about a peer, such as its current state and its uptime.
Of these eight base advertisements, only five are required to be used in instances of JXTA: the peer advertisement, the peer group advertisement, and all three module advertisement types. This is due to the fact that the core JXTA protocols – PRP and ERP – depend on these advertisements. Other kinds of advertisements may be defined by sub-typing existing advertisement types or by creating a new advertisement type from scratch, enabling different types of resources to be advertised. Each resource possesses a unique URN-based JXTA ID, in order to uniquely identify it and refer to it in the context of the network, peer group, and peer.
6.4.1.5. Codats
Codats, a concatenation of the phrase "code and data", are a resource that represents any kind of code or data that may be shared among peers. They exist only within the scope of a peer group, and are uniquely identified by a codat ID. Each instance of a codat is a copy of a codat, and may exist on one, multiple, or all peers of the peer group. By replicating a codat among multiple peers, it is insured to be more readily available, since peers often have a transient existence on the network. Each codat is able to be represented by a content advertisement.
6.4.1.6. Security
Peers in the JXTA network operate on a role-based trust model, where authority to perform certain actions is given to a peer by another trusted peer. JXTA mandates that four basic security requirements must exist to guarantee security among communicating peers:
Confidentiality: the contents of the message are not given to or accessible by unauthorized peers.
Authorization: the peer sending a message must be authorized to send a message.
Data Integrity: an in-transit message must not be accidentally or deliberately modified.
Refutability: the sender of a message must be properly identified, and the message must not be a replay of a previously sent message.
The XML messages that peers use for communication have the ability to add security metadata, such as credentials, certificates, digests, and public keys, in order to satisfy these security tenets. Digests guarantee the data integrity of messages; encryption of messages with public keys allows for confidentiality and refutability; signing messages with certificates allows for confidentiality and refutability; and credentials can provide the identity of peers for authorization. All of these security measures may be deployed within a peer group to safeguard communication and access to peer group resources.
6.4.2. JXTA and The ConsensUs Suite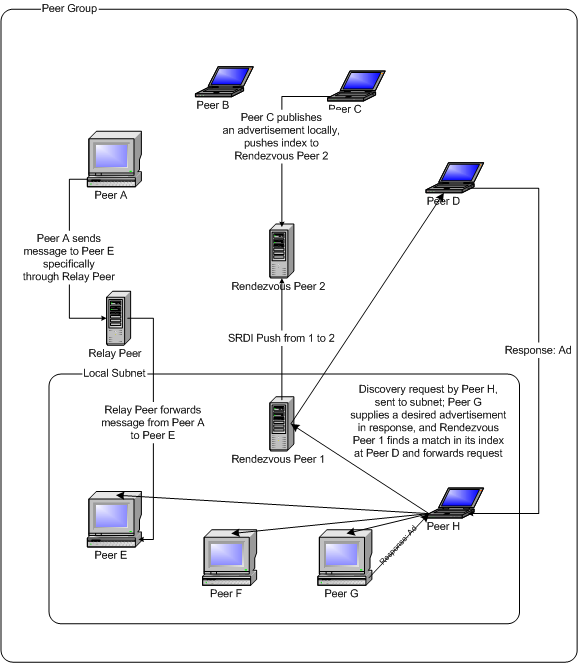 Figure 6.4.2.1: Illustration of the types of communication between peers using the JXTA services.
The ConsensUs Suite will, among other things, leverage the JXTA protocols to distribute discourse data among all users of ConsensUs. By doing so, ConsensUs will not be relegated to deploying central servers to store all of the discourse information for a community and to handle all of the connections necessary to access that data – potentially resource-intensive tasks given a large amount of data and a large number of users – and will be able to provide security and redundant access to discourse data.
This section begins with a general discussion about the JXTA entities that will exist within the ConsensUs Suite, and then discusses what types of peer group services will be implemented and how they will be used. The ConsensUs Suite is arguably the heart of the ConsensUs architecture and the component with the most complexity; because of this, none of the information here is meant to be a part of a complete and finalized design. Rather, its purpose is to get the wheels of the design process moving, to lay a foundation on which greater detail will be built.
6.4.2.1. ConsensUs Peers
In terms of ConsensUs and the JXTA network, every peer will be each device the ConsensUs architecture is deployed on. In many deployments, a single user may be the only user of the peer; however, this is not guaranteed to be true, so a user and peer should not be mapped to each other.
A ConsensUs peer will either be a full-featured edge peer, a rendezvous peer, or a relay peer. The choice is left up to the user or administrator of the peer during the initial configuration of the ConsensUs application. As mentioned in the JXTA overview, most peers will usually be full-featured edge peers, but rendezvous and relay peers will be required for message propagation and routing across network barriers (such as firewalls and NAT devices). A peer may choose to change its type by reconfiguring the ConsensUs application.
It should be noted that at least one rendezvous peer is required for a peer group.
6.4.2.2. ConsensUs Peer Groups
Each peer using ConsensUs will belong to a ConsensUs peer group. These peer groups will provide a context for the communications and services driven by the ConsensUs Suite, and will serve as a logical container for the ConsensUs community. Different ConsensUs peer groups will exist within the JXTA network, each one corresponding to a different subject domain; a peer that participates in one of these subject domains will both possess and provide access to the discourse data for that domain. Because each ConsensUs peer group maps to a given subject domain, a peer may be a member of many ConsensUs peer groups, and will be both a client and server to the information within each. Each peer group will have a peer group advertisement that provides metadata about the group, such as its unique ID, name, description, module spec ID, and a list of services that it provides. Each of these advertisements will be published to the NetPeerGroup for discovery, as well as to the peer group itself.
In a typical use case of a peer already belonging to a peer group and starting up the ConsensUs application, the ConsensUs Suite will initialize the JXTA platform and join the NetPeerGroup. From there, the NetPeerGroup's discovery service will be used to read in the peer group advertisement of the ConsensUs subject domain to which the peer belongs. Using this advertisement, the ConsensUs Suite will create a local instance of the peer's ConsensUs peer group and join it using its membership service, after supplying any necessary credentials. The peer will then be able to access the other services provided by the peer group and begin to share discourse data with other peers in the group.
6.4.2.3. Peer Group Services
The ConsensUs Suite will provide implementations of all the services required within a ConsensUs peer group. These services utilize the JXTA protocols to allow peers to organize into peer groups and communicate with each other. The JXTA reference implementations of these services should provide all the necessary functionality required of the ConsensUs peer groups, simplifying the task of development; however, custom implementations will allow for greater functionality, control, and optimization.
The Peer Info Service is not mentioned here, because it is not deemed necessary for any operations that may take place in a ConsensUs peer group. The ConsensUs Suite will utilize the membership service, discovery service, and access service to a greater degree than the other services; however, the other services are required, to provide support to these services and any additional functionality.
All of the interfaces and classes mentioned can be found in the Java JXTA API.
6.4.2.3.1. Membership Service
The ConsensUs Suite will provide an implementation of the MembershipService interface so that peers may join a ConsensUs peer group. The membership service allows a peer to establish an identity within the peer group by applying to the group, and allows it to join once being authenticated. It also allows peers to resign from the peer group.
When the ConsensUs peer group is instantiated on the peer, the peer is given a temporary identity by the peer group so that it may establish its "true" identity. Using the peer group's membership service, a peer applies to the group by submitting an initial Credential object that specifies the type of authentication used and the peer's identity information. The membership service returns an Authenticator object if the type of authentication specified is accepted (in ConsensUs, a username and password challenge), and this object is completed with more information, if necessary (such as an email address, which is how users are invited to join ConsensUs). Then peer joins the group by sending the Authenticator back to the membership service. If the Authenticator object has been completed correctly, the membership service returns a new Credential object to the peer with the peer's "true" identity in the context of the peer group. It is possible to save this Credential object locally as an XML document so that it may be reused.
To store the usernames and passwords of all valid peer group members, this information can encrypted and stored in the peer group advertisement. The membership service will then need to be able to decrypt the list of username/password combinations to check if a peer's username and password are valid; it will also need to be able to encrypt the list and modify the peer group advertisement when a new peer joins the peer group.
6.4.2.3.2. Discovery Service
The ConsensUs Suite will provide an implementation of the DiscoveryService interface so that peers can discover and publish resources in the peer group. The discovery service allows a peer to discover and/or publish other peers, pipes, modules, codats, etc. by finding or creating their advertisements; the ConsensUs implementation will also discover and publish advertisements designed to represent discourse additions, updates, and deletions. These latter types of advertisements will be created by either sub-typing an existing advertisement type, such as the abstract ExtendableAdvertisement class, or by creating them from scratch.
The scope of the discovery service will be the ConsensUs peer group to which the peer belongs. Discovery request messages will specify a name/value pair used to find qualifying advertisements, and will specify a maximum number of advertisements that a single peer can send in response. After receiving responses via the getRemoteAdvertisements() method of the discovery service, the received advertisements may be processed in two ways: they can be cached locally and retrieved via the getLocalAdvertisements method, or they may register the implementing object as a DiscoveryListener and be notified asynchronously of responses. The ConsensUs Suite should use the former method, in order to provide increased redundancy and availability for published advertisements, especially discourse advertisements, so that they have a better chance of being spread to every peer in the peer group. After discourse advertisements are discovered via received DiscoveryResponse messages, the data contained within them is parsed and handed off to the discourse update component of the ConsensUs Suite, in order to update the appropriate local database.
Discovery requests will typically take place when a user chooses to view a discourse object in the UI. These requests will be conducted localany child objects have been added, or to see if any child objects have been updated or deleted. If this operation places too great a load on the peer group (due to the frequency of this action on one peer, spread over all the peers in the group), or impacts the user experience by causing lengthy delays, these requests may take place at some arbitrary time interval. Discovery requests for discourse information will also take place when a user logs in through the UI, so that all of the changes to the subject domain since the peer was last connected will be discovered. Thus, after the user logs in and the peer retrieves all of the updates, the user's current view of the subject domain should be up-to-date and complete.
As previously mentioned, the ConsensUs peer group's discovery service will also be used to publish advertisements. Like discovery, publishing is both local and remote. Local publishing adds the published advertisement to the peer's cache and indexes it; this index is then published to connected rendezvous peers or upon connection to a rendezvous peer, so that rendezvous peers may point other discovering peers in the right direction. Remote publishing does not add the advertisement to the local cache, but attempts to propagate an advertisement using unsolicited DiscoveryResponse messages and the rendezvous service. Generally, the first type of publishing should be used, because propagation of messages is expensive; by pushing an index of the advertisement to a rendezvous peer, the rendezvous peer can share this index with other rendezvous peers it knows about, enabling many edge peers to discover the location of a new advertisement. However, propagating messages to the local network and to peer group members is not expensive, and remote publishing may be used if it propagates advertisements in this way.
The discourse advertisements used by the ConsensUs Suite should be of three types: addition, update, and deletion. Addition advertisements will provide the information of the new discourse object, such as its type, ID, title, abstract, body, time and date of creation, time to live, and any parent discourse objects it has. Update advertisements will contain identifying information for the discourse object – its type and ID – as well as a list of elements that have been changed. Deletion advertisements will only contain the type and ID of the discourse object to be deleted.
6.4.2.3.3. RendezVous Service
The ConsensUs Suite will provide an implementation of the RendezVousService interface to allow peers to connect to, disconnect from, convert back and forth from, and utilize the propagation abilities of rendezvous peers. Using the service, peers can connect to and become subscribers of rendezvous peers, enabling any messages sent to the rendezvous peers to be propagated to the subscribing peers. Rendezvous peers can also send messages to other rendezvous peers, such as their indices of advertisements on edge peers, so that edge peers subscribing to one rendezvous can discover advertisements published by edge peers subscribing to another rendezvous. Other services and protocols, such as the PRP, utilize the rendezvous service to disseminate messages to multiple peers. Propagated messages are handled by specific services that implement the QueryHandler interface, and dictate if the message should be further propagated or instead processed.
The propagate() method of the rendezvous service is very expensive, according to the Java JXTA API, and should not be used frequently. More efficient is the Shared Resource Distributed Index, or SRDI, which is the previously mentioned method of publishing and sharing indices of advertisements on rendezvous peers, allowing searches to take place when necessary instead of a flood of propagated messages. However, the propagateToNeighbors() method, which uses broadcasting or multicasting to propagate the message on the local network, and the propagateInGroup() method, which attempts to propagate the message to as many peer group members as possible, are not expensive. Therefore, the discovery service implemented by the ConsensUs Suite and used in ConsensUs peer groups should use these methods when remote publishing discourse advertisements.
6.4.2.3.4. Endpoint Service
While not commonly used directly, an implementation of the EndpointService interface will be required in the ConsensUs Suite. The endpoint service provides for the sending and receiving of messages between peers, and is used directly or indirectly (through the pipe service) by the other peer group services as a foundation for communication between peers.
6.4.2.3.5. Access Service
The ConsensUs Suite will provide an implementation of the AccessService interface, in order to determine if peers are able to perform certain actions in the context of the peer group. The access service implementation utilizes PrivilegedOperation objects, which tie actions to credentials in order to determine if a peer has the ability to perform the action. In the ConsensUs peer groups, these access checks will take place in a number of situations, whenever a particular action is tied to a specific user level. A few examples:
If a peer tries to publish a delete advertisement for a discourse object, the access service must check if the user using the peer is the original creator of the discourse object.
If a peer tries to invite a user to join their subject domain, the access service must determine if the peer has sufficient privileges to do so.
If a peer tries to publish an addition advertisement for a new root topic, the access service must determine if the peer has sufficient privileges to create new root topics.
To check to see if the peer has access privileges to a certain action, the doAccessCheck() method is passed the PrivilegedOperation object and the peer's Credential object. An instance of AccessResult is returned, which defines if the action is permitted or not.
6.4.2.3.6. Resolver Service
The ConsensUs Suite will provide an implementation of the ResolverService, which is utilized by the other services to send queries and responses. The resolver service itself does not process the queries or compose responses, but it ensures that the tags of the messages are unique, that messages are sent to the right destination, that rogue messages are dropped, and that the credentials of peers sending the messages are verified. The actual task of processing queries and composing responses is left up to handlers, services that send and receive messages, which the resolver service registers. To match queries to responses, queries are given a unique query ID when they are sent from a peer, and this same query ID is present in any received responses. Here are examples of the query message format and the response message format from the Java JXTA API:

<?xml version="1.0" standalone='yes'?>






<ResolverQuery>


    <handlername> name </handlername>


    <credentialServiecUri> uri </credentialServiecUri>


    <credentialToken> token </credentialToken>


    <srcpeerid> srcpeerid </srcpeerid>


    <queryid> id </queryid>


    <query> query </query>


</ResolverQuery>

Figure 6.4.2.3.6.1. The general format of a query message sent by the resolver service.

<?xml version="1.0" standalone='yes'?>






<ResolverResponse>


    <handlername> name </handlername>


    <credentialServiecUri> uri </credentialServiecUri>


    <credentialToken> token </credentialToken>


    <queryid> id </queryid>


    <response> response </response>


</ResolverQuery>

Figure 6.4.2.3.6.2. The general format of a response message sent by the resolver service.
6.4.2.3.7. Pipe Service
The ConsensUs Suite will provide an implementation of the PipeService interface so that peers will be able to exchange messages between their peer group services. Pipes are the fundamental mechanism for sending messages between services, enabling messages like the DiscoveryRequest message to be sent. Pipes correspond to pipe advertisements, which define the type of pipe being used and represent the pipe for the duration of its lifetime in the JXTA network. The pipe service utilizes three different types of pipe: unicast, which is unreliable and not secure; unicast secure; and propagate, which is unreliable and not secure. Other types of pipe exist outside of the pipe service, and may be used independently or within a custom pipe service.
6.4.2.4. Additional Services
Additional services may be required by ConsensUs peer groups to provide functionality not found in the core services above. Like those services, the implementations of these additional services will be provided and utilized by the ConsensUs Suite, and will be listed in the peer group advertisement.
6.4.2.4.1. Bootstrap Service
When new peers join a ConsensUs peer group for the first time, they do not have any discourse information; their local databases are empty. Rather than to try to discover and process every discourse advertisement ever published within the peer group, so that the databases may be populated with an up-to-date view of the subject domain, a bootstrap service may be created, in order to bootstrap the peer's local databases in a more efficient manner.
Upon instantiating the bootstrap service, the new peer will use it to send a BootstrapQuery message to a remote peer, such as a rendezvous peer. The instance of the bootstrap service running on the remote peer will handle the query and compose a BootstrapResponse message, which contains, among other information, all of the current tables in the remote peer's pair of databases. The new peer receives the response, and passes the database tables to another portion of the ConsensUs Suite, which injects them into the new peer's databases. The new peer then has an up-to-date view of the subject domain, and may begin contributing to the discourse.
6.5. The ConsensUs Suite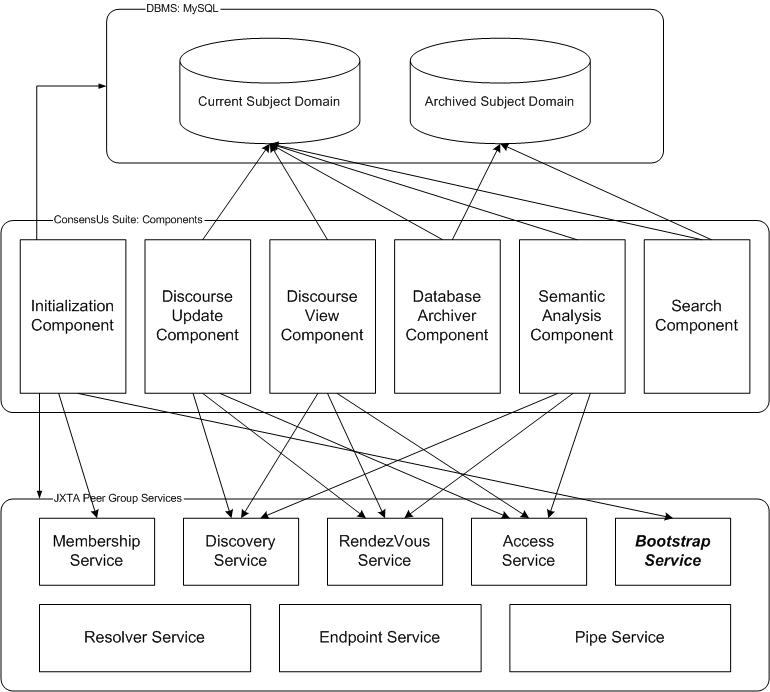 Figure 6.5.1. The interactions of the ConsensUs Suite with the local databases and the JXTA services.
The ConsensUs Suite is the core of the ConsensUs architecture, providing the operations necessary for the peer proxy servlets to gather and store discourse data for the user, and providing the operations necessary to drive the peer's actions on the JXTA platform. Components of the suite will include an initialization component, a discourse update component, a discourse view component, a database archiver component, a semantic analysis component, and a search component. All of these components will be part of the overarching ConsensUsSuite class, and may be thought of as behaviors of that class.
6.5.1. Initialization Component
The initialization component of the class will first be responsible for initializing the JXTA platform and joining the ConsensUs peer group to which the peer belongs. This entails creating or reading in configuration information that has been previously specified through a UI interface, creating and joining the NetPeerGroup, and creating and joining the ConsensUs peer group. If this is the first time the peer has been run, the peer will use the NetPeerGroup's discovery service to find the peer group advertisement of the group the peer is to join, create an instance of the peer group from the advertisement, and use its membership service to establish an identity and join the group. If it is not the first time, then the peer will read in or discover the advertisement from the local cache instead of discovering it remotely. In any case, the peer will then attempt to connect to one or more rendezvous peers.
Secondly, the initialization component will be responsible for creating the handles used by the other components to access the pair of local databases. This is done using the aforementioned configuration information. Once this is completed, if the peer has just joined a ConsensUs peer group for the first time, then the bootstrap service will be used to bootstrap the databases with the discourse information of the subject domain.
Lastly, the initialization component will be responsible for instantiating the other components, passing them the ConsensUs peer group object and the local database handles as necessary.
6.5.2. Discourse Update Component
The discourse update component will provide the means to update the current local database with new discourse information, and to publish the new discourse information to the ConsensUs peer group. New discourse information can consist of new discourse objects, edits of existing discourse objects, a new voting score for proposals, and deletion of discourse objects. When these events occur, both the local database for the current view of the subject domain and the peer group will be updated with the information. For the peer group, an advertisement corresponding to the type of discourse update will be made, and published both locally and remotely.
The discourse update component will also manage propagated discourse updates originating on other peers, requests for discourse information from other peers, and discovery of new discourse advertisements. These situations will be satisfied asynchronously through a DiscoveryListener, which listens for DiscoveryEvents. If the message contained within the DiscoveryEvent contains a discourse update, the information will be taken from the event, parsed, and incorporated into the local database in which it belongs; if the message is a discovery request, the requested discourse advertisement will be supplied and sent in response. In the latter situation, a discovery request will be made by searching for new discourse advertisements at either some fixed time interval or when a discourse object is viewed through the discourse view component, and any discovery responses will be handled asynchronously by the DiscoveryListener.
6.5.3. Discourse View Component
The discourse view component will be responsible for supplying discourse information for the peer proxy servlets to display. If the discourse update component does not poll the peer group for discourse advertisements at a fixed time interval, then the discourse view component will use the discourse update component to poll the peer group for new discourse advertisements before any information is returned to the servlets. In this case, the new discourse advertisements will have their information incorporated into the local database; then the desired discourse information to be displayed will be gathered from the database and passed to the servlets.
6.5.4. Database Archiver Component
The database archiver component will run as a thread that periodically checks the local database of the current subject domain for discourse objects that have expired. Any expired discourse objects are then moved to the archived subject domain database meant to solely hold expired objects.
6.5.5. Semantic Analysis Component
The semantic analysis component will run as a thread that periodically checks clusters of comment objects belonging to each topic object to see if a consensus is emerging within the topic or a group of topics. See Section 1.4 for more information. This component may change in its design, but the description below is a possibility of how it may function.
If the semantic analysis component finds a semantic center to the cluster of comments, the topic or groups of topics will be flagged as having a semantic center, and the list of qualifying comments gathered. This information will then be published as a special type of advertisement with the discourse update component, a pending semantic center advertisement, and spread throughout the network. When a CM discovers this advertisement and the discourse update component integrates its information into the local database for the current subject domain, the peer proxy servlets will present a visible marker/link when the topic or topics are viewed by the CM. The CM will then be able to click this link, and the discourse view component will display the cluster of comments that represent the semantic center, as well as a form to create a summary comment. This summary will added to the CM's database and published via the discourse update component as a resolved semantic center advertisement. Other ConsensUs users will see the summary comment after discovering and processing the advertisement, and viewing the topic or groups of topics.
6.5.6. Search Component
The search component will allow a user to search over a number of different parameters for discourse information stored in the pair of databases for the subject domain. Discourse objects that match the search parameters will be passed to the servlets for display. This includes both archived objects and current objects, since both databases are searched. See Section 1.6 for more information.
7. The ConsensUs Project
This project will need a wide array of researchers, architects, developers and even CS-type talents such as linguistics, psychology, sociology and others! We plan to continue the current architecture and functional specification development as a collaborative project using some current Web-based approach. When it is time to start development we plan to start an open source process to develop the code.
7.1. Prototyping Using Existing Web Technology
We plan to prototype much of the functionality of ConsensUs using existing Web (client-server) technology. This prototype will not have all of the features of the system as described here. However, we will be able to test much of the key functionality, namely the consensus generating features of voting, promoting time to live, and semantic analysis of comments.
Our plan is to provide a test bed service to an as yet unidentified virtual community and monitor their pattern of uses and results. This exploratory research will be followed by determining improvements and another round of testing. This phase will not preclude development of the JXTA-based version.
We will be recruiting individuals who are well grounded in Web technology to participate in this phase.
7.2. Research in Semantic Analysis
Semantic analysis is still very much a research area. Latent Semantic Analysis (LSA) appears to have many of the properties we would like to have for the process of analysis and consensus-finding that was described above. See: An Introduction to Latent Semantic Analysis, Landauer, Foltz & Laham.

In this sub-project we will be looking for a graduate student who is interested in exploring the possibilities for LSA (or some variant) for a capstone project. The objective is to develop a semantic analysis algorithm that finds clustering of comments where the density of the cluster meets some threshold value, indicating that there is a high level of agreement. It includes finding the "centroid" of such a cluster and the comment that comes closest to that centroid. This comment will be used to represent the cluster as a whole - a kind of canonical comment - that can be used to encapsulate all of the other comments in the cluster. We will investigate various metrics and fringe conditions to determine if this approach will provide a reasonable representation of the body of commentary.

If you are interested in pursuing this research area, please contact George Mobus at: gmobus@u.washington.edu. Also see SemanticAnalysisResearch to see what is going on in this project.

7.3. Development of the Proxy Server App.
7.4. Development of the ConsensUs Suite
7.5. Deployment Program
7.6. Maintenance and Enhancement Program
8. A Global Issues Network for Global Warming - A Hypothetical Community
For an example of the ConsensUs system applied to a Global Issues Network, in this case one devoted to the problem of global warming, see Global Warming GIN.
Please note that this example only shows some of the page layouts for Topic/Sub-topic, Issue and Comment pages. The "Add" buttons are shown but do not invoke actual pages for entering those objects yet. Provided in this example are:
9. References
HERO e-Delphi Web site (2001). The HERO e -Delphi system: Overview and implementation
Yetim, F. & Turoff, M. (2004). Structuring Communication Processes and Enhancing Public Discourse: The Delphi Method Revisited, Proceedings of the 9th International Working Conference on the Language-Action Perspective on Communication Modelling (LAP 2004), M. Aakhus & M. Lind (eds.)
Cunningham, W. (2004). WikiWikiWeb (Welcome)
10. End Notes
---