New Neurotoxic Pesticide Approved by the FDA
October 17, 2007
On October 5, 2007, the US Environmental Protection Agency (EPA) gave approval for the use of a new pesticide called methyl iodide (iodomethane). Methyl iodide is used to kill weeds and pests in the soil before fruit and vegetable crops are planted. Methyl iodide replaces the pesticide methyl bromide that has been shown to reduce the ozone layer in the atmosphere.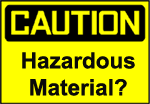 A group of 54 scientists, however, are concerned about the health dangers of methyl iodide. A letter signed by these scientists and sent to the EPA expressed concern that methyl iodide poses a risk to pregnant women and their fetuses, children, the elderly, farm workers, and other people living near areas where the pesticide is used. The letter points out that methyl iodide can cause cancer and damage the nervous system. Although the exact mechanisms by which methyl iodide attacks the nervous system are not known, exposure to this chemical can cause headaches, vision problems, movement disorders, paralysis, convulsions, coma and death.
The EPA responded to the scientist's letter stating that their analysis of the research shows that the benefits of using methyl iodide outweigh its risks.
References and more information:
Iodomethane Fact Sheet - EPA
Schwartz, M.D., Obamwonyi, A.O., Thomas, J.D., Moorhead, J.F. and Morgan, B.W., Acute methyl iodide exposure with delayed neuropsychiatric sequelae: report of a case, Am. J. Indust. Med., 47:550-556, 2005.
Copyright © 1996-2007, Eric H. Chudler, University of Washington