2007-2008 writing contest
The 2007-2008 Neuroscience for Kids Writing Contest is closed. Entries were due on February 1, 2008.
Here are a few of the winning entries from the 2008 Writing Contest:
Declan S., Fremont, NH - Kindergarten to Grade 2 Winner (Poem, any style):
Wear a helmet on your head While you're riding with your friend And keep your brain safe and sound While you're riding around and around. Use your brain to figure out and see And be careful not to hit a tree.
Erin Y., Cinnaminson, NJ - Grade 3 to Grade 5 Winner (Rhyming Poem):
The brain is the boss that runs the show It does a lot more than just store what you know. The cerebrum is the biggest part It controls your speech, muscles and helps you do art. The pituitary is as small as a pea It determines how tall you will grow to be. Other functions are to help you breathe, digest your food, Circulate blood, and control your mood Eat right, exercise, and be good to your brain If you do, you have much to gain.
Max W., Natick, MA - Grade 6 to Grade 8 Winner: (Haiku style poem):
Dementia, you thief Leaving so little behind All is forgotten
Helen J., Shoreline, WA - Grade 9 to Grade 12 (Limerick style poem):
Brain cells destroyed and memory is drained, Worse and worse until nothing is retained, Scientists commit, Trying to fix it, Until then, a life, a family, constrained.
Example Prizes


New books by Mari Schuh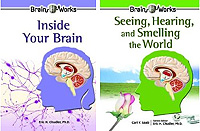 Books from the Gray Matter Series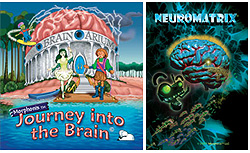 Interactive CD-ROM games from Morphonix
Copyright © 1996-2008, Eric H. Chudler All Rights Reserved.