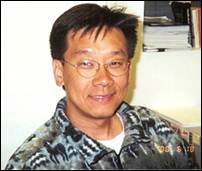 Office: UW1-260-O

Tel: 425-352-5420
Fax: 425-352-5216
email: ksung at uw dot edu
URL: faculty.washington.edu/ksung
US Mail:
Computing and Software Systems
University of Washington, Bothell
18115 Campus Way NE
BOX 358534
Bothell WA 98011-8246
---
PhD in Computer Science, 1992
MS in Computer Science, 1990
University of Illinois at Urbana-Champaign
BS in Electrical Engineering, 1986
University of Wisconsin--Madison
This is my vita.
My recent work is related to teaching and learning of computer graphics and foundational concepts in programming based on computer games. In general, I enjoy learning about the role technology plays in facilitating human communication of ideas and how to distribute communication workload to a loosely coupled network of computers. I am also interested in Computer Graphics, all aspects of image generation, especially in visibility determination, and algorithms concerning temporal anti-aliasing; Computer Hardware and Architecture; Information Visualization; and Virtual Reality.
---
Current Projects:
Cross Reality Collaboration Sandbox: We study the support for collaborations across geographical distances that involve technological configurations which allow users operate in the continuum between physical and virtual realities.
---
Teaching and Graphics Stuff:
CSS Courses: I am interested in teaching senior level algorithm and graphics classes.
Graphics/Games Links: Here are some links to popular graphics/games companies/discussion sites, etc.
Graphics/Games Resources: Here are some links to popular public domain resources suitable for developing graphics/games applications.
---
Books:
---
Personal Stuff:
Past Experience. This is what I did before joining CSS.
Family Stuff. I have a great family with two great kids.
Personal Stuff. I kind of wandered around a little ...