"Blind" Testing
It may be the case that people in an experiment and researchers may consciously or unconsciously influence ("bias") the results of an experiment when they know too much about the subjects in their groups. People may try to please the researcher with a particular type of response if they know what treatment they have received. A researcher may unconsciously treat subjects differently if he or she knows which treatment a subject has received.

What would happen if an researcher knew which people received a drug for pain and which people got a fake pill filled only with sugar? It is possible that the researcher may influence the subjects to respond in different ways. Perhaps the researcher would treat the subjects differently knowing what treatment each subject received. If a person knew he or she was only getting a sugar pill and not a pain killer, it is possible that they would think, "Hey, of course this will not get rid of my pain." On the other hand, if the person, knew that they were receiving a drug, they might think, "Hey, the Doc is giving me a drug that is sure to cure me." Knowing what "should happen" may change the results of the experiment.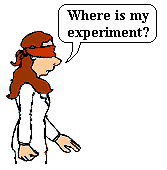 To eliminate this possibility, it is important that experiments be performed "blind". This means that the subject will not know the treatment that he or she is receiving. A "double blind" experiment is one in which both the researcher and the subject do not know what group the subject is in. In this way, the subjects and researchers cannot influence the results because they do not have any expectations about how each subject should perform. When all of the data have been collected, then the researchers and subjects can be told which group they were in.
Let's go back to that "sugar pill" for a minute. It is possible that just the thought of getting a real treatment can create the same effect as a real treatment. This is called the "placebo effect". A placebo is a drug or treatment that really has no "active ingredient." It is important to have some subjects in every experiment receive the placebo treatment. This allows the researcher to separate the "real" effects of a drug or treatment from the effects of merely being in the experiment. Also, some illnesses will cure themselves. For example, the common cold will get better in about 7-10 days without any treatment. A placebo treatment will allow a researcher to measure this spontaneous recovery. Sometimes placebos can have very strong effects, but no one is really sure how placebos work.