How Fast are You?
For grades K-12
Methods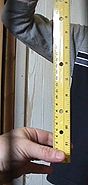 Unlike the other activities on this reflex page, this project does not test a simple reflex. Rather, this activity is designed to measure your response time to something that you see.

Get a ruler (or a yardstick or candy bar). Hold the ruler near the end (highest number) and let it hang down. Have another person put his or her hand at the bottom of the ruler and have them ready to grab the ruler (however, they should not be touching the ruler). Tell the other person that you will drop the ruler sometime within the next 5 seconds and that they are supposed to catch the ruler as fast as they can after it is dropped. Record the level (inches or centimeters) at which they catch the ruler (you can convert the distance into reaction time with the chart below). Test the same person 3 to 5 times (vary the time of dropping the ruler within the 5 second "drop-zone" so the other person cannot guess when you will drop the ruler).

Here is a table to convert the distance on the ruler to reaction time. For example, if you caught the ruler at the 8 inch mark, then your reaction time is equal to 0.20 seconds (200 ms). Remember that there are 1,000 milliseconds (ms) in 1 second.
| | |
| --- | --- |
| Distance | Time |
| 2 in (~5 cm) | 0.10 sec (100 ms) |
| 4 in (~10 cm) | 0.14 sec (140 ms) |
| 6 in (~15 cm) | 0.17 sec (170 ms) |
| 8 in (~20 cm) | 0.20 sec (200 ms) |
| 10 in (~25.5 cm) | 0.23 sec (230 ms) |
| 12 in (~30.5 cm) | 0.25 sec (250 ms) |
| 17 in (~43 cm) | 0.30 sec (300 ms) |
| 24 in (~61 cm) | 0.35 sec (350 ms) |
| 31 in (~79 cm) | 0.40 sec (400 ms) |
| 39 in (~99 cm) | 0.45 sec (450 ms) |
| 48 in (~123 cm) | 0.50 sec (500 ms) |
| 69 in (~175 cm) | 0.60 sec (600 ms) |
If you want to be more precise with your calculations, use the following calculator (cm only) or formula:
Formula 1

Formula 2

Formula 1 provides you with the distance an object will fall in a given amount of time. By rearranging Formula 1 into Formula 2, you can get the amount of time it takes an object to fall a certain distance...that's what you want to find out. All you have to do is plug in the distance (in either centimeters or inches) that the ruler fell into Formula 2 - this will give you the reaction time.

In the formulas, t = time (in seconds); y = distance (in cm); g = 980 cm/sec2 (acceleration due to gravity). [Note: you can also use inches in your distance measurement, but you must change g to equal 385.8 in/sec2.]
This reaction time experiment required visual information (the movement of the ruler) to travel to your brain. Then your brain sent a motor command ("grab that falling ruler") to the muscles of your arm and hand. If all went well, you caught the ruler!!
Questions and Comparisons
Try the experiment in dim light. Does your reaction time increase, decrease or stay the same? Can you explain your results?
Test the whole class. Who is fastest?
Compare boys vs. girls. On average, are the boys or girls faster?
Compare different ages. Who is fastest?...the older students or younger students?
Compare the scores after practice. Does reaction time improve with practice?
Compare kids' scores vs. parents' scores. Who is faster?
Test the whole school!!
Test the whole city!!................you get the idea.
Materials
Ruler or yardstick or long candy bar (give the candy bar to the person with the fastest reaction time)
Carolina Biological Supply Company also sells a Reaction Time Ruler Set that includes three rulers with msec gradations, one instruction book and recording sheets. Cost = $22.50/set.