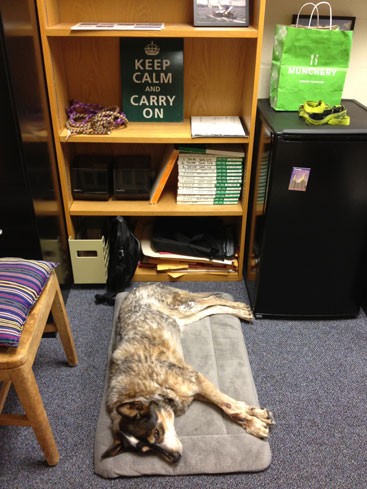 Lab mascot, July 2016. Sydney, our 14-year-old cattle dog, takes a break between long sessions at the optical trap. She was a little bit grumpy, but being in lab sure beat staying home alone.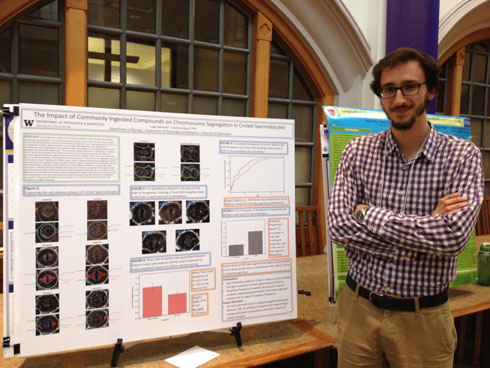 Luke Johnson, May 2016. Luke presenting his latest results at the Undergraduate Research Symposium, in Mary Gates Hall.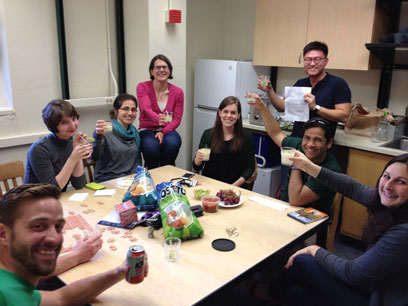 A toast for Jonathan, May 2016. A very happy happy hour with margaritas made according to Jonathan's precise recipe -- it is a full page long, and well worth the extra effort. Left to right: Justin Decarreau, Rose King, Aida Lauró Portell, Anna de Regt, Emily Scarborough, Jae ook Kim, Amitabha 'Guppy' Gupta, and Grace Hamilton. Cheers!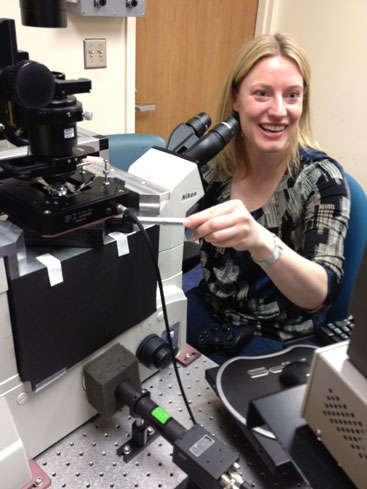 Erin's laser trap debut, May 2014. Erin Kirschner, Coordinator for the Biochemistry and Biological Physics, Structure, and Design Graduate Programs, learns how to use a laser trap to manipulate molecular motors and watch their ATP-driven movement along individual microtubule filaments. It's fun!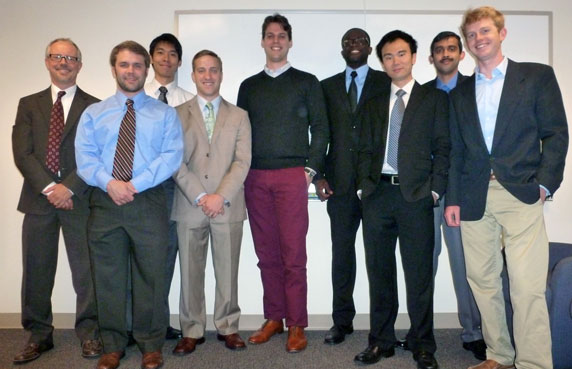 Dress like Neil day, July 2013. Neil Umbreit has been single-handedly improving the average fashionability of our local community of researchers. A group of us honored Neil's fashion sense by wearing respectable clothing for a change. Left to right: Chip Asbury, Jonathan Driver, Jerry Tien, Justin Decarreau, Neil Umbreit, Kwaku Opoku, Yi Deng, Krishna Sarangapani, Erik Yusko.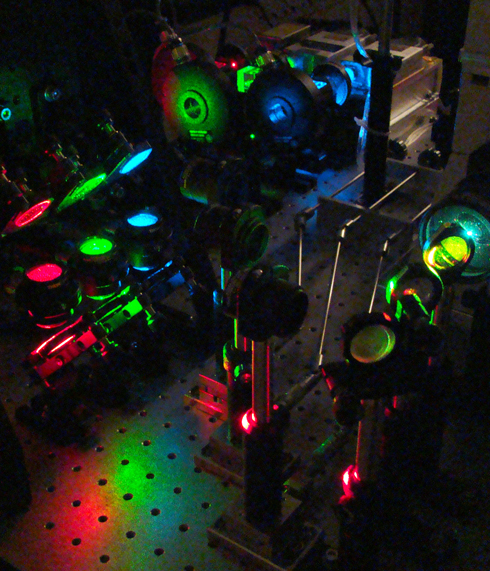 New TIRF microscope, July 2011. This photo shows part of our newest instrument, a total internal reflection fluorescence (TIRF) microscope. The mirrors and lenses seen here direct three lasers into a Nikon inverted microscope. The custom-built instrument also includes three Andor emccd cameras, which allow fast multi-color tracking of individual molecular assemblies.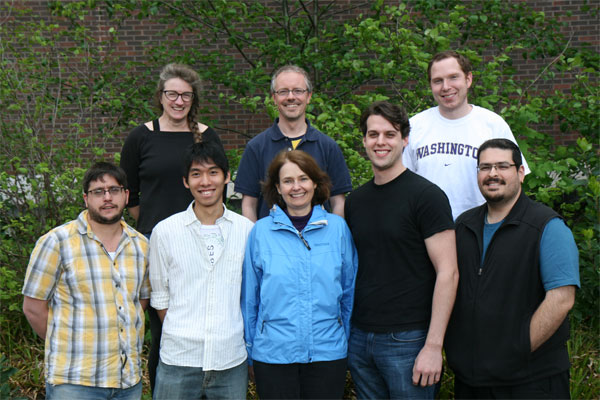 Co-authors, April 2010. This photo was taken after one of our papers was accepted (Tien et al, 2010). Left to right: Andrew Franck, Linda Wordeman, Jerry Tien, Trisha Davis, Chip Asbury, Neil Umbreit, Dan Gestaut, Tamir Gonen. Photo courtesy of Eric Muller.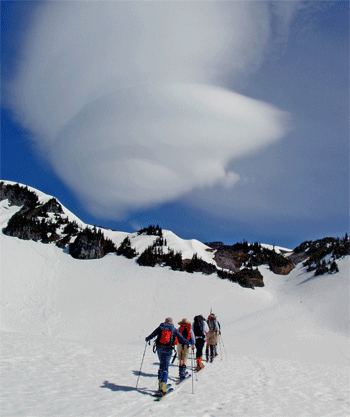 Faculty backcountry ski trip, June 2009. Heading up to Paradise Glacier on Mount Rainier (just south of Seattle). From left to right: Eric Feigl (Physiology & Biophysics), Chip Asbury, Eric Martinson (Physiology & Biophysics), Norm Breslow (Biostatistics), and Jon Wellner (Biostatistics). Photo courtesy of Piro Kramar.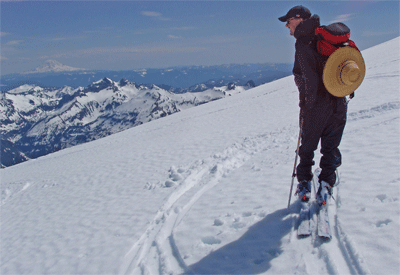 Faculty backcountry ski trip, June 2009. View from Paradise Glacier (elevation ~9,000 ft), looking south toward Mt Adams. Photo courtesy of Piro Kramar.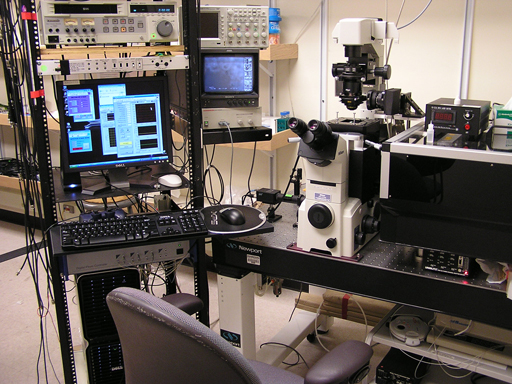 New optical trapping microscope, July 2008. This photo shows our newest custom-built laser trapping microscope. The rig includes an infrared laser for optical trapping, plus a short-wavelength (488 nm) laser for severing microtubules. We use the laser scissors to trigger disassembly of individual microtubules by cutting off their growing plus end tips.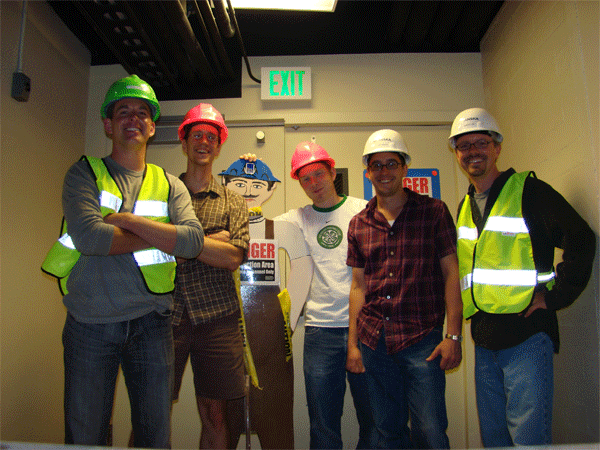 Asbury Lab, September 2007. During the renovation of our building, our lab was accessible only by walking through the construction zone. It was a hassle, but we got to keep the hardhats. From left to right: Andy Powers, Ryan Lemke, Dan Gestaut, Andrew Franck, Chip Asbury.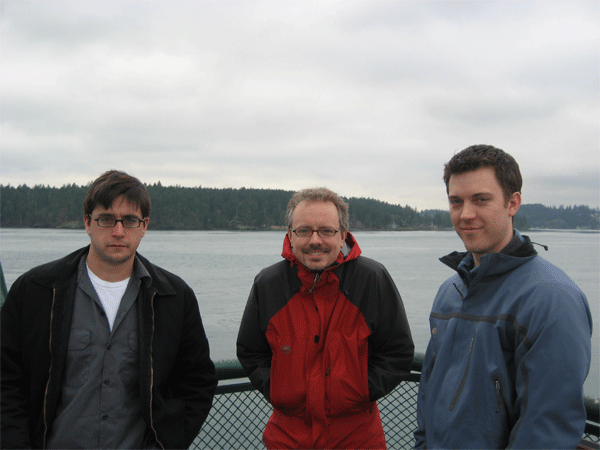 On the ferry to Friday Harbor Labs, January 2007. Andy Powers took this photo during one of our periodic pilgrimages to the Center for Cell Dynamics, located at Friday Harbor Laboratories on San Juan Island. From left to right: Andrew Franck, Chip Asbury, Jason Stumpff.