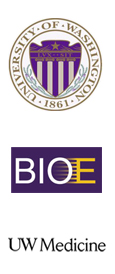 Current News
Anna's polyurethane mansucript is published.
Kim is promoted to Assoc. Professor - see the surprise gift from the lab!
Joe publishes his diagnistic paper with Dr. James Lai.
Don't miss Anna Blakney's podium presentation in the Drug-Eluting Devices session of the World Biomaterial Congeress in May!
Ryan, Arielle and Anna publish their review on clinical translation of electropsinning.
Joe Phan leaves to join NanoString Technologies. Good luck!
Congrats to Emily Krogstad and Anna Blakney - recipeints of the Whitaker International Scholars Award!
Good luck to Renuka Ramanathan, who joins WSGR.
Anna Blakney's publishes our first anaytical paper on LC-MS/MS.
Rachel Creighton is awarded an NSF Graduate Research Fellowship.
Welcome Rachel Creighton to the Woodrow Lab.
Renuka's paper on nanolipogels is published.
Daniel Carson accepts admission to UW Medicine!
Natacha and Holly win Mary Gates Research Scholarships!
Good bye to Ryan Stoddard, who accepts admission to UW Chemical Engineering as a PhD student.
Cameron Ball's paper on coaxial eletrospun fibers is published.
Congrats to Dr. Renuka Ramanathan for successfully defending her dissertation!
Congrats to Dr. Emily Krogstad for successfully defending her dissertation!
Congrats to Joe Phan for successfully defending his thesis!
Prof. Woodrow is awarded the UW Undergraduate Research Mentor Award.
We're always looking for talented, independent and creativity scientists/engineers.Apply now!