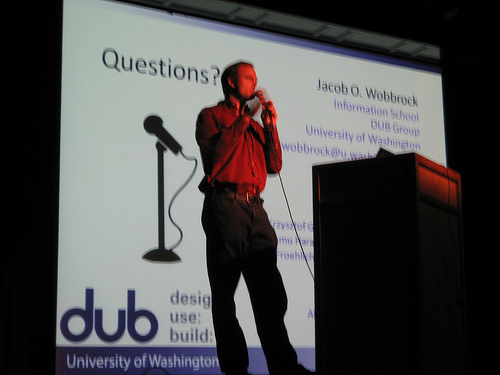 Project Pages
---
Practical Statistics for HCI
Aligned Rank Transform
Research Contributions in HCI [pdf]
Gesture HeatmapS Toolkit (GHoST)
Gesture RElative Accuracy Toolkit (GREAT)
GEsture Clustering toolKit (GECKo)
$1
,
$N
, and
$P
stroke recognizers
Input Observer
FittsStudy
Bubble Lens
Pointing Endpoint Prediction
Pointing Magnifier
Angle Mouse
Accessible Goal Crossing
EdgeWrite
Greetings! Jacob O. Wobbrock is an Associate Professor in the Information School and an Adjunct Associate Professor in Computer Science & Engineering at the University of Washington. He is director of the Mobile + Accessible Design Lab and Co-Chair of the Master of Human-Computer Interaction + Design program.
Dr. Wobbrock is a scientist, inventor, and entrepreneur in the field of human-computer interaction. His primary research interests are input techniques (text entry, pointing, touch, gesture, voice, gaze), mobile user interfaces, human performance measurement and modeling, research and design methods, and computer access for people with disabilities. As a scientist, he studies human behavior with interactive systems, and develops new methods for designing and evaluating interactive systems. As an inventor, he creates and deploys new interactive systems for human use. As an entrepreneur, he co-founded AnswerDash and serves as its venture-backed President & CEO. AnswerDash enables online businesses to easily capture and answer questions from their customers, increasing sales, reducing support costs, and generating important insights about customers' needs.
Dr. Wobbrock's students come primarily from UW Ph.D. programs in information science and computer science. He and his students are active in the DUB Group.
Dr. Wobbrock has worked in industry and occasionally serves as an expert witness on intellectual property matters.
See his CV, faculty profile, DUB profile, ACM author page, or Google Scholar page. Or find him in the HCI Bibliography.