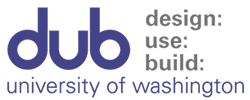 The University of Washington is one of the top research universities in the field of Human-Computer Interaction (HCI), widely regarded alongside Carnegie Mellon University as a juggernaut in the field. Research in HCI at UW occurs primarily in four departments: The Information School (iSchool), Computer Science & Engineering (CSE), Human-Centered Design & Engineering (HCDE), and Interaction Design in the School of Art (IxD). People from these units, along with industry affiliates from Microsoft Research and elsewhere, make up the DUB Group, an alliance of faculty, students, and industry researchers devoted to advancing HCI and Design at the University of Washington.
Jacob O. Wobbrock is an Associate Professor in The Information School and an Adjunct Associate Professor in Computer Science & Engineering. He is one of many HCI-related faculty with primary appointments in the Information School; others are (in alphabetical order): Katie Davis, Karen Fisher, Batya Friedman, David Hendry, Jessica Hullman, William Jones, Andrew Ko, Wanda Pratt, Jaime Snyder, and Jason Yip.
Researchers from industry that have Affiliate faculty appointments in The Information School include: Ed Cutrell, Mary Czerwinski, Susan Dumais, Jonathan Grudin, Meredith Ringel Morris, and Jaime Teevan from Microsoft Research, and Sunny Consolvo from Google. Thus, there are many HCI faculty associated with the Information School at the University of Washington, giving our students plenty of opportunities for mentorship.
UW faculty from Computer Science & Engineering working on HCI-related topics include: Alan Borning, Maya Cakmak, James Fogarty, Jeffrey Heer, Tadayoshi Kohno, Richard Ladner, Shwetak Patel, Katharina Reinecke, and Daniel S. Weld.
UW faculty from Human-Centered Design & Engineering working on HCI-related topics include: Cecilia Aragon, Andrew Davidson, Gary Hsieh, Julie Kientz, Beth Kolko, Charlotte Lee, David McDonald, Sean Munson, Daniela Rosner, Kate Starbird and Mark Zachary.
UW faculty from Interaction Design working on HCI-related topics include: Karen Cheng, Tad Hirsch, and Axel Roesler.
For a complete list of all HCI-related faculty, see the DUB people page.
If you are a prospective Ph.D. student interested in pursuing HCI research, The Information School may be a great option. The iSchool brings together technology, social science, and design to pursue both activities of discovery (science) and activities of invention (design-based inquiry). The iSchool can be thought of as an interdisciplinary socio-technical unit on campus. Areas of iSchool research strength include assistive technology, computer access, computing education, computer-supported cooperative work, digital youth, health and wellness technology, human-centered tools for programmers, information visualization, input and interaction techniques, interaction design for children, mobile computing, personal information management, studies of designers and software development teams, social justice, social networks, sustainability, and value-sensitive design, among many others. HCI at the Information School uses technology to address contemporary social challenges, unifying the study of technical, societal, ethical, and environmental issues in the creation of new solutions and the study of phenomena surrounding them. We are highly collaborative, both within and beyond the iSchool.
If you seek to pursue a career in HCI research, apply to the Ph.D. program in the department that best fits your interests and skills. In the Information School, the doctorate is a Ph.D. in Information Science, a broad customizable degree that can focus on most any aspect of people, technology, and information. Ideal candidates for joining Dr. Wobbrock's MAD Lab will have a background in computer science or similar, possibly with joint degrees in psychology, human factors, communication, education, anthropology, mechanical engineering, or design. We actively publish at ACM CHI, ACM UIST, ACM ASSETS, and other top HCI venues. Human-Computer Interaction is a highly interdisciplinary field, so all qualified applicants are encouraged to apply.
HCI at the Information School is not just for Ph.D. students. If you are an undergraduate Informatics major, you can do an HCI option that appears on your diploma and transcript. The HCI option involves courses in the four main DUB-affiliated programs: iSchool, CSE, HCDE, and IxD.
For prospective Master's students, the Information School participates with the other DUB departments to offer the new joint Master of Human-Computer Interaction & Design (MHCI+D) aimed at giving practitioners world-class training in designing and building interactive systems, and in usability and user research techniques. The MHCI+D degree is not the best option for students wishing to pursue HCI research and obtain a Ph.D.; it is a terminal professional degree for aspiring practitioners. This comparison chart helps differentiate the HCI-related masters degrees on campus.