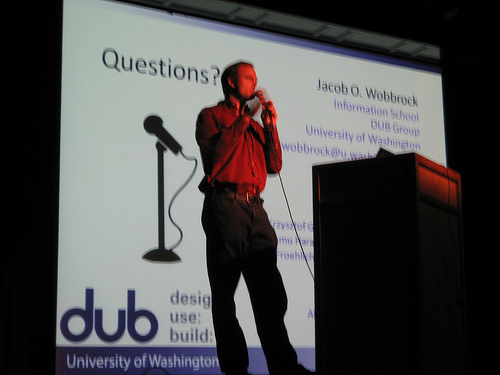 Project Pages
---
Seven Research Contributions in HCI
Practical Statistics for HCI
Aligned Rank Transform
$1
,
$N
, and
$P
stroke recognizers
GEsture Clustering toolKit (GECKo)
Gesture RElative Accuracy Toolkit (GREAT)
Input Observer
Accessible Goal Crossing
FittsStudy
Pointing Magnifier
Angle Mouse
EdgeWrite
Jacob O. Wobbrock is an Associate Professor in the Information School and an Adjunct Associate Professor in Computer Science & Engineering at the University of Washington. His field is human-computer interaction, where he focuses on improving the ways humans interactively exchange information with machines. He specializes in new user interface technologies, input and interaction techniques, human performance with computing systems, and the advancement of HCI research and design methods. The platforms on which he works include desktop, web, mobile, and surface computing systems. Many of his contributions concern input via text entry, pointing, touch, and gesture, often but not exclusively for people with disabilities.
Prof. Wobbrock directs the MAD Lab. He and his students from information science and computer science are active members of the DUB Group. More...
Prof. Wobbrock has worked in industry and occasionally serves as a consultant on intellectual property matters, or on interactive technology design and evaluation. More...
See his CV, faculty profile, DUB profile, ACM author page, or Google Scholar page. Or find him on the HCI Bibliography's most frequent authors list.

Videos! Click to watch.