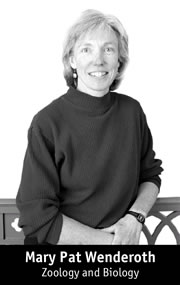 This is the Home Page for Mary Pat Wenderoth Ph.D.
Department of Biology, University of Washington
My C.V., Distinguished Teaching Award 2001
My Blooming Biology article in CBE-Life Science Education 2008, Supplemental materials to article
My MPW Biology seminar Jan 6, 2009,
UW Trivia
This is the summer of '03

The sunniest and driest on record!

Drumheller Fountain -

- Carol Martin,Photographer

Who is Drumheller?
Why was the fountain built?
How did it come to be known as Frosh Pond?
To get the answers to these questions click here.

Have you ever looked closely at the UW seal?

Those 4 columns were originally part of what building?

Each column has a name-
What do you think they are named?

To get the answers click here.

The UW before Red Square!
Graduating Senior page-- all the info you need for graduation--
Senior Survey page
submit to Wall of Fame
times and dates for Biology Graduation reception/graduation
times for UW Commencement ceremony
Alumni news and info
---
Institute for Teaching Excellence- University of Washington Teaching Academy program
---
Course materials
Autumn 2006
Biol 462- Advanced Physiology
Biol 463-Advanced Physiology Lab
Summer 2006
science education research

use of general models and graphs to help students gainn expertise in Biology (BYU)
review of literature on active learning
begin development of science process and reasoning skills test
Using Bloom's taxonomy to assess exams
Spring 2006
Biol 350 - Foundations in Physiology
Winter 2006
Biol 220- Intro Biology for majors
Honors Biology
Autumn 2005
Biol 462- Advanced Physiology
Biol 463-Advanced Physiology Lab
Summer 2005
Biology 350- Foundations of Physiology
Biolgoy 200- Introductory Biology-majors
Spring 2005
Biology 460--Mammalian Physiology
Winter 2005
Biology 220
Honors Biology- 220
Autumn 2004
Biology 462-- Advanced animal physiology
Summer 2004
Spring 2004
Honors Biology
Biology 460--Mammalian Physiology
Winter 2004
Biology 119- Elementary Physiology laboratory
Biostructure 301 - Human Anatomy
---
Other organizations I am affiliated with

Presentations

General Resources

March 2008

M.P. Wenderoth
Email -- mpw at u.washington.edu
Web -- http://faculty.u.washington.edu/mpw/