Much like the way that the Blues, R&B, Soul, and Hip-hop have served as expressive vehicles for African Americans, Hillbilly and Country music have spoken for white southerners and spoken to them, modeling behaviors and understandings that have helped in the refashioning of southern white culture and identities. And there is another parallel. A diaspora story lurks deep in the heart of country music.
She was born a coal miner's daughter in a one room cabin in Butcher Hollow Kentucky in 1935 and if anyone represents the idealized image of country music as a product of the white working class South, it is Loretta Lynn, the straight talking, unpretentious queen of Nashville whose life (married at 13, four kids by 18) and lyrics ("Don't Come Home A-Drinkin' With Lovin' On Your Mind") have made her since the 1960s an industry icon. But Loretta Lynn could also serve as a symbol of the white diaspora and of the complicated geography of country music. For while it is true that the South is the fertile crescent, it is also true that country music, like jazz, depended very much on the circulations of southerners outside the home region.
Loretta Lynn's country music career began not in Kentucky or Tennessee but two thousand miles away in a logging town hard up against the Canadian border near Bellingham in Washington State…
---
Country music historians typically stress the music's close connection to the culture of the rural and working class white South, and while acknowledging the importance of New York record companies and other commercial structures, they are happiest telling the story of Jimmie Rodgers, the Carter family, Roy Acuff, and other great musicians who reshaped the sounds and styles of country music while remaining in the South. But the industrial geography of commercial music gave special advantages to those performers, like Dalhart and Kincaid, who made their careers outside of the South, just as it did for diaspora blues musicians like Bessie Smith and Louis Armstrong. And while it would be a mistake to claim that most of the innovations occurred outside the South, it is true that some of the most important changes originated on what we might call the "frontier of country music," the northern and western cities where the genre fought for recognition and expanded audiences.
excerpts from Ch 5 "Uptown and Beyond"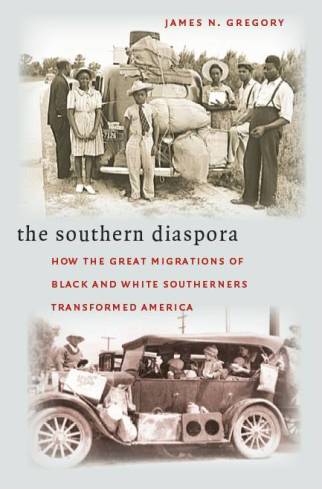 The Southern Diaspora: How The Great Migrations of Black and White Southerners Transformed America is the first historical study of the Southern Diaspora in its entirety. Between 1900 and the 1970s, twenty million southerners migrated north and west. Weaving together for the first time the histories of these black and white migrants, James Gregory traces their paths and experiences in a comprehensive new study that demonstrates how this regional diaspora reshaped America by "southernizing" communities and transforming important cultural and political institutions.
Read the catalogue description and advance reviews.
Read the Preface and Introduction.