Chicken Dance Chicks Recalled
May 31, 2013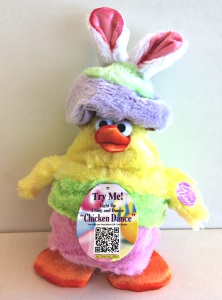 The Consumer Product Safety Commission (CPSC) reports that retailer Fred Meyer has issued a voluntary recall of "Chicken Dance" Easter Chicks because they may cause hearing damage. People who have these toys should stop using them and return the toy to the store for a full refund.
Apparently, the music in the toy can reach sound levels that pose a danger to hearing and exceed standard limits for noise. The CPSC requires that sounds produced by toys that are used close to the ear should not be greater than 65 dB. Toys that make continuous sounds but are not used close to the ear should not produce sounds greater than 85 db.
The toy dances and plays music when its left wing is squeezed. Although only 1,000 toys are part of the recall and no one has been injured, Fred Meyer has decided to issue the recall. The toy was sold in Oregon, Washington, Idaho and Alaska between February to March 2013 for about $20.
References and further information:
Copyright © 1996-2013, Eric H. Chudler, University of Washington