Blueberry Juice May Improve Memory in Older People
March 18, 2010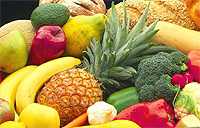 In 1999, scientists provided the first evidence that blueberries may improve memory...in old rats. Blueberries, as well as other fruits and vegetables, may have special chemicals that slow or prevent some signs of aging. For example, these chemicals may have antioxidant or anti-inflammatory properties that protect the brain from damage. Could blueberries benefit humans? Robert Krikorian and his coworkers designed a small experiment to find out.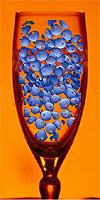 The scientists studied a group of nine older people (five men, four women; mean age = 76.2 years) who had mild memory problems. After taking baseline word memory tests, these subjects were given bottled blueberry juice or placebo juice (a drink that tasted like berry juice) to drink. Depending on their weight, the subjects drank between 1.8 and 2.6 cups (444-621 ml) of juice every day for 12 weeks.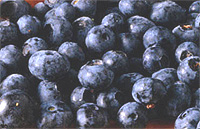 At the end of the 12-week period, subjects who drank blueberry juice scored significantly better on memory tests than those subjects who drank placebo juice. These data provide the first evidence that blueberry juice may benefit older people with early memory problems. The data do not indicate that blueberry juice improves memory in everyone. The researchers were careful to point out that they tested only a small number of people and suggest that a larger study be done to confirm their findings.
References and more information:
A Cup of Blueberries a Day... Keeps Neurological Problems Away - Neuroscience for Kids
Krikorian, R., Shidler, M.D., Nash, T.A., Kalt, W., Vinqvist-Tymchuk, M.R., Shukitt-Hale, B. and Joseph, J.A., Blueberry supplementation improves memory in older adults, J. Agri. Food Chem., DOI:10.1021/jf9029332, in press.
Copyright © 1996-2010, Eric H. Chudler, University of Washington