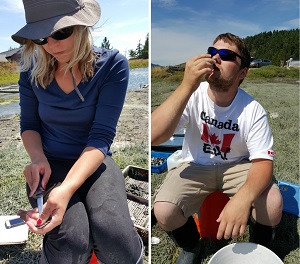 Here in the Becker Lab we are wrapping up another busy summer of field work. When I began planning for this field season I knew I couldn't do it without our wonderful collaborators on this Washington Sea Grant funded research project. With the help of a small army of undergraduates and numerous collaborators, we went out and "doped oysters to steal their babies" 49 times and relaxed over 13,000 Olympia oysters. Our team of researchers didn't do this alone. There are so many other people that made this research possible, from shellfish farmers to friendly citizens who offered to help us complete our mission. The hunt to find brooding Olympia oysters throughout Puget Sound has lead us from Shelton to the San Juan Islands and we made some great new friends along the way. This blog post is dedicated to them.
First and foremost, I would like to thank Ken and Liz Lauzen for their hospitality. Their house is situated adjacent to one of our main study sites this summer in Dyes Inlet. In the beginning this site was thought to be specifically challenging due to its lack of public access. Per our sampling plan, we needed to visit this site at least every other week to sample the native oyster population. The Lauzens went above and beyond by not only offering us parking and access to the bay, their hospitality made Mud Bay our favorite field site. We could work in the shade from their tree, use their lawn chairs AND their bathroom, plus fresh water to clean our field gear. How could it get any better? Oh, I almost forgot – on particularly hot days this summer they brought us out cold water and soda to keep us hydrated.  It's safe to say their generosity helped make this a great field season and I don't know what we would have done without them.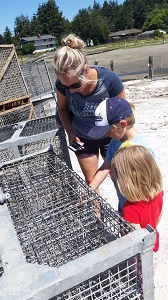 A number of shellfish farmers helped us this summer as well. Nick Jones, from Jones Family Farms located on Lopez Island, let us sample the oysters he is growing for aquaculture. We showed up on multiple occasions and his entire staff were accommodating each time. After I mentioned that I had only tried an Olympia oyster once a few years ago, Nick handed us a shucking knife and said enjoy! Also up north Vicky and Diz Schimke with Acme Seafood helped us sample the Olympia oysters they've found on their farm in Samish Bay. John Adams, who manages a Taylor Shellfish farm in Dosewallips and his own farm in Little Skookum Inlet, welcomed us to sample both farms on multiple occasions. Each time when I arrived he had already collected the bags of Olympia oysters and brought them to shore for sampling saving us precious time. Justin Lanman, who manages a Taylor Shellfish farm in Burley Lagoon welcomed us back to sample week after week and helped us devise a plan to sample at high tide. Every one of these shellfish farms went above and beyond to help us with our research and it paid off!
Last but not least, there are the people who were out there sampling with us. The Swinomish Tribe was already relaxing Olympia oysters in Similk Bay and they donated their time to help us collect samples for our project. I owe a special thanks to Julie Barber for donating their technician's time and to Jackie Dexter for collecting samples for our project. I can't leave out the volunteers who joined us on shore to help. Whether it was a former Becker Lab student, an eager high school student, or friends and family I bribed into helping me I couldn't have done it without them. All of these people helped make this field season a success! I came into this project oblivious to all of the help I would need and the important role each of these people would play in our project; they are the unsung heroes of our research.
The unsung heroes of scientific research