Publications
---
Books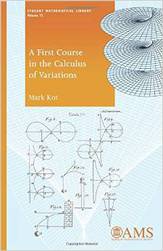 Kot, M. 2014.
A First Course in the Calculus of Variations.
American Mathematical Society, Providence, Rhode Island, USA, ix + 298 pp.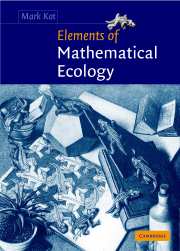 Kot, M. 2001.
Elements of Mathematical Ecology.
Cambridge University Press, Cambridge, UK, x + 453 pp.
(2nd corrected printing in 2003)




Published Papers
Harsch, M. A., Phillips, A., Zhou, Y., Leung, M.-R., Rinnan, D. S., and Kot, M. 2017.
Moving forward: insights and applications of moving-habitat models for climate change ecology.
Journal of Ecology, 105, 1169-1181.
Harsch, M., Zhou, Y., HilleRisLambers, J., and Kot, M. 2014.
Keeping pace with climate warming: stage-structured moving-habitat models.
American Naturalist, 184, 25-37.
Zhou, Y. and Kot, M. 2013.
Life on the move: modeling the effects of climate-driven range shifts with integrodifference equations.
In, M. A. Lewis, P. K. Maini, and S. V. Petrovskii (eds.),
Dispersal, Individual Movement and Spatial Ecology: A Mathematical Perspective,
Springer, Berlin, Germany, pp. 263-292.
Kot, M., Lewis, M. A., and Neubert, M. G. 2012. Integrodifference equations.
In, A. Hastings and L. Gross (eds.), Encyclopedia of Theoretical Ecology,
University of California Press, Berkeley, California, pp. 382-384.
Kot, M., Medlock, J., Reluga, T., and Walton, D. B. 2004.
Stochasticity, invasions, and branching random walks.
Theoretical Population Biology, 66, 175-184.
Wang, M.-H., Kot, M., and Neubert, M. G. 2002.
Integrodifference equations, Allee effects, and invasions.
Journal of Mathematical Biology, 44, 150-168.
(Erratum: 66 (2013), 1339)
Silverman, E. D., Kot, M. and Thompson, E. 2001.
Testing a simple stochastic model for the dynamics of waterfowl aggregations.
Oecologia, 128, 608-617.
Kot, M., Lewis, M., and van den Driessche, P. 1996.
Dispersal data and the spread of invading organisms.
Ecology, 77, 2027-2042.
King, A. A., Schaffer, W. M., Gordon, C., Treat, J., Kot, M. 1996.
Weakly dissipative predator-prey systems.
Bulletin of Mathematical Biology, 58, 835-859.
Gittleman, J. L., Anderson, C. G., Kot, M. and Luh, H.-K. 1996.
Comparative tests of evolutionary lability and rates using molecular phylogenies.
In, New Uses for New Phylogenies
(P. H. Harvey, A. J. Leigh Brown, J. Maynard Smith, and S. Nee, eds.),
pages 289-307. Oxford University Press, Oxford.
Gittleman, J. L., Anderson, C. G., Kot, M., Luh, H.-K. 1996.
Phylogenetic lability and rates of evolution: A comparison of behavioral, morphological, and life history traits.
In, Phylogenies and the Comparative Method in Animal Behavior (E. P. Martins, ed.),
pp. 166-205. Oxford University Press, Oxford.
Edwards, S. and Kot, M. 1995.
Comparative methods at the species level: geographic variation in morphology and group size in Grey-crowned Babblers (Pomatostomus temporalis).
Evolution, 49, 1134-1146.
Bingham, S. and Kot, M. 1989.
Multidimensional trees, range searching, and a correlation dimension algorithm of reduced complexity.
Physics Letters A, 140, 327-330.
Kot, M., Schaffer, W. M., Truty, G. L., Graser, D. J., and Olsen, L. F. 1988.
Changing criteria for imposing order.
Ecological Modelling, 43, 75-110.
Schaffer, W. M. and Kot, M. 1986.
Differential systems in ecology and epidemiology.
In Chaos, A. V. Holden (Ed.), pp. 158-178.
Princeton University Press, Princeton.
Google Scholar Profile