<![if !vml]>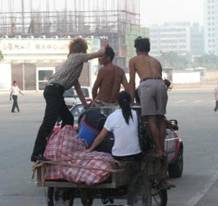 <![endif]>
Mailing Address:
Department of Geography
Box 353550
University of Washington
Seattle, WA 98195
Phone: (206) 543-6994
Fax: (206) 543-3313
  
More Commentaries
     Economic Blowback, Time Magazine, November 7, 2011, p.6    Your cover story rightly sounds the alarm about a China bubble related to its recent real estate mania [Oct. 31]. But the related article "A Great Leap Forward" paints too glowing a picture of China's private consumption…     Read my comment.
     Comment "The 10 Biggest Cities in China That You've Probably Never Heard of," China SignPost, Oct 30, 2011   Most of us have never heard of those biggest Chinese cities because they are simply NOT really that large, …   Read my comment
      Comment on "What if the China Housing Bulls are Right?.." China SignPost, August 4, 2011. One major assumed driver of this urban housing boom is the demand generated by new migrants from the countryside. While those numbers may look alright, the presumed increase in housing demand is remotely a very distant dream (maybe not even one)….  Read my comment.
      Comment on "Where China Outpaces America," nytimes.com May 1, 2011    "Where are we to make of such a country?" True, 21st century China has its contradictory yin and yang; in the US, we have another type of yin-yang: China hype and China threat. And much of it is based on partial understanding/ignorance of China's complex yin-yang…. Read my comment
      What China Can Teach Us About Evaluating Universities, The Ave, March 2, 2011.  I have no qualms with getting public universities to focus on graduation rates of students and employment rates of graduates, though I would agree with many colleagues that such a focus slants towards a narrow perspective of public universities' mission…..   Read my comment
      Washington State: Gateway to China, AAG Newsletter, February 2011   On September 20, 2009, about 1,000 people, mostly Chinese Americans, gathered in the Chinatown-International District in Seattle and held a parade for the first time to mark the anniversary of the founding of the People's Republic of China (commonly known as China), its 60th. Exactly a century ago,…    Read the full text
      China's Social Development, China Radio International, "People in the Know," February 11, 2011. China's society has been one of a constant flux. In the past decade, a more open Chinese society, greater public debate and the rapid process of urbanization have spawned many profound social changes and led us to see the world around us in a new light…  More
       The China Shift, CBC Radio One: The Current, January 19, 2011.   This program, called "China Shift", explores how China is grappling with the largest -- and most rapidly changing -- population in the world.   "Migrant labor is the backbone laborforce of the Chinese economy, and the government needs to take care of them better…"                            Listen to the interview
        An Inconvenient Truth about Dryers    The Seattle Times, September 12, 2010       "Western convenience that Chinese shun" [News, Sept 5] is an amusing piece to read, and it would have been made a more colorful article had the photo of the drying laundry been printed in color….           Read my comment
        Check in with China, Where Congress Revoked Police Power to Arrest Undocumented Migrants, The Seattle Times on May 4, 2010      "Arizona: a great place not to be" [Opinion, May 2] is a great read. Let me enrich his piece and broaden the context by using two incidents I know from Taiwan and mainland China about apprehending illegal migrants….     Read my comment
           China's Hukou System, Panel discussion, China Radio International, "Today", June 24, 2009, (hour 1), Listen to the discussion