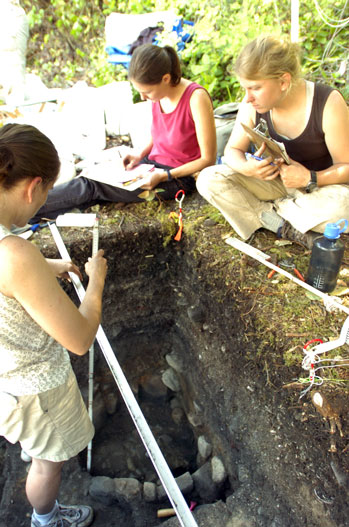 Watmough Bay Site Stabilization Project – Lopez Island, Washington
In recent years, a portion of the Watmough Bay site has begun to erode as the result of tidal action, storm events and increased recreational use of the public trails and beach, which are owned and managed by the Bureau of Land Management (BLM). BLM engineers proposed a stabilization project to control erosion of the site and in summer 2004, individuals and students from several organizations, including the University of Washington, the Burke Museum, the BLM, and the Center for the Study of Coast Salish Environments, Samish Indian Nation, conducted a small excavation in the stabilization zone to recover information from the area of the site that would be impacted during the erosion control measures.
The primary goal of the Watmough Bay data recovery was to carefully collect information on the kinds of resources people collected at the site and the technology they used. Understanding these fundamental aspects of site use will allow for future interpretations of the history of site settlement and mobility patterns in the San Juan Islands.