Prairie Project – Washington
The goal of this inter-disciplinary project, lead by Linda Brubaker and Julie Stein, is to document ways that Native peoples of the Pacific Northwest managed vegetation through agriculture and other practices. Phase I of the project is an interdisciplinary study of prairies that historically supported camas and other resources at South Beach, San Juan NHP, and at Ebey's Landing NHR during the Holocene. This approach is required to study the past and present existence of prairies, the relationships between prairies and exploited plant species (e.g., camas, bracken), and human resource management practices and uses. This Phase 1 study combines archaeological and paleoecological approaches to document the extent of human manipulation of the environment as well as the history of vegetation and fire near archaeological sites.
The work thus far has focused on two field events. The first field event in January 2004 brought together many researchers in the region to share ideas and examine South Beach prairie (American Camp, San Juan Island National Historic Park), and Ebey's Prairie (Ebey's Landing, National Historical Reserve). Both of these locations have previously investigated archaeological sites and both have wetlands that could potentially be sampled for pollen and charcoal. The second field event occurred June 2003 and focused on Ebey's Landing. The site adjacent to the ferry house was excavated and two wetlands were probed. These field explorations lead us to recommendations for future research explorations.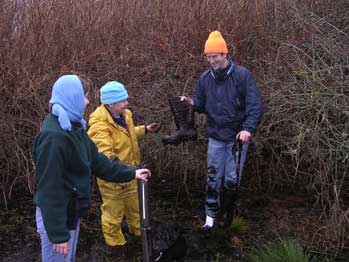 Coring at South Beach
San Juan Island, WA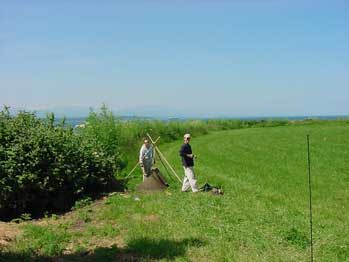 Excavating shovel tests at Ebey's Landing
Whidbey Island, WA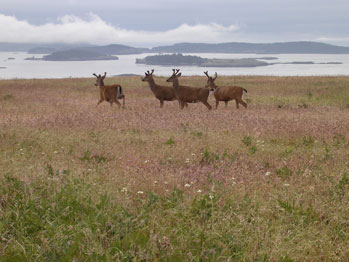 South Beach
San Juan Island, WA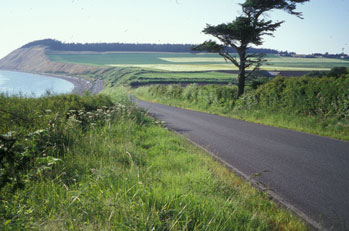 Ebey's Landing
Whidbey Island, WA