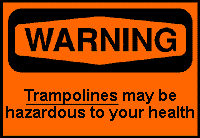 The American Academy of Pediatrics in May 1999 issued a policy statement with the following recommendations:

"The trampoline should not be used at home, inside or outside."

"The trampoline should not be part of routine physical education classes in schools."

"The trampoline has no place in outdoor playgrounds and should never be regarded as play equipment."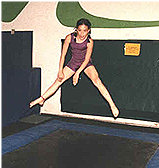 For those who already have a trampoline, the AAP suggests the following safety guidelines:
Have an adult supervising play at all times.
Children younger than 6 yrs old should never use the trampoline.
Pad all exposed metal surfaces, especially on the top part of the trampoline.
Only allow one child at a time to bounce on the trampoline to avoid collisions.
Sign children up for a few lessons at a local gymnastics center, so that they learn to do tricks properly before trying them at home on their own. If local gyms do not offer trampoline lessons, inquire about a private lesson with a coach.
More difficult tricks such as front and back tucks should be learned in a safety harness called a "belt," again available at a local gymnastics center.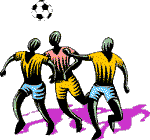 Several sports have made news headlines this year in regards to head injuries including team sports such as soccer, football, hockey, rodeo, and individual sports such as snow skiing, snowboarding, in-line skating and cycling. Many of these sports have developed guidelines for preventing head injuries such as recommending no heading in recreational soccer for young children, or having cyclers and skiers wear helmets. The solution for trampoline injuries is not so easy, as it is more a question of HOW you land rather than how to protect the head against impact of a fall. Most serious spinal cord injuries result from landing incorrectly on the neck while jumping on a trampoline.
September, 2012, POLICY STATEMENT from the American Academy of Pediatrics: Trampoline Safety in Childhood and Adolescence